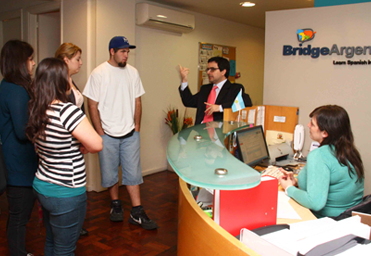 BridgeArgentina™ is located in the heart of Buenos Aires, just steps from the pedestrian shopping area Calle Florida and a few blocks from Avenida 9 de Julio and the iconic Obelisk.
The language center occupies two recently remodeled floors of an office building, offering top-class amenities including WiFi, climate controlled classrooms, student break areas, and more.
BridgeArgentina offers Spanish programs for all needs and levels, including group and private classes, corporate language training, and special programs such as Business Spanish, Spanish & Tango, and more.
Buenos Aires is a culturally fascinating city, offering world-class dance, theater, and design. Language students in Buenos Aires will have no problem filling their days and nights with culturally enriching activities and events.
For additional information visit us at