TEFLOnline.com offers comprehensive online TEFL/TESOL courses that prepare students for English teaching jobs in countries around the world. The TEFLOnline.com course covers the same basic material as our BridgeTEFL onsite teacher training programs, but it can be done from anywhere in the world and at your own pace. TEFLOnline.com modules include study materials, video tutorials, review quizzes, and written assignments. Students also receive guidance from their own personal tutors. All graduates receive an official TEFLOnline.com certificate indicating the graduate's name, course title, number of course hours, and completion date.
Learn more about the unique features of TEFLOnline.com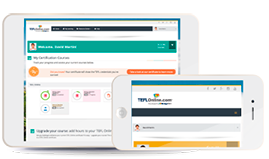 Responsive Design
TEFLOnline.com can be completed on any device. On the go? Work on your course from your phone or tablet!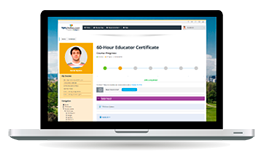 Easy Navigation
When you log in to your TEFLOnline.com course, you'll see your course components outlined right on the navigation menu. The progress bar also helps you manage your time effectively.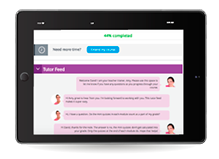 Tutor Support
Your qualified and experienced personal TEFL tutor is there to guide you through the course. Use the tutor feed function to ask questions about what you're learning. Receive detailed feedback and grades on written assignments via the essay submission portal.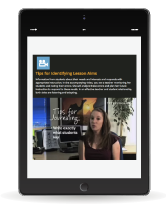 TEFL Videos
Watch videos featuring real EFL teachers in the classroom in order to observe the techniques you're learning about and to get ideas for new games and teaching strategies.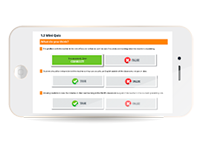 Interactive Content
Content is designed to directly involve you in your learning, keeping the course interesting. Clickable practice quizzes and fun exercises in every module ensure you're actively engaged in your TEFL training.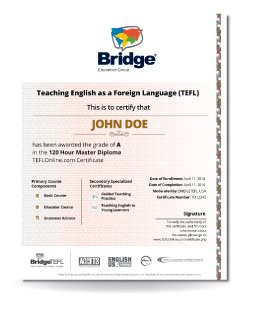 The official TEFLOnline.com certificate
The IDELT Online (International Diploma in English Language Teaching - Online) is a 12-week online TEFL course taught at a graduate level for teachers who are interested in the academic rigor and comprehensive nature of traditional on-site TEFL courses but are looking for a more flexible option. This course bestows a 100-hour TEFL certificate and an optional 3 graduate level college credits, in partnership with the University of Northern Colorado. Students in the IDELT Online move through the course at the same pace, completing weekly assignments, participating in forums, and working on projects in groups.