Bridge Partner Philadelphia University is Now the New Jefferson!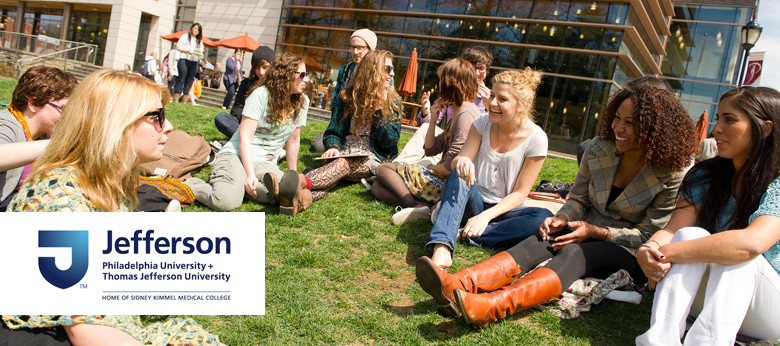 It's official– Bridge partner, Philadelphia University in Pennsylvania, combined with Thomas Jefferson University to create what will be now be called
Jefferson (Philadelphia University + Thomas Jefferson University)
.
Good news for students interested in studying abroad in the U.S.!
International students will benefit from this change, particularly because the combination of these universities results in the new Jefferson adding even more value for students through leading-edge programs in emerging professions, accelerated programs to undergraduate and graduate degrees in a shorter time, opportunities for scientific and applied research, and a focus on experiential learning and internships with some of the country's top employers.
What is changing with the new Jefferson?
Some of the highlights of this transformation from Philadelphia University to Jefferson include:
The combined universities will now include nine colleges and three schools.
Jefferson will be home to more than 7,800 students, 4,000 faculty members, and 78,000 alumni, making for a larger network than ever before.
The Philadelphia University Honors Institutes and The Philadelphia University Design Institute will be formed, allowing the new Jefferson to create initiatives such as fellowship programs, national lecture series, and research programs.
Jefferson is now larger, too, with campuses in East Falls (which was the Philadelphia University campus), as well as Center City, Montgomery County, Bucks County and Atlantic County.
Diverse majors, a large campus and a prime location in a major U.S. city
The Pathways program on the campus of Jefferson is an especially attractive option for international students due to its location in Philadelphia, a major U.S. city, and because of the range of over 60 degrees available, such as Business, Fashion, Engineering, Architecture, Medicine, Science, and Textiles.
On-campus programs at Jefferson to improve your English
The on-campus BridgePathways Intensive English Program, located on the East Falls Campus, welcomes students from around the world who have the goal of improving their English in order to pursue university studies. The program accepts both conditionally admitted students to Jefferson, who are taking the program in order to meet admissions requirements as well any other qualified degree-seeking students who want to attend Academic English classes to prepare for university.
Student experiences at BridgePathways and Jefferson
BridgePathways students, such as Art Design major, Tianyi Xie, from China, describe the on-campus experience best in their own words.

---

Learn more about BridgePathways at Jefferson here or feel free to Contact an Advisor directly to discuss your options to study abroad in the U.S. at one of our 7 partner universities.
---
Sign up for the BridgePathways newsletter to receive helpful English tips, college preparation tips, program information, and more!
---