BridgePathways Student Profile: Erica at PhillaU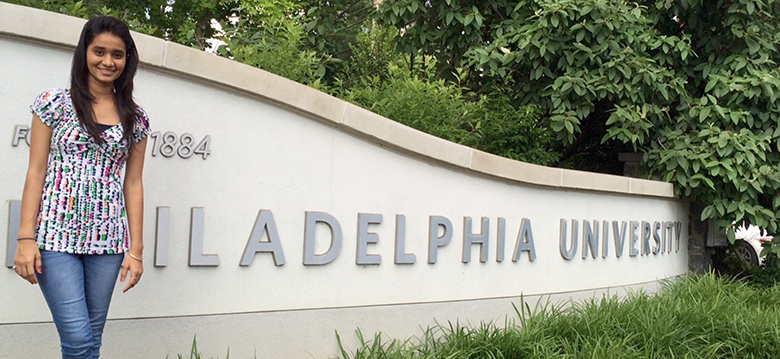 Erica is currently a student at BridgePathways at Philadelphia University and says she has since become a member of the Bridge family. At this stage, she is working to improve her linguistic and English skills before beginning her degree program. After successful completion of the BridgePathways program, she plans to pursue a degree in Business Administration at Philadelphia University.
While Erica was studying English in high school in India, she made the decision to attend a U.S. university. She became interested in BridgePathways because of her desire to improve her English and language skills. Ultimately, she knew that the program would boost her confidence before beginning her degree program at PhilaU. The day she learned of her acceptance to BridgePathways, she was very excited and says she remembers the day very well. This is when her journey officially began.
Erica views the BridgePathways program as "an anchor" in her life. Because of the program, she has improved her confidence and this has allowed her focus on her studies. She chose Philadelphia University, her first selection, simply because she considered it to be a good university. Though she started learning English as a second language in India, studying with BridgePathways has improved her English so much so that, while in the U.S, she no longer considers English as her second language, but as her first.
For Erica, studying at a U.S. university has been a longtime dream. She adds that earning a degree from Philadelphia University will become a tremendous achievement in her life. Because of BridgePathways, that dream is becoming a reality. However, making her dreams come true has not been without its challenges. Between making new friends, adjusting to campus life, and coping with what she calls "an international explosion," the transition was far from easy. Even with these challenges, Erica says her journey with BridgePathways is, "the happiest journey to be a part of."
Her advice to prospective students, "It's a base and a stage, an opportunity to perform better in college." Overall, she has enjoyed her time with the program and considers herself very grateful to be a BridgePathways student.
---
Sign up for the BridgePathways newsletter to receive helpful English tips, college preparation tips, program information, and more!
---