BridgePathways Student Profile: Vanessa at CSC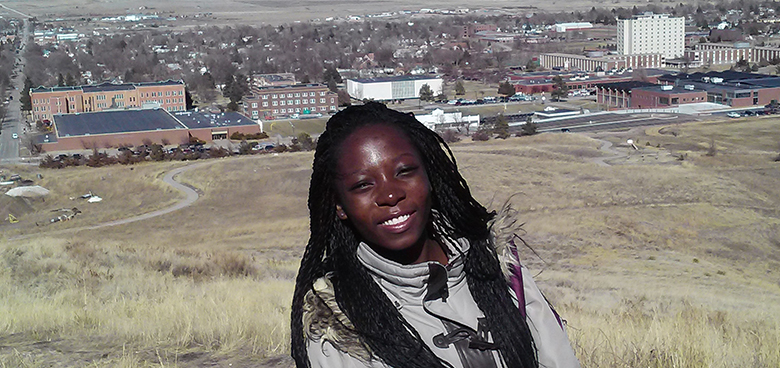 This semester, BridgePathways welcomed Vanessa N. to its location at Chadron State College in Nebraska. Deciding to study English in the United States, or anywhere for that matter, is a tough decision that takes serious planning and a lot of courage. Recently, we interviewed her to find out more about her journey of learning English and traveling to the United States in pursuit of a more opportunistic future. It all started in high school, when she heard English for the very first time. Vanessa fell in love with the way the words sounded when the teacher would speak in English. In Cameroon, English is required for all years of high school. Students listened as the teacher lectured, took notes and listened to programs with English-language narrative, like BBC, for pronunciation. She continued learning basic English in university, but what left Vanessa unsatisfied was the lack of advanced material. Bravely, she embarked on an exciting adventure to the United States in search of an opportunity to learn more English and open up her job market. She chose to attend college in the states because, in her eyes, American schools are better than any school in Cameroon. Beyond that, studying English in the United States is viewed as a very prestigious experience, which could help her job search. She notes that because English is the first language spoken in the world, it's essential if she wants to work internationally. Vanessa is working hard on her English to be accepted into the CSC mathematics program, in which she intends to study engineering and become "a famous and popular petroleum engineer". Learning English is a must for her to receive conditional acceptance into a U.S. academic program next fall. As a student of the
BridgePathways program
at CSC, Vanessa gets a chance to work on her English and familiarize herself with the campus before being accepted into an academic program. While some find culture shock as the biggest challenge to adapt to, Vanessa thoroughly enjoys the dorms on Chadron's campus because the students have access to many amenities such as laundry machines, computers and kitchen space to use, and the best part; the dormitories are secure (restricted identification access into buildings) quiet environments conducive to learning. We feel humbled to have motivated students who are eager to learn English for brighter futures. Vanessa's final words of advice to those thinking about learning English at an American university, is to have a good travel schedule and to plan your trip beforehand as much as you can.
Follow Vanessa's advice; start planning! With multiple BridgePathways locations around the United States, you're sure to find the perfect location to improve your English in a supportive environment especially designed to ease your transition into education in the United States. With English, your future will be full of opportunities around the world – get started by contacting us for more information.
---
Sign up for the BridgePathways newsletter to receive helpful English tips, college preparation tips, program information, and more!
---