Chadron State College Grads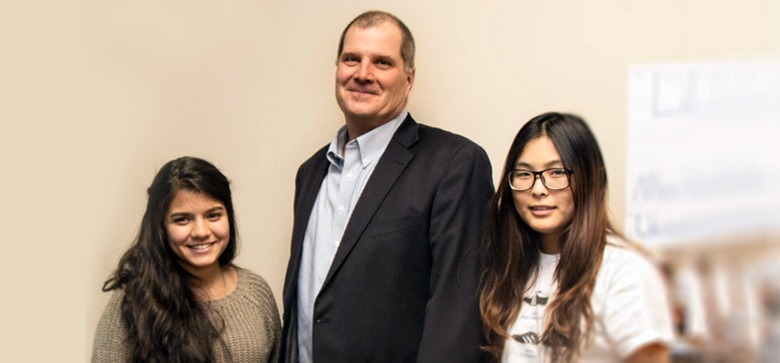 This fall, BridgePathways opened its doors atChadron State Collegeto help students improve their English and experience life in American university campuses. As the first semester comes to a close, we can proudly congratulate our first two graduates of the Intensive English Program, Lina Garatly of Jeddah, Saudi Arabia (pictured left) and Ting Qian of Shanghai, China (pictured right, next to Dr. Randy Rhine, Chadron State College President).
Everyone involved in the program has been supported by the faculty, staff and administration, which Tiffany Hendrix, BridgePathways Academic Manager, appreciates. Recently, she and the two graduates elaborated on their time atChadron State College in Nebraska, and gave insight as to how their experience, along with their new English skills, will sculpt their futures.
The classes are designed to develop essential English skills, centered around the students and their university experience. Additionally, the students have had the opportunity to apply the skills they work on in the classroom in order to prepare them for their future.
For more on these graduates and their time at CSC,read the full story here.
Looking to earn your degree in the United States? Read more about succeeding in an American University culture withour Intensive English programsat Chadron State College in Nebraska.
---
Sign up for the BridgePathways newsletter to receive helpful English tips, college preparation tips, program information, and more!
---