The University Experience in the U.S. vs. the U.K.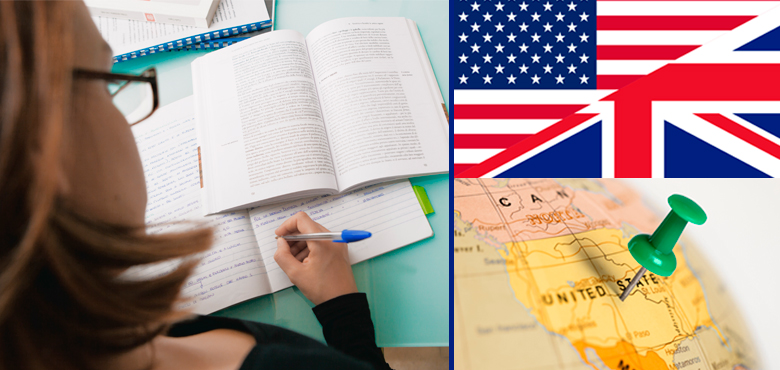 If you're planning to
study abroad at a university
in an English-speaking country, one choice you'll face is whether to study in the U.S. or the U.K. You might be wondering how different the university experience could really be in two places where the same language is spoken. However, there are some pretty distinct cultural differences between the grades, classes, and student life in the U.S. vs. "across the pond" in the U.K. Here are a few of those:
Academics
What are academics like in both systems? In the U.S., teachers generally help students along the way and want them to achieve high grades. There are many assignments: tests, quizzes, essays; even class participation is mandatory, expected, and graded. In the U.K., however, the final grade will be focused around one or two big tests, which are extremely important. Additionally, a U.K. degree takes 3 years to complete, while a U.S. degree takes 4 years.
Major/Course of Study
Americans have a flexible path towards getting their college degree.  In the United States, students apply to college without specifying a major. They take classes in interesting and different subjects and finally declare their major at the end of the first year of college or even at some point during the second year. Americans sometimes even change their major after declaring it! Also, many Americans add on another major or a minor. In contrast, in the U.K., students must apply to a specific "course" (which is the U.K. term for "major") before they begin their studies and therefore often pick universities based on how well the university ranks in their chosen course.
Learn other U.S. university terms here.
Types of Classes
The types of classes American and British students take are also a bit different. While in the U.K. students focus on their course (i.e. major), American students take a variety of different classes. A student could be majoring in English, but still take Biology, Botany, History, and Statistics during their college career, or even during just one year. All in all, one could say that the American university focuses on breadth of knowledge, and the British university focuses on depth. It's an interesting difference between the two. Maybe partly because of this, the typical British student takes three years to finish their degree, but it takes four years in America.
Sports
Extra curricular activities, like sports, also play different roles in the university education in the U.K. and U.S. College sports are a big deal in the U.S. – especially football (American football, that is, which is a uniquely American sport, not the same as British football). University life includes "tailgate parties" (pre-game, outdoor parties before a football game), "homecoming" games and lots of schools spirit to from students attending games. Even if sports aren't your thing, they are bound to    play a role in your college experience if you go to school in the United States. On the other hand, extra curricular activities like sports are viewed a little differently in the UK; they are less emphasized, and often seen as distractions and non-essential to the purpose of the university.
Click here to read more about U.S. university life.
BridgePathways offers degree programs at 8 universities in the United States (browse programs here), and all offer direct admission for qualified international students, as well as conditional admission for students who need to raise their English level prior to admittance.
---
Sign up for the BridgePathways newsletter to receive helpful English tips, college preparation tips, program information, and more!
---