What it's Like to Live in the U.S. as a Foreign Student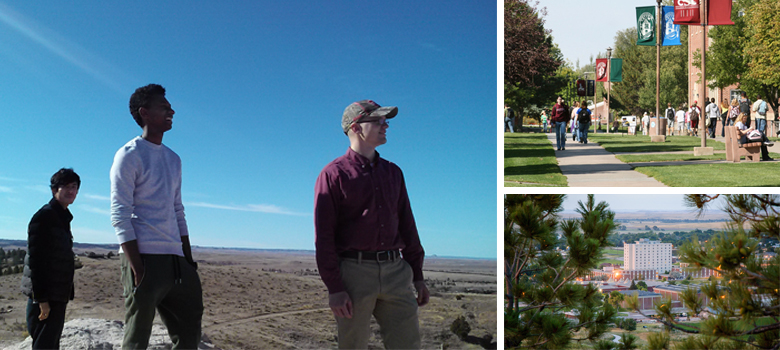 When you study abroad, you're likely to experience some big changes–everything from the people to the food to the weather might be very different from what you're used to in your home country. Senay, a student from Ethopia who is studying at Chadron State College, recently wrote about his experience at a U.S. university, including some aspects of American culture that most surprised him. Read on to hear what it's like to be a foreign student in the USA!
"If you asked me where I see myself after graduating high school a year ago, my answer would have clearly not been learning as a foreign student. I've been attending school outside my country for the past two months and it has been an experience. I honestly expected everything to be like the movies, you have the jocks, the popular kids, the band groups . . . etc. But in reality I found the people to be very hospitable and very helpful. Did I mention I am from Ethiopia, and that I'm writing from an Ethiopian point of view? I found a lot of things to be very different or hard to explain to people back home like the fact that speed limits are taken seriously or that an 18 year old is considered an adult, but not old enough to buy a drink.
I haven't really got a chance to experience everything in vast ranges yet, but as a foreign student here I found the school curriculum to be very different than back home. At first it was a bit confusing; the grading, the lectures, the assignments, but eventually I got the hang of it. In time, I slowly got to meet new people and started to blend in. The people here are so nice and they make you feel like you're home. When I first got here, I didn't like it so much, the weather was something I never experienced before. Snow being one of them. I was so surprised when I first got to see snow here, I just had to stand out there and stare, but I couldn't bear the cold. It started to get colder and colder deep into the winter. I've discovered that I'm not a huge fan of the cold anymore thanks to the snow. Winter here is completely different from back home, while there we only get cold nights.
Overall, my experience as a foreign student has been very pleasant. The people were very welcoming and understanding. Everyone was just eager to help me with whatever I found difficult and needed help with."
If you're ready to experience life on a U.S. university campus for yourself, it's easy to get started. You can start the BridgePathways admission process today!
---
Sign up for the BridgePathways newsletter to receive helpful English tips, college preparation tips, program information, and more!
---