Meet Bandar: Pathways Student at Philadelphia University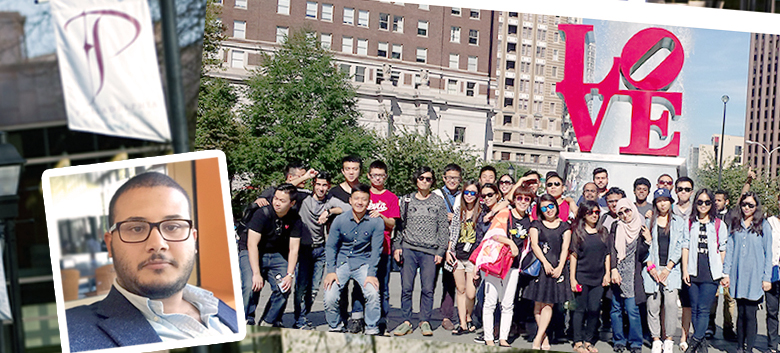 Bandar is 26-year-old student from Saudi Arabia. He is currently studying English through BridgePathways at Philadelphia University, and once he graduates, he plans to enter the Construction Management Engineering degree program at Philadelphia University.
We asked Bandar the following questions and he was able to give his responses in English! Here is what Bandar has to say about his stay in the U.S. so far:
Why did you choose to come to the U.S.?
I came here to complete my higher education. [The] USA is the best country for me to live and study with [little] worry about culture shock because there a lot of Saudi students here. Also, US [universities] are the best.
Why did you choose to come to BridgePathways
I came here to develop my English and get final acceptance [to Philadelphia University].
What do you like the most and the least about the U.S.?
[What] I like the most [is], it doesn't matter what age people [are, they] still try to get their education. The least [is], how some people treat their parents with disrespect!
What do you miss the most about your home country?
I miss my family and friends.
What has been the most academically challenging portion of your immersion experience in the U.S.?
I would say the English, therefore it's the skeleton of my education in the United States, and it's the key to communicate with the people in higher education.
What are the biggest academic differences you see between here and in your home country?
I would say the academic materials are more up-to-date [in the U.S.]
What do you like to do outside of class?
When I came to the United States, I start working out more [often] because I have more free time.
What was your perception of the U.S. before you visited?
Has it changed?
I thought I'd see the most advanced country in the world. Yes that's change because I didn't see what I thought [I was] going to see.
Do you have any plans for after graduating from Bridge?
Yes, I am going to study Construction Management at Philau.
Any advice for someone who is thinking about learning English or interested in studying abroad?
Don't shy to ask questions even though if you think it's stupid you are here to learn.
Want to study at a US university and earn a degree? Learn more about conditional admission offered by our partners and begin your journey to the US like Bandar has done!
---
Sign up for the BridgePathways newsletter to receive helpful English tips, college preparation tips, program information, and more!
---