Is a Small or Large U.S. University Right for Me?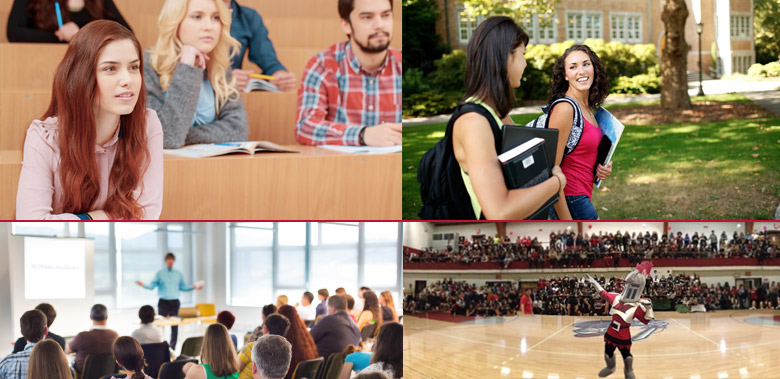 One of the most important choices you'll make in life is the university you attend, and if you're planning to study abroad, this decision will take even more research! You want to choose the school that matches your academic goals, location preferences and your personality best, and there are plenty of quality universities to choose from in the United States. A particular point that students consider when selecting the right university abroad is the size of the school, which can affect many aspects of university life. Is a small, cozy campus where students and faculty really get to know each other right for you, or should you attend a large, university where you'll be more anonymous? Compare the advantages and disadvantage of each college experience and decide for yourself!
 Class Size
One of the clearest differences between a small and large university is class size. In a large university, students will often find themselves in auditorium-style lecture halls, with upwards of 100 other students. This learning environment provides more anonymity and student diversity, but it offers less individual attention for each student. This could work well for an independent learner. Smaller colleges and universities, non-surprisingly, have correspondingly smaller class sizes. You might find 10-30 students in a class, meaning that there is more interaction between the students and the professor. You may also find that there's a higher expectation for you to actively participation in class, rather than sit back and observe quietly.
Teachers/Faculty
The type of faculty a university has often depends on the size of the university, too. A large, research-based college hires more "big-name" scholars, who are at the top of their respective fields. This sounds like an exciting plus, but be aware that often the majority of the actual teaching duties are performed not be these professors, but by "TAs," or teaching assistants (who are graduate students). This could be positive, as TAs are students just like you, and might be able to communicate the material more simply than an experienced professor. However, if being taught by a well-known professor is important to you, this is something to consider. At a small school, especially one that doesn't have any graduate programs, there will be fewer famous or well-known professors, but you will not be taught by TAs as often, either. The faculty at smaller universities will still be highly educated, published and respected, but not necessarily as influential in their fields as their counterparts at large universities. Notably, you will likely get more interaction, time, and attention with your teachers at a smaller school, and may even form close relationships with them.
 Courses
The program you choose to pursue, including the specific courses you'll take at university, is probably the most important factor in your college choice, and rightly so. Bigger schools will have more variety and breadth in courses, offering many more undergraduate and graduate degrees, and often law school or medical school. These larger universities have more funding and more income coming in from every student, so they also tend to have multiple libraries, well-equipped labs, and other state-of-the-art facilities for student use. Smaller universities will have fewer degree programs to choose from, but they often specialize in certain areas of study, or you may even be able to design your own program! On a smaller campus there may be just one library and fewer laboratories and other student facilities, but you'll get more individual attention and guidance when you're in those facilities. In fact, because of the individual attention, the rate of college dropouts is often found to be lower at smaller schools.
 Extracurricular Activities 
You'll have more options and a wider variety of extracurricular activities, such as on-campus clubs and organizations, at a large university. Athletics are usually a very big deal at large American universities as well, especially football and basketball. With top-tier sporting teams and different levels of intramural sports, you'll find no shortage of sports at a large university, whether you plan to be a participant or a spectator. In smaller universities, there will be fewer extracurricular activities offered, but the groups will be more close-knit, and it will also be easier for you stand out in whichever club or organization you choose. And certainly athletics can be important at small colleges as well, if on a smaller scale, with spirited rivalries common between other schools in the same division.
The "Experience"
The main question you'll have to ask yourself is,
What kind of experience am I looking for in college?
Do you want the classic big university experience that's often portrayed in American movies, with a giant, all-inclusive campus, packed lecture halls, and a sports team you can follow? Or is your idea of college life more laid back, and you dream of attending classes on quiet, leafy campus in a community where fellow students know your name and you can stand out in class? Whether you choose to attend a small or large U.S. university, remember you can always tailor your experience to your preferences. It's easy to make a large school feel smaller by getting to know a certain professor or dedicating yourself to an extracurricular activity. Similarly you can make a small school feel larger by expanding beyond the school and venturing into the nearby community. To learn more about our university partners (small and large!),
browse locations throughout the U.S.
---
Sign up for the BridgePathways newsletter to receive helpful English tips, college preparation tips, program information, and more!
---