Hear from International Students at Husson University in Maine!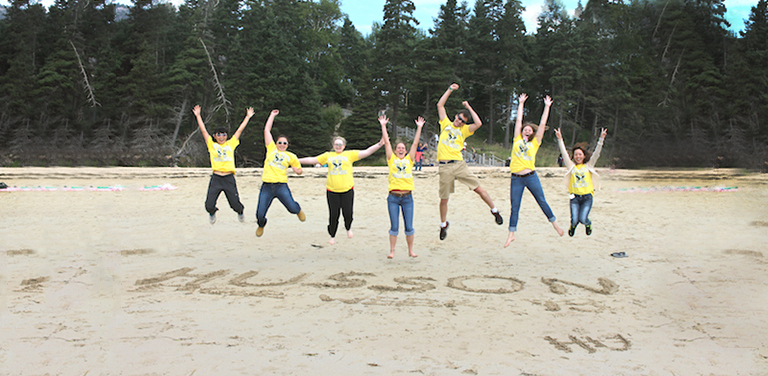 Husson University, one of our Bridge university partners for international students, is located in
Bangor, Maine
, a safe, charming, riverfront town with access to plenty of outdoor activities and only about an hour's drive from the Atlantic coast. Husson is also an affordable university, with
scholarships
of up to $10,000 available to any undergraduate international student with a GPA of 3.0 or higher.
Hear what students are saying about Husson!
Yan Lin Jennifer
is a Husson international student from China who is studying Business Marketing. She felt at home right away in part due to the diversity at Husson University.

"Once when I handed in the application form, I never regretted my decision. At Husson, I met many people from different countries, and I was very happy get along with them. Husson is a multicultural family without discrimination. We have different skin colors, different languages, different cultures. But one world, one dream. We are Husson-ers, and I will remember Husson spirit forever."
Martin Lidholm,
from Sweden, is studying Sports Journalism. He also felt welcome at Husson and values the friends he's made.

"From day one, Husson felt like the perfect fit for me. When I arrived here…  all the students, teachers, and other staff welcomed me with open arms. Based on the friends I have made and experiences I have had, I know I made the right choice."
International students also love Husson because of its affordable tuition and reputation for excellence in programs such as pharmacy, business administration, and field sciences.
Trang Le is from Vietnam and is studying Pre-Pharmacy:

"Studying abroad was one of my dreams that I longed for as a child. The university accepts and welcomes a variety of students from different cultures, religions, and countries. All administrations, faculties, and students create a friendly, comfortable, dynamic and professional environment, which is really suitable for high education. Studying abroad, exploring a new culture and starting independent life bring a lot of difficult issues so that choosing a proper university is really important for all international students."
Students also value the opportunities for internships at Husson University. In fact, 95% of students at Husson participate in an internship that will help them in their future careers!
Shazia Fathima is an MBA student from India who chose Husson in part for the internship opportunities offered.

"The university offers a world class education at an affordable price for international students. I am happy I chose Husson [because] the administration, faculty, and students at Husson care about everyone and are always willing to help. The best thing about Husson is that it encourages students to pursue internships, fellowships and other career prospects with one-on-one guidance, which complements our academic study."
Ryan Tham is from Malaysia and in the Husson nursing program. He sees his choice to study at Husson as a positive turning point in his academic career.

"What Husson has provided me with is more than just academics. At Husson, I can experience the commitment of their mission to "inspire and prepare students for professional career" by giving comprehensive support to every student. I have no regret choosing Husson as my education turning point."
 Can you picture yourself here? Learn more about programs at Husson University!
---
Sign up for the BridgePathways newsletter to receive helpful English tips, college preparation tips, program information, and more!
---