Top 5 Things To Do in Philadelphia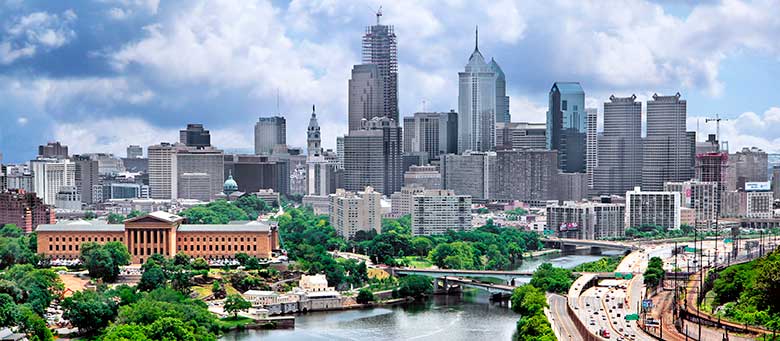 1. The 'Hoods
Though Philadelphia is the largest city in Pennsylvania and the fifth largest city in the United States, it is known for its division into different neighborhoods. The neighborhoods give the big city a small city feel, and makes almost every necessity within walking distance. Each neighborhood has unique features that set it apart from the others, inducing a strong sense of pride amongst its residents. The neighborhoods names range from Cedar Park and University City to Graduate Hospital and Fish Town (I'm sure you can figure out what each of these neighborhoods are known for!).
2. History
Philadelphia is a large tourist destination because it is a prominent place for much of the history of the United States. Philadelphia was once temporarily the capital of the United States, it served as the meeting place where the Founding Fathers penned the Declaration of Independence and the Constitution, and was the center for a large variety of industrial sectors. Additionally, historic sites are plentiful. The Liberty Bell, the Academy of Music (first opera house in the US), the Johnson House (part of the Underground Railroad), the Edgar Allen Poe House, and City Hall are just a sampling of what Philadelphia has to offer in addition to its many museums.
3. Art is everywhere!
If you love art, then Philadelphia is for you. With over 3,000 murals on the sides of buildings, trucks, and houses, Philadelphia has more murals and sculptures than any other city in the United States. The Mural Arts Program, founded in 1986 as an anti-graffiti campaign, has employed the help of professionals, prosecuted graffiti vandals and volunteers to cover the city with eye-pleasing artistic treasures.
4. Ethnic Pride
Philadelphia is a city with many residents from ethnically diverse backgrounds. In recognition and respect of Philadelphia's diversity, PECO, a Philadelphia energy company, hosts a series of events during the summer that reflect those different ethnicities. Whether you are Islamic, Irish, Latino, African American, Indian, Asian or anything else, you will find an event that celebrates you!
5. Food
Philly Cheesesteaks. Soft Pretzels. Hoagies. That should be enough to convince you that the food scene in Philadelphia is one that should be experienced. In addition to those famous Philadelphia delicacies, the city is also known for being an incredible "restaurant town", having popular, tasty restaurants in every neighborhood.
---
Sign up for the BridgePathways newsletter to receive helpful English tips, college preparation tips, program information, and more!
---