5 Websites to Save on Travel in the USA!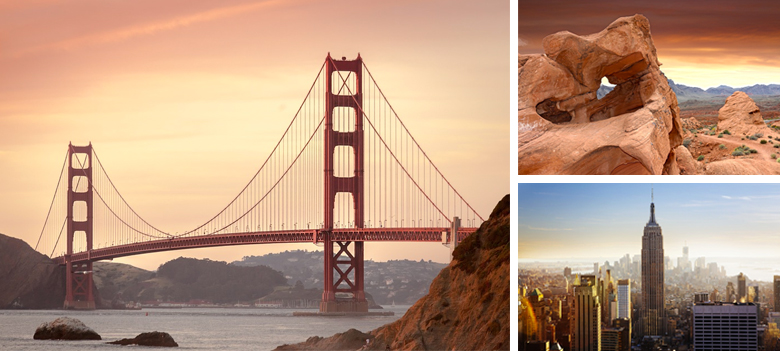 As a student, university holidays offer a chance to get away, take a break from schoolwork and explore the country where you're studying. While you're studying in the United States, you may want to take advantage of your holidays to do some travelling and see more than just the area where your university is located. The U.S. offers a wide range of great travel destinations, featuring beautiful scenery and exciting city life. But can you afford to take a vacation on a tight student budget? You can if you know the best sites for travel discounts and deals! Here are 5 sites every student should know:
• Kayak.com
If you plan to fly to your vacation destination, your airline ticket represents a big chunk of your travel expenses. Instead of spending your time clicking around various airlines' websites for the best deal, let a search engine like
Kayak.com
do the work for you. It checks other sites in seconds and compares prices across various airlines, quickly finding the cheapest deal for when you plan to fly.
• Skyscanner
This is another site that scours multiple sites for the best flight deals. What's extra helpful about
Skyscanner.com
is that if you have flexible travel dates, you can view a "show whole month" feature that lets you quickly scan for the cheapest outbound and return dates of travel for any destination.
• Airbnb
Staying in hotels while traveling can get pricey! Consider
Airbnb
instead. Airbnb lets you book a room in someone's home or their entire apartment or house at a price that is often far cheaper than a hotel stay. This site even has unique, one-of-a-kind accommodations like tree houses and yurts, giving you plenty of options that go beyond the standard tourist experience.
• Couchsurfing
You can even take advantage of completely free accommodations by connecting with like-minded travelers as a member of Couchsurfing.com Couchsurfers are a community of people in cities around the world who open their homes (and couches!) to other travelers without charging a dime, giving you the chance to live like a local and make new friends.
• Groupon
If you have ever used
Groupon
to find a great deal on a meal out or local activity, you already know that this site offers some unbelievable bargains. The same is true for their travel offers! The "Getaways" section of this online coupon site features weekend deals, discounted hotels, all-inclusive packages and even international travel. It doesn't get much cheaper than Groupon, so be sure to check it out before you plan your next holiday trip!
We all need a vacation now and then, and when you're a student, taking trips with friends over school holidays is part of the college experience. Don't let budget stop you from exploring the USA! Use these websites to save on your next school holiday.
---
Sign up for the BridgePathways newsletter to receive helpful English tips, college preparation tips, program information, and more!
---