Student Life on the Campus of Jefferson (Philadelphia University + Thomas Jefferson University)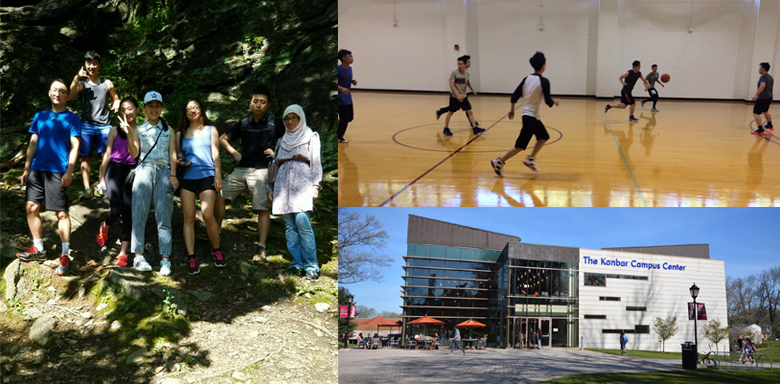 Editor's note: In July 2017, Philadelphia University combined with Thomas Jefferson University to form the new Jefferson (Philadelphia University + Thomas Jefferson University).
The campus of Jefferson (Philadelphia University + Thomas Jefferson University), a Bridge partner, is located in a beautiful, park-like setting right near the heart of the bustling and historic city of Philadelphia. While studying at Jefferson, students focus on their classes first, but they also have an impressive array of extra-curricular activities to choose from right on campus! Learn about fun activities for students at Jefferson, which are perfect for breaking up class-time, meeting other students, and enjoying the true American college experience.
Recreational Athletics
Staying in shape is a breeze at Jefferson, with a world-class, recently renovated gym right on campus. Stop by after classes or meetings with professors to get your exercise for the day in a convenient location. Plus, admission to the gym is free for students and faculty, which includes group classes such as cycling, yoga, and self-defense. You'll see many current students working out alongside faculty, teachers, and even the president of the university - who works out at the gym daily.
Exploring the Outdoors
Living in the city sometimes leaves students looking for a little bit of outdoor therapy, where they can enjoy scenic views and fresh air. Jefferson takes students on Thursday hikes in Fairmount Park, which is a lush, green park that's right on campus. These hikes can help you enjoy the outdoors without going too far; however, if you're feeling extra adventurous, another option is to join the Jefferson Outdoors club, which takes scheduled trips around Philadelphia and the Eastern Seaboard!
Clubs
Do you have any special hobbies or interests—or would you like to acquire some new ones? Join one of Jefferson's on-campus clubs! Clubs are a great way to meet other students with similar interests to your own, and can offer another social outlet outside of your roommate or classmates. Play card games or video games, take part in team sports, like ultimate Frisbee, or even enhance your resume by writing for one of Jefferson's publications. And if you're into sports, you can enter one of Jefferson's basketball tournaments in the gym on campus, or buy tickets through the school - for only $5 - to see the 76ers! Whatever your interests, find a club to fit them at Jefferson.
Getting Ahead
Learning new things doesn't have to stop once you leave the classroom. Jefferson often offers informative and helpful academic lectures regarding a variety of subjects - from environmental issues to architecture - that can help stimulate your mind and inspire new career ideas. Additionally, the university has a special segment appreciating and learning from "student bosses" - who are entrepreneurial Jefferson students who have started their own business, on top of going to school full-time!
Getting Involved
Jefferson makes it easy to give back to the community. One way to immediately get involved with the campus and larger community is through Greek life. These organizations are based on sisterhood and brotherhood, and make an effort to donate time and money to Jefferson and nearby organizations. Joining Greek life is a great way to get involved and volunteer, along with making lifelong friends. Additionally, the university offers various community programs that are open to everyone on campus. Upcoming events include the strEAT food festival, which highlights local food, and Unity Week, which celebrates diversity and inclusion between students and faculty. Can you picture yourself studying in the U.S. at Jefferson (Philadelphia University + Thomas Jefferson University)?
Click here to learn more or start your application!
---
Sign up for the BridgePathways newsletter to receive helpful English tips, college preparation tips, program information, and more!
---