Academic Spotlight: Featured Programs at BridgePathways Partner Universities!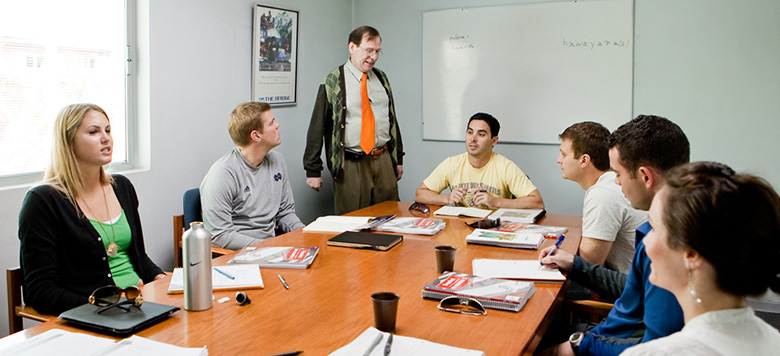 If you're choosing a U.S. university for your plans to study abroad, your decision is based on factors like location, tuition costs, and, most importantly, the academic programs offered by each school. To help you zero-in on the university that's right for you, these are featured majors of study at six BridgePathways partner universities located throughout the U.S.
Philadelphia University, Pennsylvania
Featured Major:
Fashion Design It makes sense that fashion would be a strong focus at PhilaU, since the university is located in one of America's most vibrant and cosmopolitan cities, and is also just an hour from fashion-focused New York City. The Fashion Design program at PhilaU is ranked in the top 50 programs internationally by fashionista.com, and prepares you for all aspects of a career in the fashion industry, including design, technology, production and business. Other popular areas of study at PhilaU include Architecture, Engineering, Environmental Sustainability, Liberal Arts, Marketing, Business, Psychology, Chemistry, and Biology.
---
Colorado Mesa University
Featured Program:
Criminal Justice Colorado Mesa University is located in the scenic, high desert city of Grand Junction, an outdoor mecca of mountains and desert canyons in Colorado. When you take the Criminal Justice Program there, you can prepare for exciting careers in law enforcement, corrections, law, corporate security, criminal forensics, and crime scene processing. In fact, CMU just added a new Forensic Investigation Research Station, a research and teaching center focused on forensic taphonomy and related fields. Other popular areas of study at Colorado Mesa University are Business Administration, Biology, Kinesiology, Nursing, Psychology, Education, Health Sciences, and Mechanical Engineering.
---
Husson University, Maine
Featured Program:
Business Administration Business Administration is arguably one of the most versatile and valuable degrees you can earn at any university. At Husson University, located in the quaint and friendly city of Bangor, Maine, Business Administration majors can choose from a variety of concentrations, such as International Business, Entrepreneurship, Financial Management, Marketing, and many more. Other popular areas of study at Husson University are Accounting, Criminal Justice and Hospitality and Tourism Management.
---
Manhattanville College, NY
Featured Program:
Psychology Psychology is one of the programs for which Manhattanville College, located in the "big apple" just 30 minutes from Manhattan, is known. The Psych program focuses on both basic and applied psychology, and will prepare you for a career in counseling, research, forensics, human resources, or social work. Other popular areas of study at Manhattanville College are Business Administration and Management, Finance, Speech Communication and Rhetoric and Sociology.
---
Western New England University, Massachusetts
Featured Program:
Engineering Close to both Boston and New York, this highly ranked university is in a picture-perfect, traditional New England setting—a great environment to focus on a major in Engineering. Whether you choose Biomedical, Industrial and Mechanical or Electrical, Engineering, the program at WNE will provide in-depth preparation, with plenty of hands-on instruction in real-world situations. Other popular areas of study at Western New England University are Homeland Security, Law Enforcement, Psychology, Biomedical Engineering and Neuroscience.
---
The program of study that you choose is just one factor in many that will determine where you attend university in the U.S. To learn more about the different programs pathways has to offer international students, visit us at: www.bridge.edu/bridgepathways
---
Sign up for the BridgePathways newsletter to receive helpful English tips, college preparation tips, program information, and more!
---