Bridge Students at Philadelphia University Collaborate on Nexus Maximus Project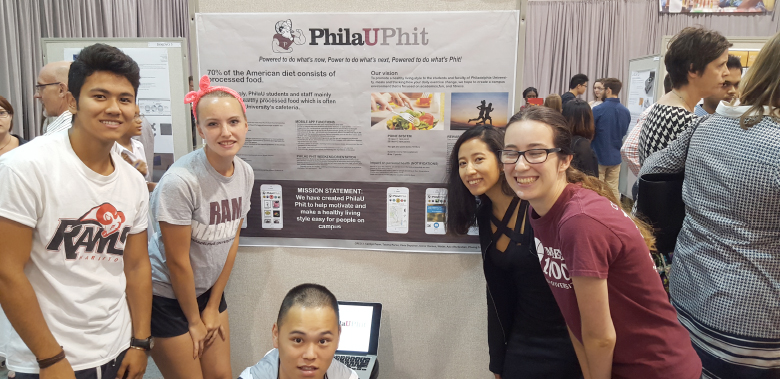 Editor's note: In July 2017, Philadelphia University combined with Thomas Jefferson University to form the new Jefferson (Philadelphia University + Thomas Jefferson University).
Last fall, Bridge students on the campus of
Philadelphia University
had the opportunity to take part in a collaborative project with students from that and other universities in the U.S. and Europe. This groundbreaking, annual 4-day event, called Nexus Maximus, brought students of varying cultures, backgrounds and fields of study together to attend workshops on innovation and entrepreneurship. (
Watch a video to learn more
.) The project culminated in groups competing to present the most innovative solution to a current, real-world problem. Bridge English students at levels four and five (high intermediate) were invited to participate as an opportunity to practice their English and interact with undergraduate and graduate-level students and faculty. Other participants came from as far as Aalto University in Finland and the Copenhagen School of Design and Technology in Denmark. Milad, a Bridge student from Saudi Arabia, said of the collaboration, "I liked working with my team, which included differed kinds of people with different majors. Working with them really increased my knowledge and my experience. I loved the workshops. They were really useful for me." The 2016 Nexus Maximus theme was "Personal Health – Innovation, Data and Empowerment." The students were challenged to come up with ways that health technology, such as wearable sensors or expanded information sharing, could be maximized without compromising personal privacy or ethics. Because the workshop was 100% in English, some Bridge students were initially nervous about communicating with their teammates. Bridge student, Gavin, wrote in his blog that, "It was my first time to do some work with other people because in China we did our assignment all by ourselves. So I was very nervous." Another student, Xu, saw the event as a chance to learn and practice, saying, "I regarded the activity as a pathway to improve English skills. It has surprised me because this is a totally different learning method from that in my country." Bridge student, Jackie, agreed, adding, "After the third day I met with local people, my speaking level had improved. The most wonderful thing is I had my first American friends." With the goal of collaborating to come up with a problem and solution related to the project's theme, the diverse, international teams of students got to work. On day one, they brainstormed issues surrounding health data. On days two and three, they worked together, and with faculty, to further develop and refine their ideas. On the fourth and final day of the project, teams presented the product and business plan they developed, and a winner was chosen. Milad, the student from Saudi Arabia, was in the event's winning group.  She and the other winners now have their names etched on the Nexus Maximus "Sword of Innovation," a symbol of the event's Roman theme. When asked about what she learned from the project, she seemed to sum up the experience of the other Bridge students, saying, "The most important thing I learned from Nexus is that we should believe in ourselves, abilities and ideas. We should try different things in this life and never feel afraid from failure." Jackie echoed this feeling. "Joining this activity is one of my best experiences in my college life," she said. PhilaU is one of the only two schools in the world holding a collaborative event like Nexus Maximus.
Learn more about the BridgePathways program at Philadelphia University
.
---
Sign up for the BridgePathways newsletter to receive helpful English tips, college preparation tips, program information, and more!
---