How to Lead a Balanced Life as a Student in the United States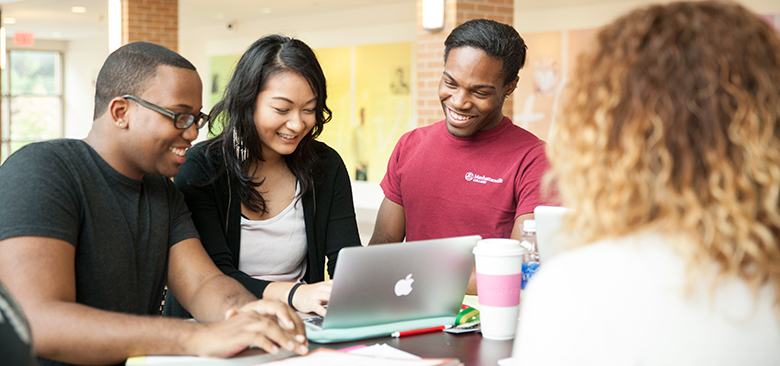 Academic life can be challenging and stressful, especially as papers, exams, and projects start to pile up. It is important to remember that when you choose to study in the USA, your university campus offers much more than just classes and homework. Universities in the United States are lively cultural epicenters. The concentration of a young, educated, and diverse population results in numerous clubs, activities, and events. Take advantage of these different aspects of university life to have a well-balanced and fulfilling experience as a university student in the USA.
Here are some student life highlights at our BridgePathways university partners:
CMU's location in Western Colorado makes it a prime choice if you are interested in outdoor activities such as hiking, skiing, camping, and more. The school's thriving arts program also means that there are music and theater performances throughout the year. CMU is home to over 160 student clubs, ranging from a Cinema Club, to intramural and club sports, to an entrepreneurship club, and more. CMU's recreation center offers swimming, diving, yoga, and more, while the outdoor program features kayaking, skiing, and mountaineering to name a few.
Husson offers over 40 clubs for students along with a great variety of recreational activities, ranging from camping trips, to whitewater rafting, to aerobics and tai chi. Husson's Gracie Theater, a 500-seat theater, hosts cultural performances and entertainment throughout the year. The university also celebrates a number of traditions to encourage school spirit, including an annual President's breakfast for first-year students, winter carnival, and the homecoming football game (a classic American tradition).
As a student at Manhattanville, you can choose from over 40 student clubs and organizations, including a Dance Ensemble, Entrepreneurs Club, a radio station, and a literary magazine. MVille offers a number of off-campus student trips to expose you to New York City and the surrounding areas. If you are looking to play sports, the school is home to 21 NCAA Division III teams.
PhilaU owes its vibrant energy to its location within Philadelphia city limits. As a PhilaU student, you can join a variety of clubs, from Animation Club, to Gemini Theater, to Ultimate Frisbee. PhilaU offers leadership programs for both new students and upperclassmen, and for those who want to play NCAA Division II sports, the PhilaU Rams have both men's and women's teams in basketball, soccer, and more.
WNE staff and teachers encourage students to participate in activities and clubs. The annual Student Activities Expo gives first-year and transfer students a chance to learn about what is happening on campus and plan for important events throughout the year. WNE is home to over 60 student clubs, ranging from a billiards club, to a Marketing Association, to a Film Society, and more. You can hone your DJ skills on WNEK, the school radio station, or play for one of the many men's and women's sports teams representing WNE.
What are you waiting for?
---
Sign up for the BridgePathways newsletter to receive helpful English tips, college preparation tips, program information, and more!
---