Meet Vy, Vietnamese Student at Colorado Mesa University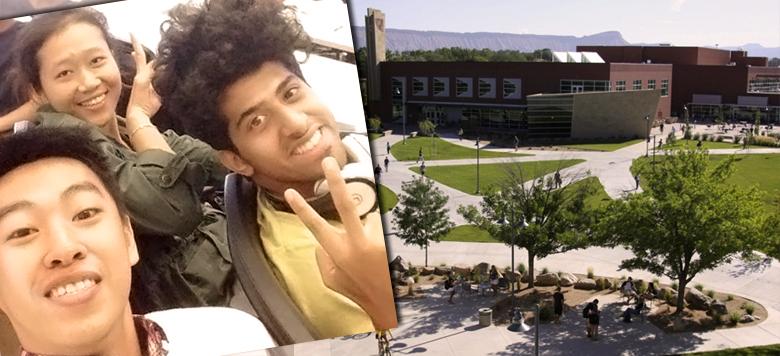 Vy is a BridgePathways student at Colorado Mesa University and has been in the program for just over a month. During that short time, she has grown tremendously with both listening to and speaking in English. In her home country of Vietnam, she studied how to read and write in English, but never practiced English speaking and listening skills. After a month of attending the BridgePathways Academic English program at Colorado Mesa University, over a Skype interview, when was asked questions in English, Vy was able to reply in English.
Ultimately, Vy choose to study in the United Stated to get a better education than she could receive in Vietnam. The town that she is originally from is centrally located in the country where most of the people in the region farm for a living. Before choosing to study in the United Stated, Vy said she conducted a lot of research. Her research lead her to Colorado Mesa University in Grand Junction, Colorado. When asked what she liked about the city, she said, "The town is not too crowded." With a population of 100,000 people in the surrounding area, a town like Grand Junction makes for an easier cultural transition for students coming from rural areas around the world. Yet, the city still offers many outdoor and social activities for students to participate in outside of class.
Before studying in the U.S., Vy had her own ideas of what America and its people were like. "I thought people here only cared about work," she said. Since living in the United States, she says that this original opinion has changed. Though Americans do work a lot, Vy has learned that they make time for fun as well. When asked about American culture, she states that she loves that people in the U.S. can really do anything they like.
Vy says that she is very satisfied with her English education in America so far. She expresses that her teachers are very nice and incredibly helpful. For those wanting to follow the same path that she has, she advises, "You have to have an open mind. You must adapt to the environment quickly and study hard." Though she is able to talk to them everyday, the biggest challenge for Vy has been missing her family back in Vietnam. Through the Pathways program at CMU she has made friends with students that are experiencing the same things that she has.
Once Vy successfully completes the Intensive English Program, she will earn a TOEFL waiver and Conditional Admission to Colorado Mesa University. She wants to become a Pharmacist and plans enter the Pharmacy degree program at CMU. Through studying English at BridgePathways at Colorado Mesa University, Vy will be able to confidently start her journey as a U.S. university student.
Learn more about the BridgePathways program at Colorado Mesa University here, and explore our other locations here.
---
Sign up for the BridgePathways newsletter to receive helpful English tips, college preparation tips, program information, and more!
---