The ABCs of University Degrees: Understanding Your Options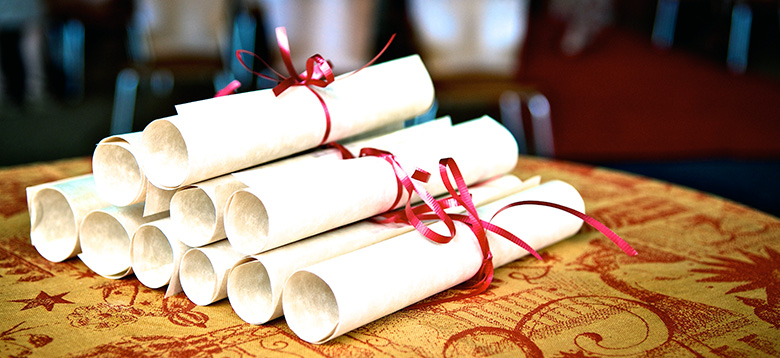 Have you ever looked at lists of degree programs offered at American universities, and become overwhelmed by all the choices? How about all the abbreviations next to the degree names, like A.A., A.S. or B.A.? To help lessen the confusion and guide you to the right program, we're here to explain those degree abbreviations. The abbreviations stand for the levels of degrees in different programs of study. There are four general degrees: associate, bachelor's, master's and doctorate.
If you are just entering college for the first time…
You can earn your 2-year Associate of Art degree (A.A.) or Associate of Science degree (A.S.) or a 4-year bachelor's degree of art or science (B.A. or B.S.) at an undergraduate college.
Associate degree:An associate degree requires a 2-year program that prepares students for entry-level positions or for vocations (such as medical assistant or electronics technician). Associate degree programs are offered by 2-year community colleges or by technical schools, although most 4-year colleges/universities also offer associate degrees. You can choose to earn an Associate in Art (A.A.), which focuses on areas such as liberal arts, education and social services, or you can earn an Associate in Science (A.S.), which focuses on fields such as engineering or computer science.
Bachelor's degree:The most common degree in undergraduate school, the bachelor's typically takes four years to complete. Students take classes in a major area of study to earn either a Bachelor of Arts (B.A.) or Bachelor of Science (B.S.) degree. The difference between the two bachelor's degrees is that the Bachelor of Arts requires students to take many liberal arts classes for a more overarching education, while a Bachelor of Science degree demands students take mostly classes focused on their major.
If you obtained your bachelor's degree and want to further your education…
You can go on to graduate school and study for your master's degree or, depending on your field of study, you can even go for a doctorate.
Master's degree: The master's degree is for students who want to further specialize in a subject after their undergraduate (bachelor's) degree. Master's programs are typically two years long. To be accepted into a master's program, you are usually required to take the Graduate Record Examination (GRE), have a bachelor's degree, and meet the master's program's minimum grade point average (GPA) requirement. Much like the associate and bachelor's degrees, master's degrees may either be in arts (M.A.) or sciences (M.S) as well as other, more specific fields.
Doctorate: The doctorate is the highest degree you can earn. Most doctoral programs require a master's degree, although some may only require a bachelor's. It takes several years to complete a doctoral program and as part of the degree, students are typically required to publish original material and complete a dissertation (a lengthy research paper defending an idea). There are many types of doctoral degrees, depending on the industry:
Ph.D: Doctor of Philosophy (this is general and can be awarded in any discipline)
J.D: Juris Doctor (to practice law)
M.D: Doctor of Medicine
D.D.S: Doctor of Dental Surgery
As you can see, there are many degree options, all with their own abbreviations. Choosing your level of education depends on your career goals and what industry you want to go into. All of our BridgePathways centers offer associate and bachelor's degrees in their undergraduate programs, and many even have graduate programs. To learn more about what each Pathways partner school offers ,
click here
.
---
Sign up for the BridgePathways newsletter to receive helpful English tips, college preparation tips, program information, and more!
---