Bridge Preferred Employment Partner: BFITS Thailand!
By Bridge
February 4, 2020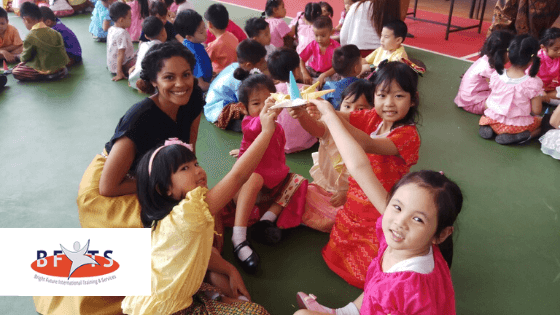 BFITS Thailand is an organization that helps qualified English teachers connect with jobs at public and private K-12 schools all over Thailand. BFITS is unique in that it not only places English teachers but also teachers of other subjects (such as science and math). BFITS is one of a select group of TEFL schools that make up the Bridge Preferred Employment Partner network of trusted schools worldwide.
What Is a Bridge Preferred Partner?
Bridge Preferred Partners are well established, fully vetted and approved TEFL employers and teacher recruiters Bridge works closely with.
New teachers looking for assistance arranging TEFL certification and job placement with a Bridge Preferred Partner, such as BFITS Thailand, can visit our Teach Abroad page for guidance throughout the process, from start to finish!
Qualified teachers looking to be matched with TEFL jobs with select Bridge Preferred Partners such as BFITS can register on the Bridge Job Board and create a Teacher Portfolio. Teachers can then apply to suitable jobs based on their qualifications and preferences, and Preferred Partners can reach out directly with job offers!
BFITS Thailand at a Glance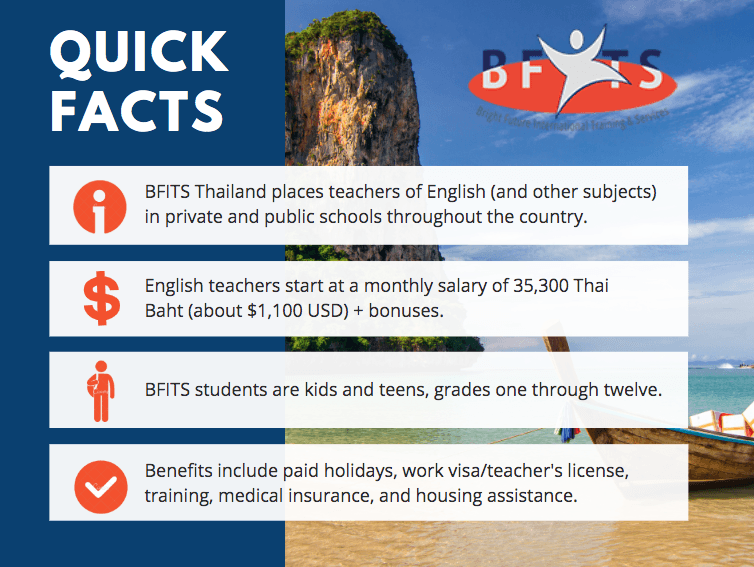 About the Job at BFITS Thailand: Requirements, Schedule, Students, Salary, and Benefits
BFITS currently has open teaching positions for both English teachers and subject teachers on the Bridge Job board!
Requirements to Teach with BFITS Thailand
Applicants to teach with BFITS Thailand must hold a bachelor's degree, in-person or online TEFL certification (the 120-Hour BridgeTEFL Master Certificate is recommended), and a passport from one of the following countries: USA, Canada, UK, Ireland, Australia, or New Zealand. One year of prior teaching experience is preferred, but new teachers can be considered if they hold a bachelor's degree in a relevant subject (such as education).
BFITS Teachers' Hours and Schedule
Teachers who teach specific subjects (such as science or math) typically work between 15 and 20 hours a week, while English teachers typically work between 20 and 25 hours a week. School is in session Monday to Friday, from 7:30 a.m. to 4:30 p.m.
BFITS Students
Subject teachers will generally work with 25-35+ students, while English teachers usually have classes of 35 or more. For English teaching positions, students range from grades 1 through 12. For subject positions, students range from grades 7 through 12. BFITS Thailand will provide all necessary curriculum and classroom materials.
BFITS Thailand Teachers' Salaries  
Subject teachers work on a 12-month contract, and make a salary of 40,300 Thai Baht (THB) a month, with a 500 THB bonus per hour of overtime.
English teachers work for a 6-to-11-month contract (which can be extended), and earn 35,300 THB each month, with 500 THB per extra hour of overtime.
Get up-to-date currency conversions here: https://www.xe.com/currencyconverter.
Other Benefits for BFITS Thailand Teachers 
BFITS provides both subject and English teachers with airport pickup, assistance locating housing, medical and dental insurance, two weeks paid vacation, all government holidays off with pay, assistance with securing a work visa and teacher's license (paid by BFITS), professional development training, and an end-of-contract bonus of up to 34,000 THB.
What's It Like to Teach With BFITS Thailand?
For a first-hand view from a BFITS teacher in Thailand, check out this video, featuring Dorian, a computer science!
Or, hear from Hayley, an English Teacher with BFITS who works at a school in the city of Buriram, located in one of the Northeastern provinces of Thailand:
"Overall, it has been the most rewarding and incredible experience. When I look at my students there is an unconditional love I have for them that I didn't know was possible, even when they jump on me during lunch and in the hallways.
I am also able to fulfill my passion of traveling during the school holidays. So far, I have been to Singapore, Cambodia, Vietnam, and various cities and beaches around Thailand. And that is only a small part of my bucket list. I have met the coolest people and made so many new friends.
I have a newfound respect for the Thai culture and am still obsessed with Thai food even though I have to request 'little spicy' every time I go out to eat. When I flew out here to teach, I had only planned to stay for 6 months. And now I have no timeline and could not be happier."
– Hayley, an English teacher with BFITS
How Do I Get Started as a Teacher With BFITS Thailand?
You can get started with BFITS by visiting the BridgeTEFL Job Board to apply directly.
Or, if you're not yet TEFL certified, you can visit the BridgeTEFL teach abroad page to learn more about how we can help guide you through the process of TEFL certification and landing a teaching job with BFITS or our other trusted Preferred Employment Partners in Thailand.