Bridge Job Assistance Services – How We Help You Get Hired!
By Bridge
February 19, 2020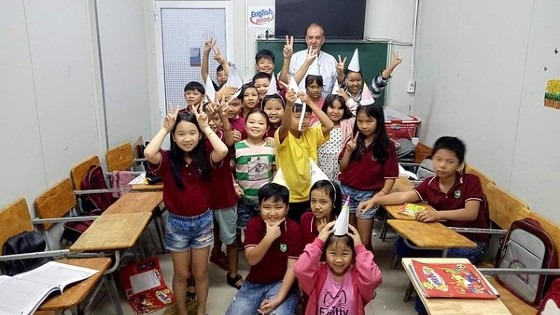 No matter where you are in your English teaching career — whether just starting out or a seasoned pro — you know the importance of networking and support. To provide this, Bridge has expanded its teach abroad and teach online services to help you with the process of getting a teaching job from start to finish. From choosing the right TEFL/TESOL course for your plans to connecting you with trusted employers abroad and online, Bridge now makes it easier than ever to turn your dream of teaching English into a reality. Learn about how Bridge job services can work for you!
How Is Bridge Job Assitance Different From What Other Providers Offer?
Many TEFL/TESOL course providers simply do that– they provide the training course; however, they may leave you hanging when it comes to the real reason you're getting certified – to find a teaching job abroad or online! Upon graduation, these providers may only give you a list of resources you can use for a "do-it-yourself" job search. How can you know which schools are a good fit for you and which ones are reputable?
Our approach is different.
We know it can be hard for people new to teaching English to navigate the job search process in countries around the world or online. That's why Bridge has developed a portfolio of job assistance services designed to guide you through the process from TEFL/TESOL certification all the way to job placement. We work to connect you with fully-vetted, trusted schools, teacher recruiters, and online tutoring companies via our Job Board and our network of Preferred Employment Partners. In fact, we can even start matching you with Preferred Employers before you complete your certification course!
Bridge Job Advisors – From TEFL/TESOL Certification to Jobs Abroad or Online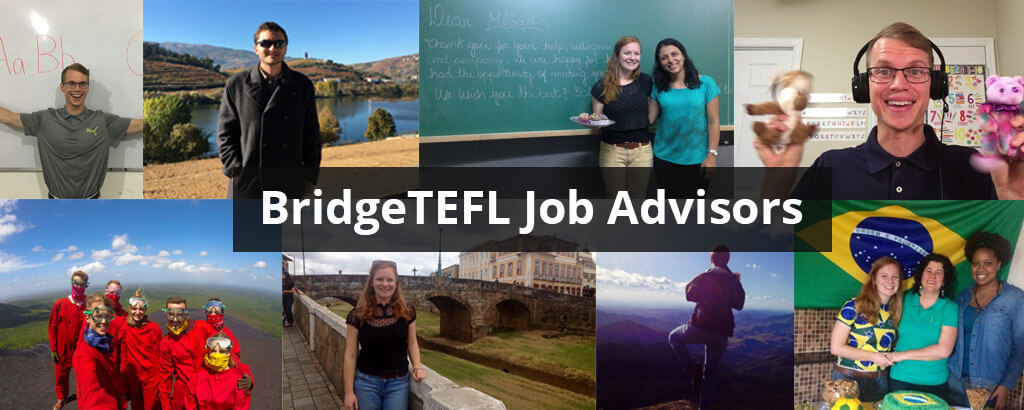 When you contact a Bridge Job Advisor, either via the website or by calling to speak to someone, you'll be provided with tailored information and advice just for you and your plans. If you're just starting out, an advisor can assist you by phone or email to help you learn about the necessary qualifications for the job you want, such as TEFL/TESOL certification, a bachelor's degree, or teaching experience.
Our Job Advisors can help you take advantage of the various job services we provide, including the following.
The Bridge Job Board – Resources, Open Positions, and New Features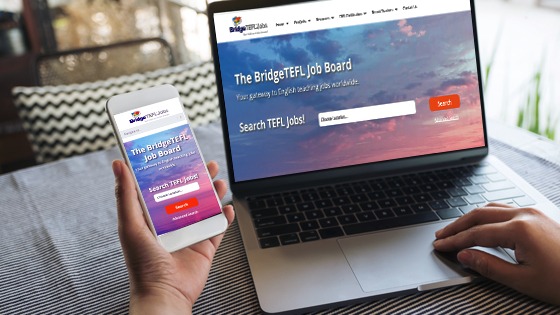 The Bridge Job Board is where global TEFL/TESOL schools and online tutoring companies post open positions teachers can apply to directly. Anyone can access the Job Board and apply to jobs directly, or you can simply browse positions to get a feel for requirements, salary, and benefits for various teaching locations worldwide. Search jobs by location, including online, or simply view the most recent postings.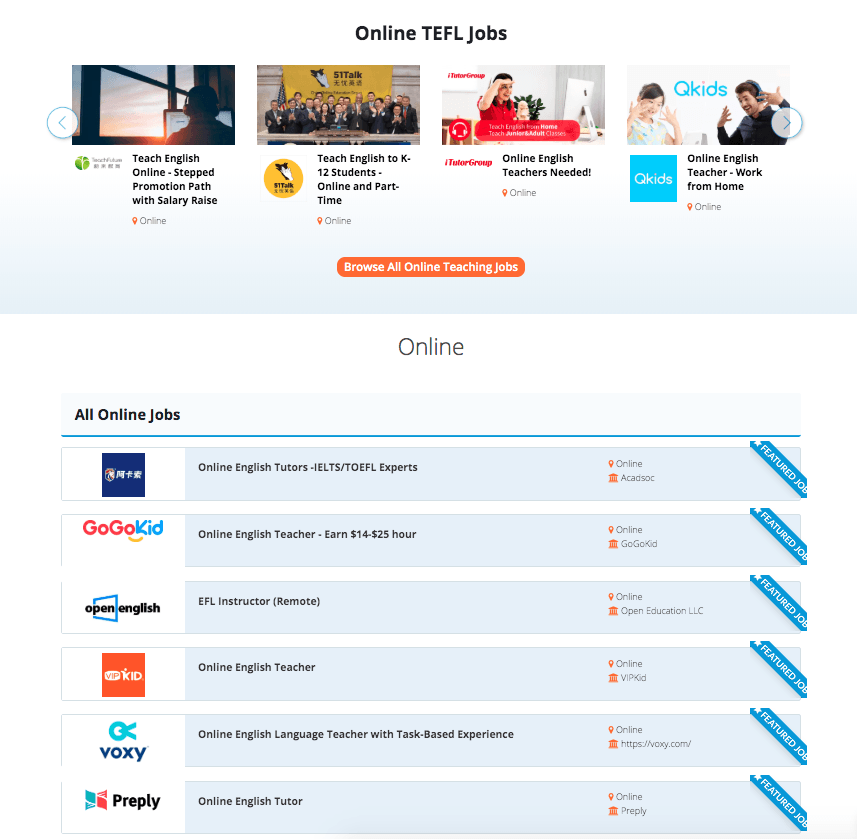 The Job Board also has resources for job seekers, such as an information page about teaching English online.
Bridge Teacher Portfolios – Showcase Your Skills and Let Schools Find You!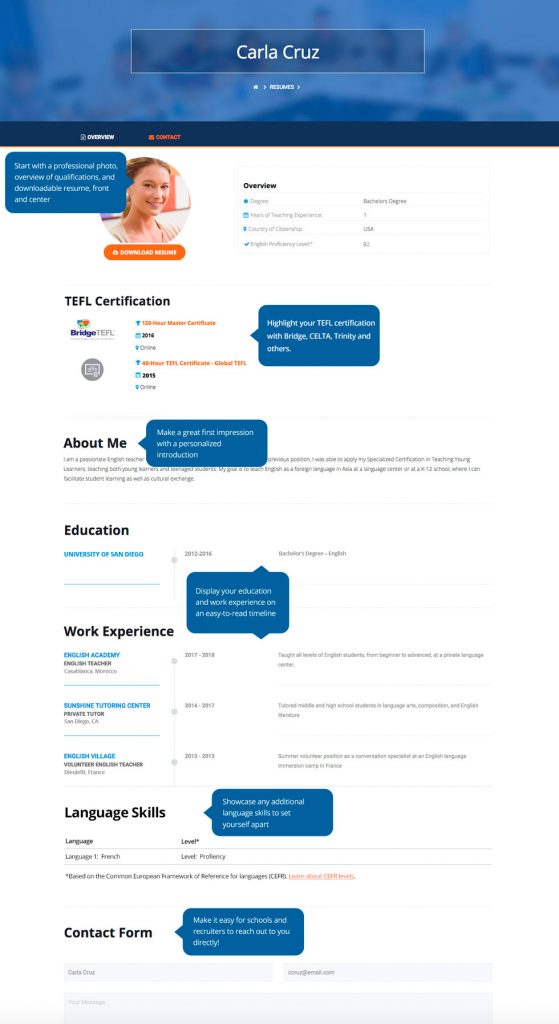 Another teach abroad service available on the Bridge Job Board is the option to create a Teacher Portfolio. By registering and creating your Portfolio, you can easily showcase your TEFL/TESOL certification and other qualifications to schools and recruiters, both abroad and online. Share your Portfolio with schools you find on the job board or you can make your Portfolio visible to schools so they can reach out to you!
The Bridge Common Application – The Easy Way to Apply for Multiple Jobs
The new Bridge Common Application lets you apply to multiple online teaching jobs with a single, online application. Once you complete your Teacher Portfolio on the Job Board, you're finished! Our Job Advisors then work to match you and your unique qualifications and preferences with jobs with our growing list of Preferred Employment Partners. You can send use the Common App to apply to as many online teaching jobs as you like.
To get started, you can pre-qualify here: www.bridge.edu/tefl/teaching-english-online.
Bridge Preferred Employment Partners – Trusted Schools and Online Tutoring Companies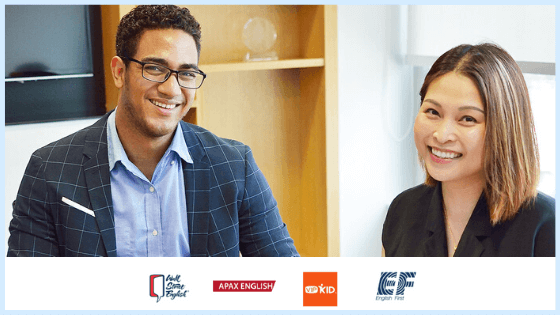 Preferred Employment Partners are fully-vetted, trusted schools, teacher recruiters, and online tutoring companies that Bridge works closely with. We recommend and place qualified English teachers with our Preferred Partners to give Bridge graduates and other Job Board members access to premium teaching jobs.
You can connect with Preferred Partners at any stage of your English teaching career, but doing so at the beginning of your plans to teach English has distinct advantages! Some employers will hire you before you have even completed your TEFL/TESOL certification, and may also reimburse the cost of your course.
If you work with a Bridge Job Advisor to teach English online with one of our Preferred Employment Partners, you'll receive a $50 credit toward your Bridge TEFL/TESOL Certification Course in Teaching English Online, once hired!
Bridge TEFLConnection™ – A New Way to Match With Employers

Beyond the Job Board and Teacher Portfolio, Bridge can provide personalized job placement assistance via TEFLConnection™. By opting into this service, we make it easier for you to connect with positions that match your specific qualifications and job preferences, by sending the jobs to you! We'll regularly notify you about positions in our network of schools and recruiters, including Bridge Preferred Employment Partners, that fit what you're looking for.
Bridge Resources for Teaching English – Knowledge is Power!
For more information on teaching English, we've created learning hubs for our global community of teachers.
You'll find FAQs, informational eBooks, teaching stories from our alumni, TEFL/TESOL course info and reviews, and much more.
Follow the links above to take the first step toward teaching abroad or online by contacting us to tell us a bit about yourself and your plans.