Yes, You CAN Teach English Abroad!
By Scott Beckman
December 18, 2012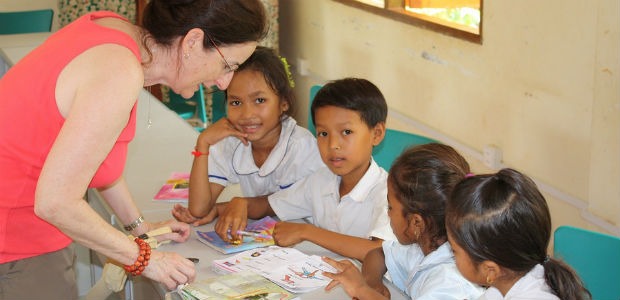 You're excited about the idea of teaching English abroad; the adventure, the experience, the change to learn a new language… And you've done enough research to know that you're going to need a TEFL certificate to qualify for jobs.
But you're hesitating. TEFL courses cost money and they take time. What if you spend all that time and money on them but then you can't find a job?
It's an understandable fear. College students feel the same trepidation on a grander scale. College degrees cost tens of thousands of dollars but come with no guarantee that you'll be able to find a job in that field. No guarantee you'll earn enough to pay back your student loans.
But is that fear reasonable when it comes to TEFL?
The answer is: maybe. It depends a little bit on your background and, most importantly, where you want to teach.
For example, if you've been reading all about the high tax-free salaries and incredible benefits teachers get in Dubai but you don't have a college degree, put on the brakes. Getting a 40-hour online TEFL certificate is not going to help you achieve that dream. You're setting yourself up for disappointment and failure.
On the other hand, if you're excited about teaching and traveling almost anywhere in Asia, or anywhere in Latin America, or anywhere in Eastern Europe, then GO FOR IT! No degree? No problem! With a TEFL certificate in hand, you'll still qualify for jobs throughout Latin America. Even without a TEFL certificate, you'll qualify for jobs in many parts of Asia, though we would never recommend you teach abroad without getting training first. You do want to be good at your job, don't you?
You may still have a little anxiety. Is it really that easy? Even without a degree? Can I really take a TEFL certification course and find a job abroad?
Yes. Yes, you can. The job market for TEFL teachers is practically insatiable. It isn't like the market here in the US, where teachers sometimes struggle for months or years to find jobs. English language schools are everywhere and they need teachers. They need you.
For Asia, it really is as easy as getting certified and then applying to jobs online. It may seem too simple, like there must be a trick. There isn't. Get the qualifications employers are looking for (a bachelor's in any subject and a TEFL certificate of at least 100 hours) and you will be able to find a job. There are millions of English language learners throughout South Korea, Japan, China, Thailand, Vietnam, and Taiwan. Class sizes are rarely larger than 40-50 students, and often smaller, which means they need tens of thousands of teachers; the supply will never catch up with the demand.
And for Latin America, it really is as easy as picking up and going there. Get TEFL certified, then buy a ticket to Costa Rica, or Peru, or Chile, or Brazil, or Mexico… Hit the ground running, applying everywhere you can, and you will have a job in no time. Think about it; these schools have been burned a thousand times by teachers who contact them from the USA saying they're coming down to South America but never do. Lots of people say they're going to go teach in South America, but how many actually do it? If you're one of those who actually does, who takes the leap and heads down, then believe me, you will have no trouble finding work.
Of course, do your research first. Not all countries have the same demand, and many of them have slow hiring seasons when it isn't ideal to be job hunting. But once you educate yourself and make your plans around those details, you should have no problem getting hired.
As always, if you have questions or concerns, give us a call. We're happy to help put your fears to rest!
Contact an Advisor at 1-303-785-8864 with any questions!