New Social Research Center at Colorado Mesa University Releases First Poll Results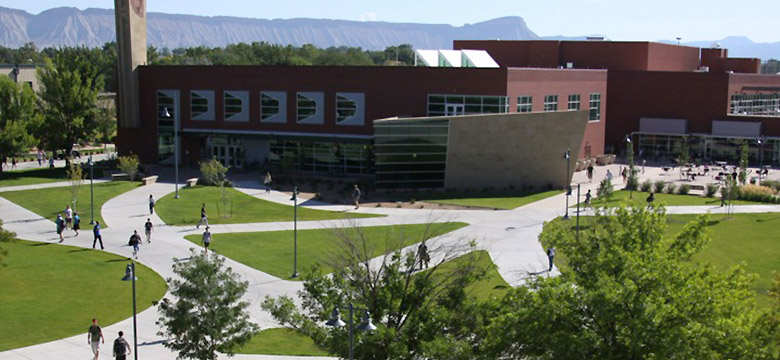 CMU launches social research center, releases first political poll
Colorado Mesa University and Rocky Mountain PBS are partnering with Franklin & Marshall College in Pennsylvania to introduce the new CMU-RMPBS Poll through CMU's newest research center. The first poll released today focused on accurately measuring and analyzing the opinions of Coloradans regarding the upcoming state and national elections. Subsequent polls will also measure opinions on a variety of questions related to issues of regional and statewide importance, said Associate Professor Justin Gollob, director of the CMU Social Research Center (SRC).
"No one understands the diversity of opinions across the state of Colorado more than Coloradans," said CMU President Tim Foster. "No other university in Colorado is currently polling Coloradans. We saw the need and are fortunate that Rocky Mountain PBS is joining with us to meet that need."
Gollob noted that the center's focus is providing excellent applied research opportunities for CMU's undergraduate students and relevant information for Coloradans and policy makers. Political science major Cory Massey, recipient of the 2016-17 Wayne N. Aspinall Scholarship, joined Gollob in Pennsylvania for data collection and analysis.
"The center will be student-centered. Using modern social science research methods, researchers affiliated with the SRC can help our partners answer critical questions about the constituencies they serve," Gollob said.
"The goal of the SRC is to serve as an invaluable regional resource whose impact is felt statewide," he added.
Franklin & Marshall College is a private, liberal arts school in Lancaster, Penn. Its Center for Opinion Research is now in its 25th year of conducting polls in Pennsylvania. Results of both Pennsylvania statewide surveys and national polling by Franklin & Marshall College have appeared in scores of newspapers and news magazines, scholarly publications, and television network and cable news. Notably, in 2012, theNew York Times identified the Franklin & Marshall College Poll as one of the most accurate polls in America during the 2012 elections.
"Colorado is a swing state and what Coloradans think matters even beyond the boundaries of our state," said Doug Price, CEO of Rocky Mountain PBS. "This poll helps us understand what Coloradans are thinking about the upcoming election."
Gollob noted the following key findings from the inaugural poll:
While neither candidate is popular, Mr. Trump is more unpopular with registered Colorado voters.
Secretary Clinton wins a head-to-head match among likely Colorado voters 44% to 35%, but drops to 41% when third-party candidates are an option.
Dislike of the other candidate is the #1 reason cited for casting a Clinton or Trump vote among registered Colorado voters.
Uncommitted Colorado voters are leaning more toward Secretary Clinton than Mr. Trump.
More Coloradans believe Secretary Clinton has the experience necessary to be President as opposed to Mr. Trump.
Senator Bennet wins in both head-to-head (Bennet vs. Glenn) and five-way (Bennet, Glenn, Tang Williams, Menconi, Hammons) races.
Senator Bennet holds higher favorability ratings than Mr. Glenn.
55% of registered voters stated they do not know enough about Glenn to have an opinion.
More respondents believe Senator Bennet has done a good job and that he deserves re-election.
56% of registered Colorado voters oppose Amendment 69 (Colorado Care), 30% favor.
73% of registered Colorado voters have not read, seen or heard about Amendment 71 (amending the Colorado Constitution).
30% of registered Colorado voters don't know their position on Amendment 71 (amending the Colorado Constitution).
70% of registered voters favor Proposition 106 (Medical Aid in Dying), while only 37% have read, seen or heard about it.
58% of registered Colorado voters support Amendment 70 (State Minimum Wage Increase)
---
Sign up for the BridgePathways newsletter to receive helpful English tips, college preparation tips, program information, and more!
---