Your guide to Manhattanville College campus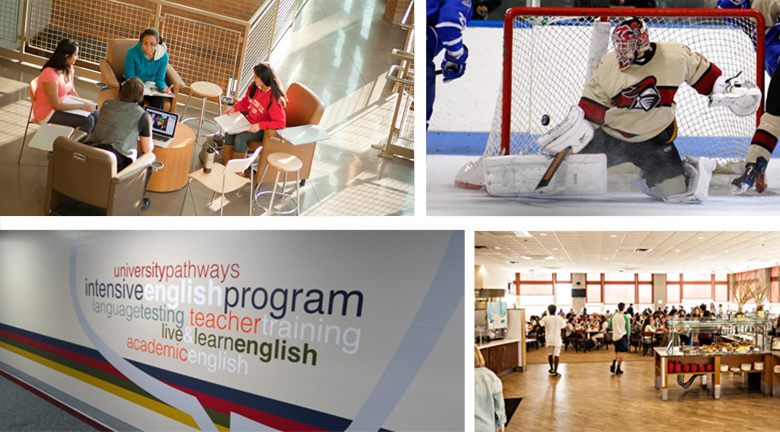 As a BridgePathways student studying at Manhattanville College, you get access to more than just your classes. Manhattanville's 100-acre campus is designed to maximize your learning experience and allow you to have a balanced lifestyle while at school. Here's a quick overview of the campus facilities you can use and explore as a Bridge student:
Food and Dining: The Benziger Dining hall offers a wide variety of options for breakfast, lunch, and dinner in an all-you-can-eat buffet style. From soups and sandwiches to pizza, stir-fry, and vegetarian fare, you will find something to eat here that meets your dietary needs. Outtakes Pub is open late and serves sandwiches, burritos, burgers and other a-la-carte items. There are also two cafes that serve coffee and snacks. As a Bridge student, you can purchase a meal plan or "cafe cash" that you can use to pay for food on campus.
Campus Events: The Office of Student Activities organizes events and trips both on and off campus for your enjoyment. Popular events include Fall Fest, in which families are invited back to campus for events and performances, the Winter Bash dance, and cheering on the Valiants at one of many sporting events.
Campus Shuttle: The Valiant Express is a free student shuttle that can bring you to New York City and beyond.
Gymnasium and Swimming Pool: The Kennedy Gymnasium was recently renovated and is host to Manhattanville's sports teams as well as athletic clubs. There is also a swimming pool located in the gymnasium with open swim hours for Manhattanville students.
Lounges and study areas: Manhattanville has a commuter lounge for students not living on campus who need a place to study and relax between classes. There is also a "game zone" on the ground floor of Benziger Hall with ping pong, a pool table, couches, and video games. The library is a great place to study, and there are also social areas in all of the residence halls.
Be sure to explore the resources and facilities available to you to make the most out of your time at Manhattanville. Your BridgePathways advisor or the Office of Residence Life are great places to get started if you have questions or simply want to become familiar with the events and activities happening on campus.
Interested in studying at Manhattanville College? Learn more here!
---
---
Sign up for the BridgePathways newsletter to receive helpful English tips, college preparation tips, program information, and more!
---