Certificate Services
Verify, download, or order your Bridge certificate!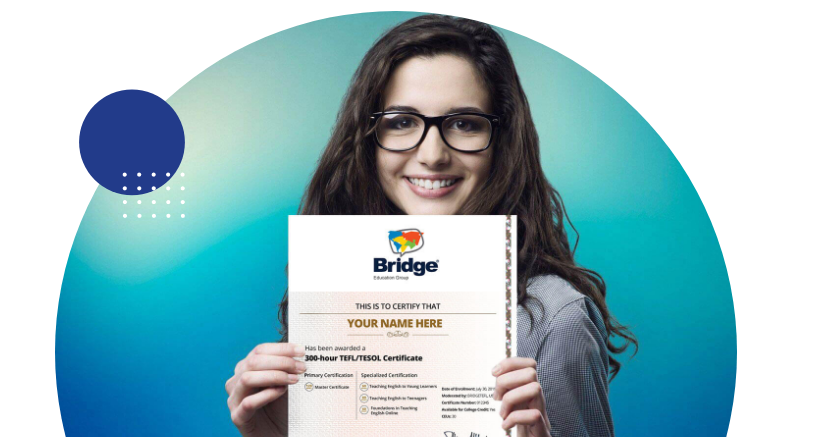 Welcome to Bridge Certificate Services!
As a postsecondary educational institution, Bridge offers certification programs that provide English language teachers with verified credentials.
Here you can: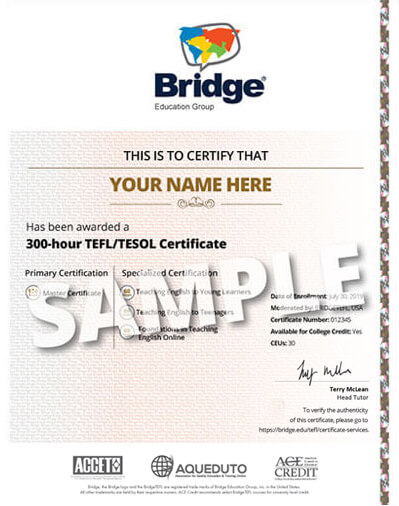 Verify or download a Bridge Certificate
Course Certificate Download
Enter the Bridge trainee's TEFL / TESOL certificate number in the field above to verify its authenticity or download a free copy. You can find this number in the original welcome email received upon enrolling in the course and in the course completion email (it will also appear on the right-hand side of the certificate).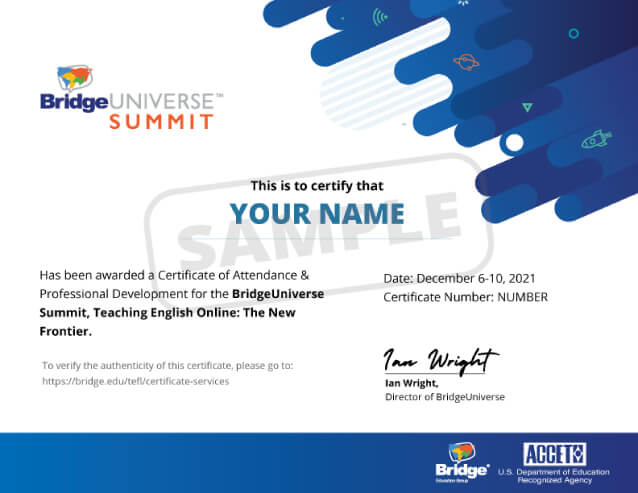 Summit Certificate Download
Enter your Summit Attendee Number in the field above to access and download a free copy of your certificate of attendance. You can find this number within your certificate download email.
Order a hard copy original of your Bridge certificate
This official hard copy is printed on certificate-grade paper, with a foil strip for added security, the embossed Bridge seal, and detailed course information on the back. This option is only available for completed Bridge courses.
Shipping Methods
Standard Shipping
Certificates ordered with standard shipping are sent through USPS and usually arrive to locations in the U.S. within 2-3 weeks. Standard international shipments will usually arrive in 4-8 weeks; however, standard shipping is not recommended for international certificate orders, as Bridge cannot track the order in the case that it becomes lost. Please note that Bridge cannot guarantee the arrival of a certificate shipped standard.
Express Shipping
Express shipping is included in the Hard Copy + Notarization + Apostille option and it can also be added to other certificate options during checkout for an additional USD $75. Express shipping is highly recommended for certificates being mailed outside the U.S., since the order can be tracked.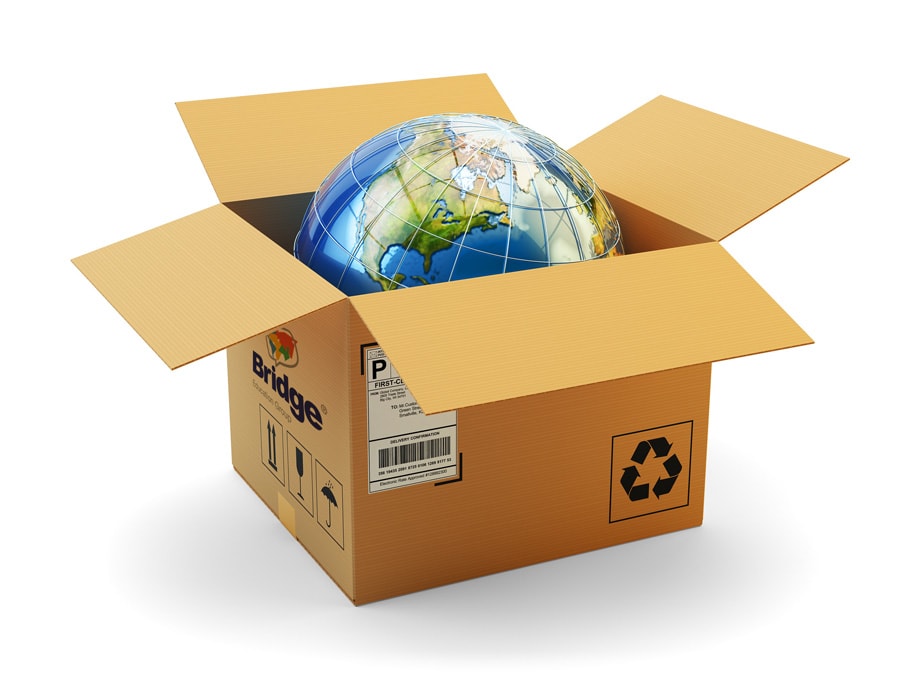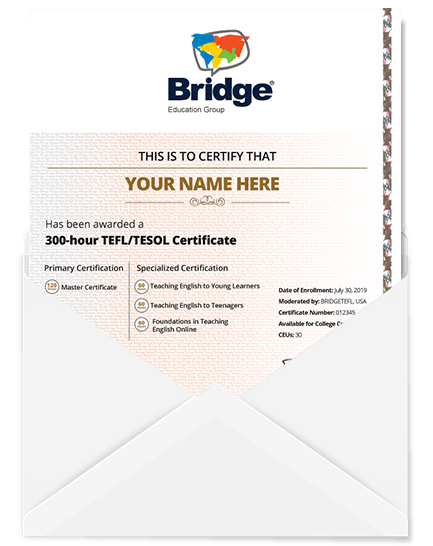 What is an Apostille?
In 1961, countries around the world participated in the Hague Convention to agree upon a method to exchange and verify documents across borders. One of the main authenticating documents agreed upon in this convention was an Apostille. An Apostille is an official certificate issued by the government of a country to authenticate a document for another country to accept its validity. In order for an Apostille to be recognized, both countries need to be members of the Hague Convention.
The United States of America is a member of the Hague Convention, but before you order an Apostille through Bridge it is important that you research whether your destination country is also a member of the Hague Convention. Countries for which an Apostille is accepted will also appear in the dropdown menu at checkout.
To learn more about Apostilles and to learn whether your destination country will accept them, please visit Travel.State.Gov.
TEFL / TESOL certification does not expire; however, your certificate will only be available via this verification portal for up to 6 years after your most recent course completion. We recommend that you download and save a PDF copy for personal records.
ACCREDITED BY:
RECOMMENDED FOR CREDIT BY:
COURSES RECOGNIZED BY:

The ACE CREDIT logo is a registered trademark of the American Council on Education and cannot be used or reproduced without the express written consent of the American Council on Education. Used with permission.
Loading…