Accredited by: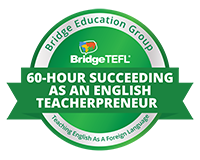 COURSES RECOGNIZED BY:

Don't just teach English, lead the online revolution.
The Bridge Teacherpreneur Academy was conceived to assist teachers to take advantage of new opportunities teaching English online, opportunities that have become available to them as a result of the increasing transition of language learning online.
The Teacherpreneur Academy combines our 60-Hour Succeeding as an English Teacherpreneur Specialized Certificate with ongoing coaching, networking and a workshop series featuring industry guest speakers. Building a portfolio of students takes time and empowering teachers with the know-how and confidence to build their own portfolio of students and perhaps even an online language school is a big endeavor. For this reason, the Teacherpreneur Academy was designed as a 12-month program, one that can provide guidance, support and a network of peers to share trials, tribulations, encouragement and eventually success!
Learn More