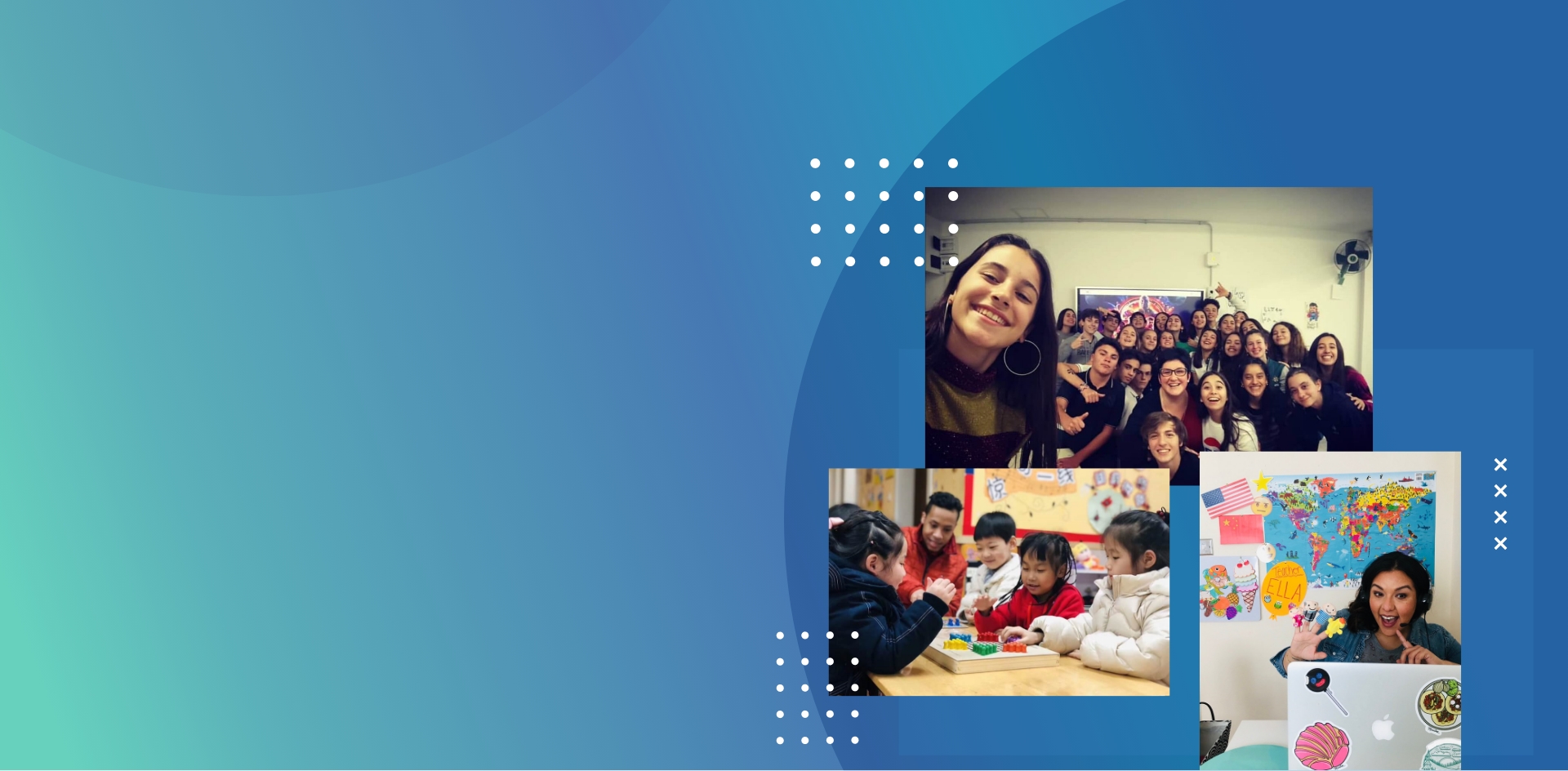 TEFL Certification Courses: The Adventure Starts Here
New to TEFL? You're in the right place! We'll help you get qualified for the experience of a lifetime teaching English as a foreign language.
Take the First Step Toward Teaching English Online and Abroad!
Teaching English as a foreign language (TEFL) is an exciting opportunity and we can help you make it happen! This page will answer common questions, help you decide which TEFL course is right for you, and explore where TEFL certification can take you.
Bridge TEFL Certification Courses
Learn more about what makes Bridge TEFL courses different, what types of TEFL certification courses you can take (online, in-person, and hybrid), and which TEFL course is right for you.
Why Choose a Bridge TEFL / TESOL Course?
You'll train with the best.
We're more than a TEFL course provider – we're an educational institution with over 35 years' experience in the language teaching field.
You'll be highly qualified with an accredited certification.
The certificate you earn from Bridge is accredited, verifiable, and internationally recognized.
You can choose the course format that works best for you.
We offer onsite courses as well as affordable, flexible online courses to fit your budget and schedule.
You have the option to earn college credit and CEUs for your TEFL course.
Because our accrediting body ACCET is recognized by the U.S. Department of Education, our courses are recommended for CEUs as well as university credit.
You'll join our global community of English teachers.
Over 50,000 teachers from more than 140 countries have graduated from our programs, accessed our Job Board, and joined the global Bridge community of English teachers.
You can continue your professional development throughout your career.
We'll support you as you grow as a teacher, from initial TEFL certification to ongoing, stackable professional development courses.
What Kinds of TEFL Courses Does Bridge Offer?
Online TEFL Certification Courses
Bridge offers a continually growing library of over 30 online courses to help you start your teaching journey and to support you at every stage throughout your career.
What are the Benefits of Online TEFL / TESOL Courses?
Flexible schedule
You can start most online TEFL courses anytime and work through the program at your own pace.
Affordable
Online TEFL courses cost are available at a fraction of the cost of classroom-based training.
Convenience
You don't have to travel to a TEFL course location, or even leave your living room!
Internationally recognized
Online TEFL certificates (that are accredited and 120 hours or more) are widely accepted at schools and language institutes around the globe.
Personal Tutor Support
You'll have a qualified and experienced TEFL tutor to guide you, answer questions and provide feedback throughout the course.
Interactive content
Bridge online courses feature engaging activities (quizzes and peer discussion boards), instructional videos, downloadables, and more!
Onsite /Blended TEFL Certification Courses
You can earn your TEFL course with a Bridge Authorized Training Center at locations worldwide!
Locations include:
Vietnam

Algeria

Jamaica

Brazil

And more!
What Are the Benefits of Onsite or Blended (Online and Onsite) TEFL Courses?
Teaching experience
New teachers get practical experience presenting lessons in front of a real class of students.
Connections
Your fellow TEFL trainees, your teachers, and the TEFL center staff become your support system as you start your journey as an EFL teacher.
Job networking
The connections you make during your TEFL course and the job placement assistance the training center provides make getting your first teaching job easier.
Which TEFL Course Is Right for You?
What are your TEFL plans and goals? We'll help you understand your options and choose the right certification to reach those goals – plus inspire you with success stories from Bridge grads around the globe!
I want to...
Teach English Abroad / Worldwide
Recommended TEFL / TESOL Courses to Teach English Worldwide
Just starting out? We recommend earning a Bridge Professional TEFL / TESOL Certificate. These 100% online courses provide initial training for new English language teachers (including teaching strategies, grammar, and lesson planning), and meet requirements for thousands of teaching positions at languages institutes and schools worldwide.
You can choose from two levels of accredited Professional TEFL / TESOL Certification: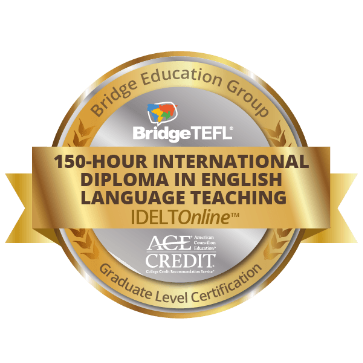 150-Hour Bridge International Diploma in English Language Teaching (IDELTOnline)
Stand out for top jobs worldwide with our most advanced certification.
In this graduate-level, interactive online training, you'll join an international group of classmates led by a master's level instructor, and take part in collaborative activities, discussion boards, and optional live sessions. Choose this university-affiliated course to exceed certification requirements and stand out as the most competitive candidate for English teaching jobs.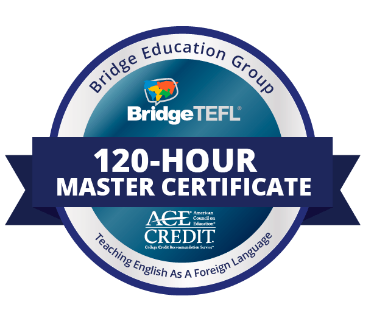 120-Hour Bridge Master TEFL / TESOL Certificate
Meet certification requirements to teach English in this self-paced, tutor-led course.
Not your average 120-hour certification, this course is recommended for undergraduate-level university credits by the American Council on Education, and like all Bridge courses, it's offered on our state-of-the-art online learning platform with dynamic course features.
Recommended Classroom/Blended TEFL Courses to Teach English Worldwide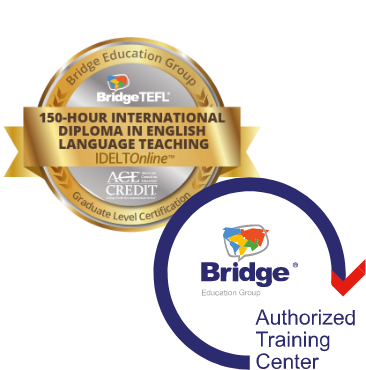 IDELT or Master Blended TEFL Certificates
Add on-site training to your Professional Certification.
You have the option to combine the IDELT or 120-Hour Bridge Master Certificate with a 20-hour classroom-based, hands-on teacher workshop at one of our Authorized Training Centers worldwide.
I want to...
Teach English Online
As a TEFL certified online teacher, you can work from anywhere in the world, on your own schedule, from the comfort of home.
Types of online English teaching jobs, working with kids or adults:
Teach English online with a company

Teach English online through a teacher marketplace

Teach English online as a freelancer/independent teacher
Recommended TEFL / TESOL Courses to Teach English Online
We recommend different courses for people who are completely new to teaching English versus those who are already certified English teachers but have never taught English online.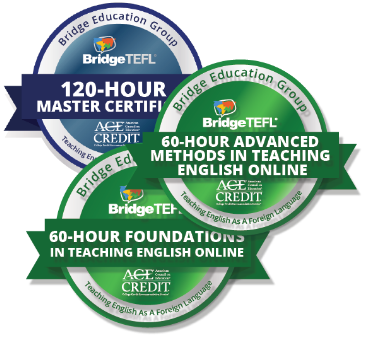 Comprehensive Certification Bundle
New to TEFL? Prepare to teach English online and worldwide.
You'll need to start out with a strong foundation in English language teaching before learning essential skills for the virtual classroom. This three-course bundle starts with Professional TEFL / TESOL certification to give you that foundation, then builds on your knowledge with specialized training in teaching English online.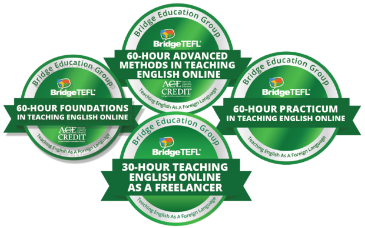 Specialized Certification in Teaching English Online
Already TEFL certified? Prepare to teach online.
Bridge's four-course Teaching English Online training suite builds on what you already know about teaching English and prepares you for the virtual classroom – plus helps you stand out for the best jobs. Courses include Foundations and Advanced Methods in Teaching English Online, Practicum in Teaching English Online , and Teaching English Online as a Freelancer.
I want to...
Pursue professional development / specialize my teaching skills
As an English language educator, it's important to keep learning throughout your career. Once you've earned your initial Professional TEFL / TESOL certification, we encourage you to take your training further with professional development.
Boost your resume and stand out for more jobs.

Keep your skills current and get fresh ideas for the classroom.

Specialize in high-demand areas, like teaching young learners or teaching Business English.
Recommended TEFL / TESOL Courses for Professional Development
Bridge offers a portfolio of stackable professional development courses. You can add them to your initial Professional Certification, or take them anytime throughout your career!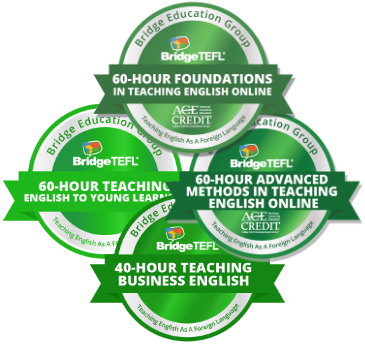 Specialized TEFL Certificates
To develop as a teacher in high-demand TEFL subfields, such as teaching English online, teaching young learners, or teaching business English, Specialized Certification courses are recommended. These targeted trainings prepare you as a teacher and make you a more competitive candidate for top jobs.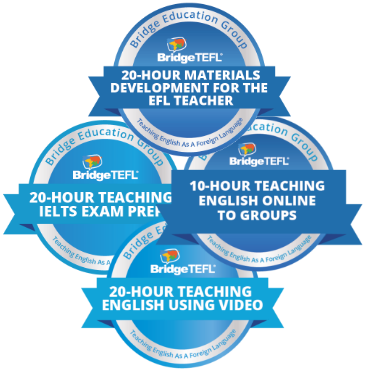 TEFL Micro-credentials
You can also get new ideas for the classroom or freshen up your skills with Bridge Micro-credentials. These shorter trainings for experienced teachers are continually updating and cover relevant topics such as games for the online classroom, teaching IELTS exam prep, developing ESL materials, teaching English online to groups, and many more.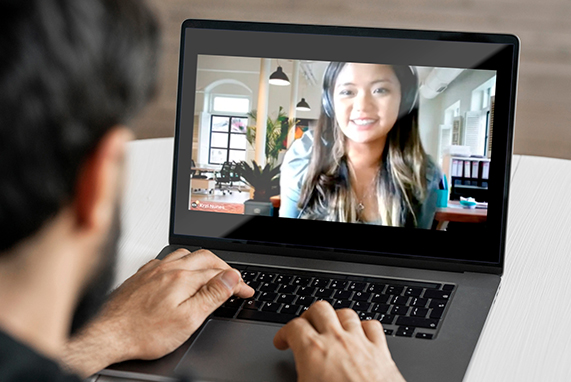 Need more help choosing the right course?
Register for a free TEFL Info Session hosted by a Bridge Program Advisor – with live Q&A!
Sign Up!
TEFL Certification Course FAQs
When you're just getting started with TEFL, there's a lot to learn! Explore top questions about TEFL courses and certification.