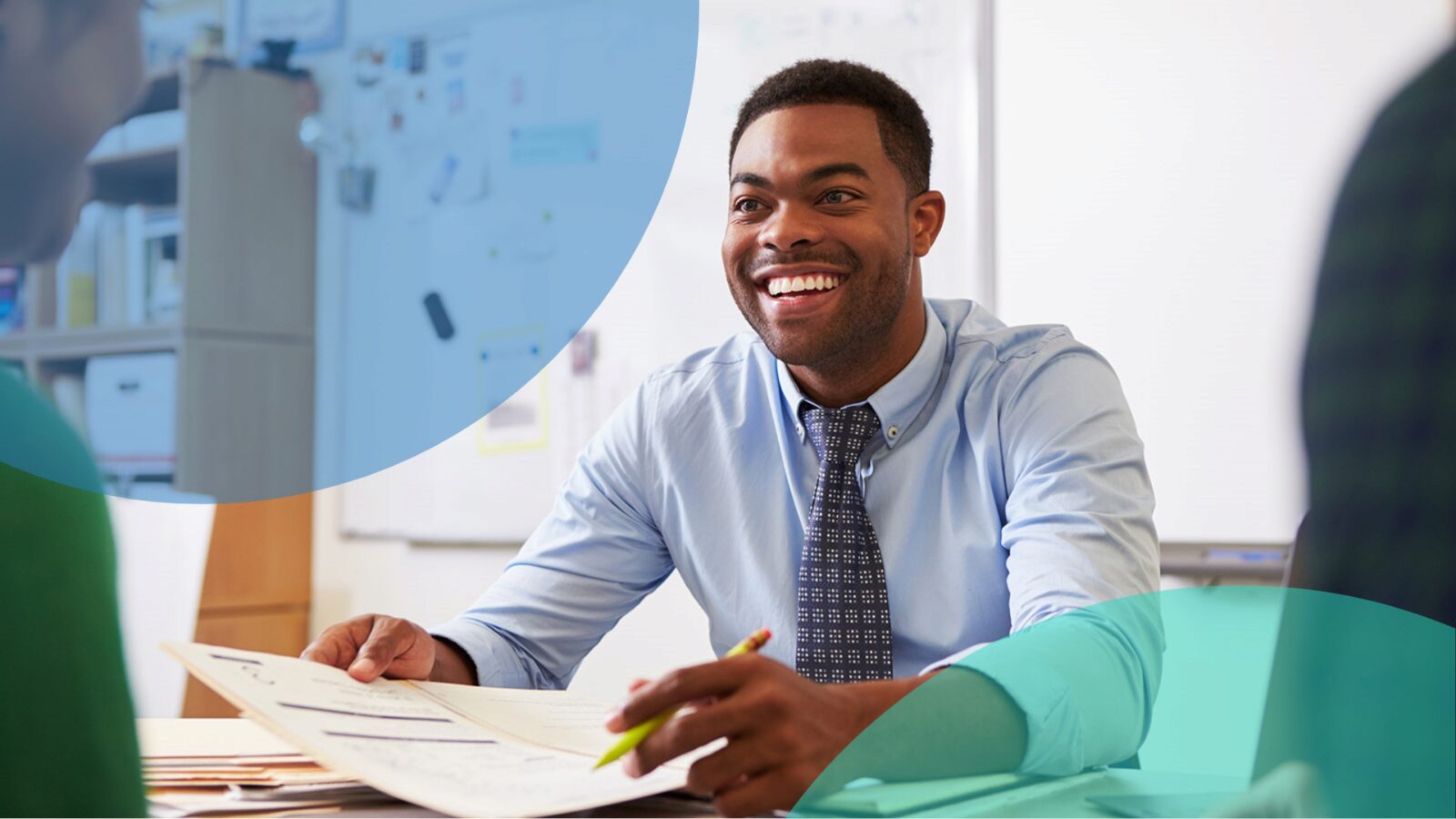 Upskill with targeted ELT Micro-credentials.
Accredited by:
COURSES RECOGNIZED BY:

Take your teaching to the next level.
Upskill with TEFL / TESOL Micro-credentials
Targeted training accessible to teachers everywhere.
Methodology & Core Teaching Skills
Micro-credentials Teaching Test / Exam Prep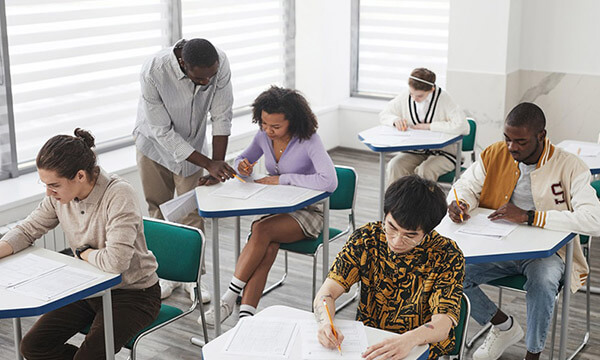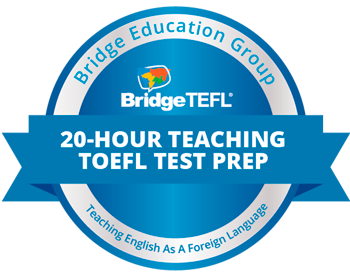 20-Hour TEFL / TESOL Micro-credential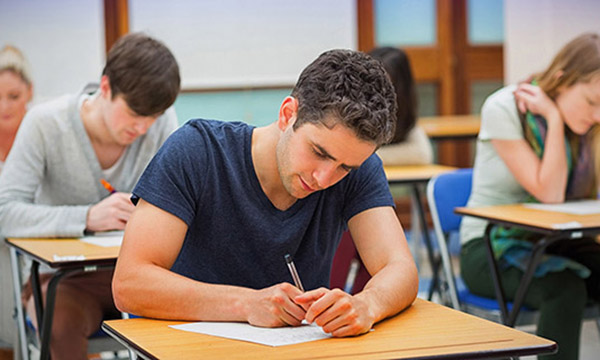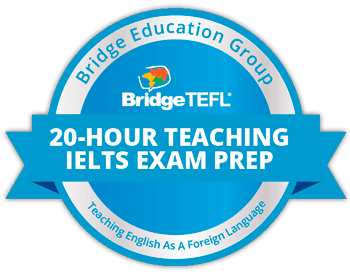 20-Hour TEFL / TESOL Micro-credential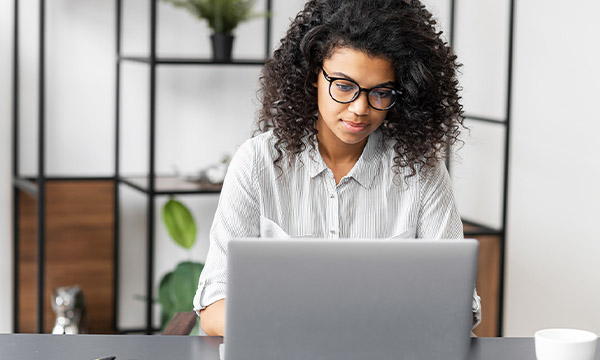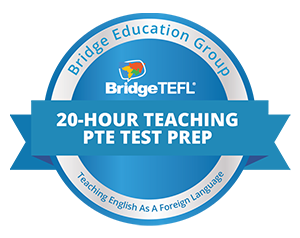 20-Hour TEFL / TESOL Micro-credential
Micro-credentials in Teaching English Online
Micro-credentials in 21st - Century Teaching Skills LEARN MORE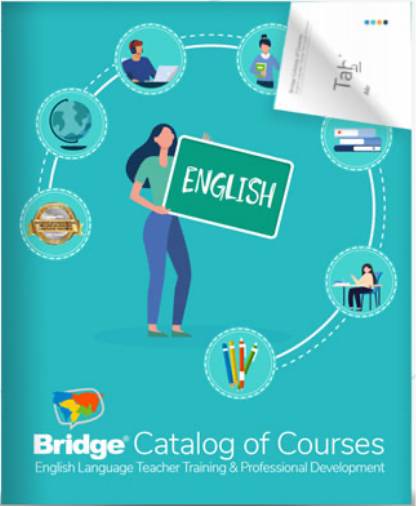 Ready to explore all of Bridge's courses?
Discover our full portfolio of professional development programs to support you in your TEFL journey!
Stay Current and Master New Skills.
Take your professional development further with a Micro-credential course!
Benefits include: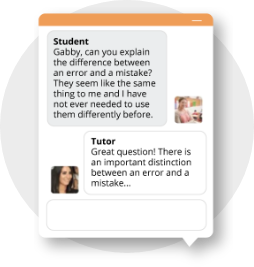 Get support from TEFL / TESOL experts.
You'll be assigned a personal tutor who will provide feedback on your written assignments.
Bridge tutors are professionals in the field who are experienced in teaching English and passionate about training English teachers.
Your tutor will also be available to answer any questions you have throughout your course.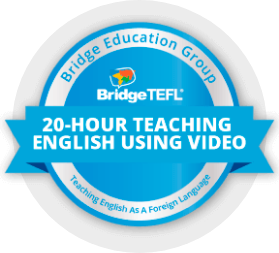 Showcase your credentials with digital badges.
Share your badges everywhere employers are looking, including LinkedIn, your resume, and your email signature.
Employers can click on your badge to see detailed, verifiable information about the course you completed.
Demonstrate your commitment to lifelong learning – earn a new digital badge for every Bridge course you take!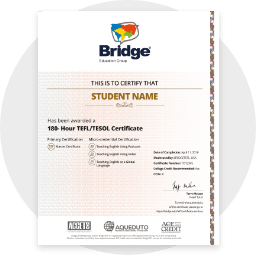 Demonstrate your expertise with a lifetime certificate.
Download and print your TEFL / TESOL certificate for free.
All Bridge certifications are detailed on your certificate, including Primary and Specialized.
Courses are stackable! The total number of hours you completed is indicated, and this number updates each time you add another course.
Option to order a hard copy certificate mailed to anywhere in the world!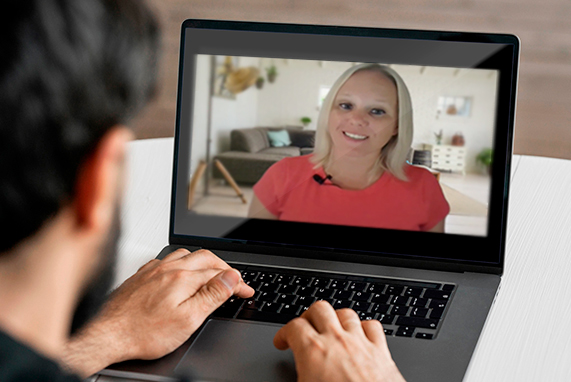 Krzl Nunes, Bridge Program Advisor
Need help deciding which course is right for you?
Sign up for a Free TEFL/TESOL Info Session!
Sign Up now!
FAQs about Bridge Micro-credentials
These are short, targeted, professional development courses designed for EFL teachers who want to learn new skills and expand their knowledge of current teaching methods or topics.
Both are TEFL / TESOL courses, but Bridge Micro-credentials are short, professional development courses (around 20 hours) that are highly targeted on specific, practical topics, such as Using Podcasts in the EFL Classroom. These specialized courses are usually taken by experienced, qualified teachers looking to add to their existing knowledge and skill set.
A general TEFL / TESOL certification course, on the other hand, tends to be around 100+ hours and provides a thorough foundation in the theories and methods of teaching English. These courses are more often taken as initial training and certification, especially by those who are new to teaching English or not yet certified.
To take Bridge Micro-credential, you must be at least 18 years old with a minimum of a high school diploma or equivalent.
Micro-credential courses are designed to build off prior teaching experience and knowledge. It is recommended that you are either already TEFL / TESOL certified, or enroll concurrently in a Professional TEFL / TESOL course, such as the IDELTOnline™ to take a Micro-credential course.
If you are not a native English speaker, we recommend an intermediate or higher level of English proficiency (minimum B1 level, according to the CEFR, the Common European Framework Reference for Language). No proof of fluency required.
You'll have 3 months from the date of purchase to finish your Micro-credential course. These courses are self-paced, meaning you can work through your course when it's convenient for you, with no required log-in times or assignment deadlines. Many trainees complete their program in less time – within two months, on average.
Yes! All Bridge courses have experienced tutors who work with trainees. You'll also be assigned a personal TEFL / TESOL tutor who will offer guidance, answer questions and about course content, and provide assessed feedback during your Micro-credential training. If you have any technical problems throughout the course, you can contact visit our Support Center for assistance.
Upon successful completion of your Micro-credential course, you can download and print your certificate from our online certificate verification portal for free. Your digital badge will be issued to you via email within 7 days of completing your Micro-credential course. You may also order a hard copy certificate mailed to you anywhere in the world for an additional fee. Click here to view fees for hard copy certificate orders.
Backed by blockchain technology, digital badges (sometimes called open badges) provide employers with an in-depth look "under the hood" of the TEFL / TESOL program you completed. When your unique digital badge URL is clicked, details such as the learning objectives you mastered, specific skills you acquired, and the course accreditation are provided.
Digital badges also can be easily shared across the web in places like LinkedIn and Facebook as well as on your resume to showcase your skills and qualifications to future employers. Learn more about digital badges.
Yes, we're continually developing new Micro-credential courses to reflect the professional development needs of global English language teachers. You can sign up for our newsletter at the bottom of this page to receive updates on newly launched Micro-credential courses and other TEFL / TESOL news.
There is no limit to the number of Micro-credential courses you can take and certificates/digital badges you can earn! We encourage teachers to stack these professional development courses to add to your skill set and enhance your TEFL / TESOL resume.
Yes! As with all Bridge online courses, Micro-credentials will be reflected on your Bridge TEFL / TESOL certificate. Your certificate will automatically update each time you add a new credential, and you can access it (or provide an employer with access to it) via our secure certificate verification portal.
You can complete your Micro-credential course on any device, including a phone, tablet, laptop, or desktop computer. All you'll need is an Internet connection! However, please note that you'll complete a tutor-assessed written assignment in order to earn your credentials. For this reason, it's recommended that you have access to a tablet, laptop, or desktop computer to complete this portion of the course.
The Office of Qualifications and Examinations Regulation (Ofqual) is the regulator of qualifications, examinations and assessments in England and the regulator of vocational qualifications in Northern Ireland.
Bridge courses have been similarly reviewed and recommended for university credit equivalencies by The American Council on Education (ACE Credit) and many university partners. Bridge is a post-secondary institution accredited by ACCET (recognized by the U.S. Department of Education) and AQUEDUTO (Association for Quality Education and Training Online). Our certifications are regulated by our accrediting agencies, and we ensure that the targeted knowledge, skills, and outcomes are addressed through depictive course assessments. Further, we are committed to making sure that our learners have a positive experience from start to finish and that our programs prepare modern teachers for career success.
To learn more about Bridge's accreditation and university credit opportunities, please review the following chart. Please note that Ofqual equivalencies are equated to the university credit recommendations provided by the American Council on Education (ACE Credit®) and our university partners.
Accredited by:
COURSES RECOGNIZED BY:

RECOMMENDED FOR CREDIT BY:
Join the
Sign up for our newsletter to stay connected with industry news, resources for English teachers and job seekers, Bridge updates, and more.