Professional TEFL/TESOL Certificates
Comprehensive TEFL/TESOL credentials that qualify you for the best English teaching jobs worldwide.
Accredited by:
RECOMMENDED FOR CREDIT BY:

COURSES RECOGNIZED BY:

Qualify and prepare for TEFL/TESOL jobs, and get specialized training in high-demand teaching areas. Option to earn college credit!
Modules 1-6: EFL theory
Supplemental TEFL/TESOL videos
Tutor feedback in all modules
100% online -flexible schedule
Modules 7-13: EFL applications
Job advising module and job placement assistance
Additional Certification in Teaching English Grammar
Introduction to Teaching Young Learners and Teaching Business English
Meets 120-hour TEFL/TESOL requirement of most teaching jobs
Option to earn college credit!
Stand out from the crowd with our premier online certification. Join a cohort of students in this instructor-guided, graduate-level training offered for credit in partnership with universities.
Comprehensive ESL theory and methodology
Live video sessions with your instructor and fellow trainees
Instruction, feedback, and assessment by MA TESOL-level instructors
100% online structured, 12-week schedule
Application of the latest trends in EFL teaching and development of a research-based lesson plan
Job advising module and job placement assistance
Develop a Philosophy of Teaching statement
Complete a research summary project on your chosen topic
Exceeds 120-hour TEFL/TESOL requirement of most teaching jobs
Option to earn up to 9 graduate-level credits
Pathway to an M.A. in TESOL or related degree at our university partners
Compare all Online Courses
Why should you take a Professional TEFL/TESOL Course?
Meet or exceed requirements for most TEFL/TESOL jobs worldwide
Have the opportunity to earn college credit
Fully prepare for the classroom with a comprehensive course
Start on the path toward a career in teaching English as a foreign language
Earn a TEFL/TESOL certification you can build on.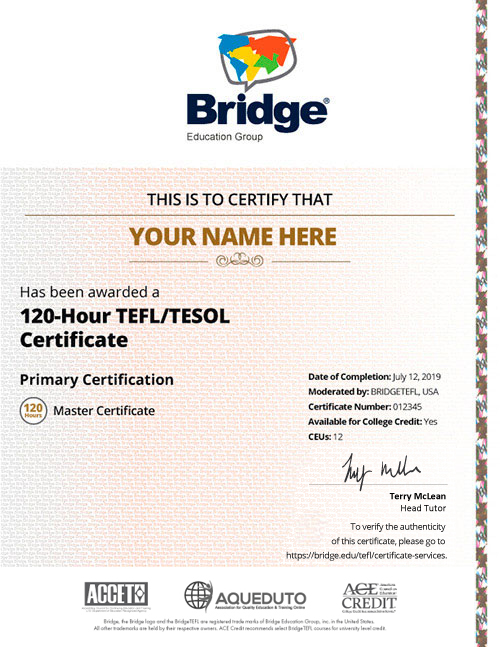 Demonstrate your expertise with a lifetime certificate.
Download and print your TEFL/TESOL certificate for free.

All Bridge certifications are detailed on your certificate, including Primary and Specialized.

Courses are stackable! The total number of hours you completed is indicated, and this number updates each time you add another course.

Option to order a hard copy certificate mailed to anywhere in the world!
---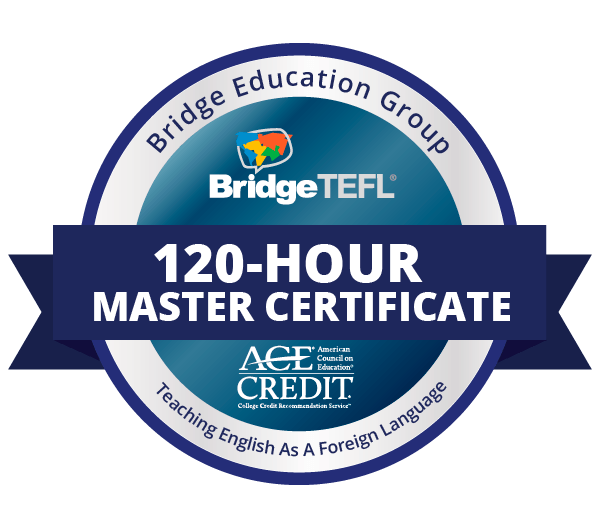 Shareable on

Showcase your credentials with digital badges.
Share your badges everywhere employers are looking, including LinkedIn, your resume, and your email signature.

Employers can click on your badge to see detailed, verifiable information about the course you completed.

Demonstrate your commitment to lifelong learning – earn a new digital badge for every Bridge course you take!

Not sure which online TEFL/TESOL certificate is right for you?
Contact an advisor today!
CONTACT AN ADVISOR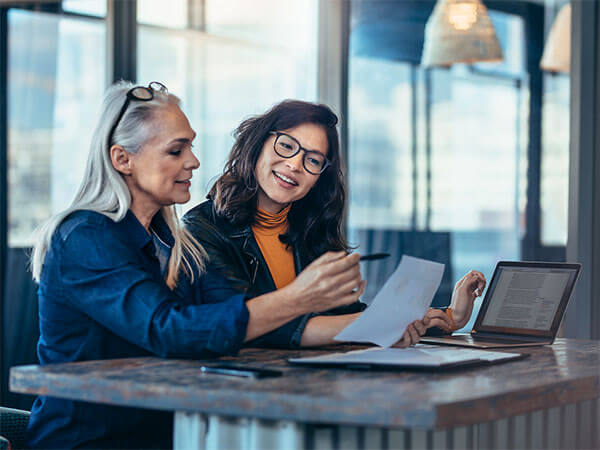 Let us help you find the perfect English teaching job
When you earn your TEFL/TESOL certification from Bridge, you also receive our robust job placement assistance. Learn more about the services and resources we provide to support your job search, including lifetime, personalized Job Advising and access to the Bridge Job Board.
LEARN MORE