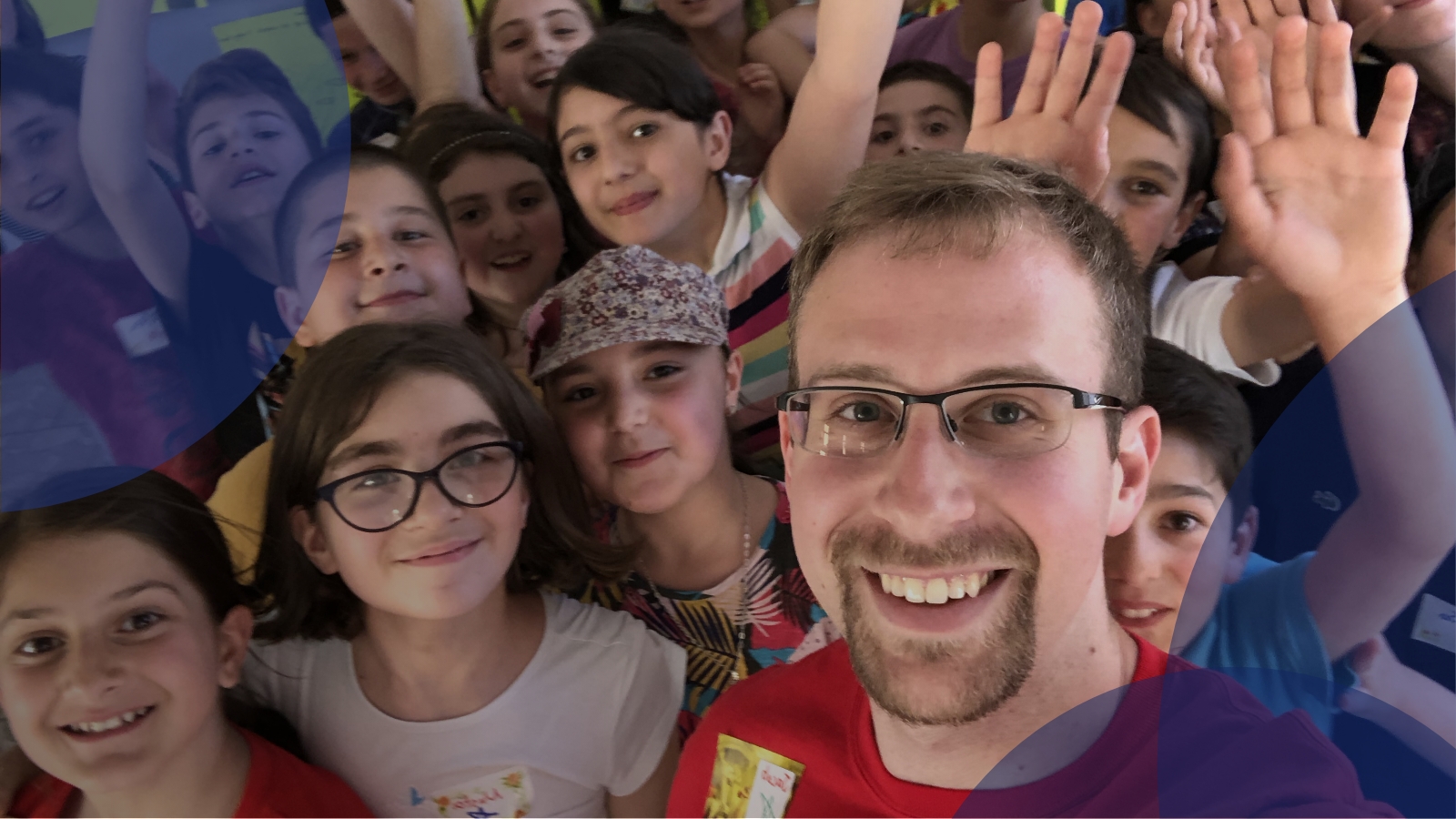 Qualify for the best English teaching jobs worldwide with a Professional TEFL Certificate.
Accredited by:
RECOMMENDED FOR CREDIT BY:

COURSES RECOGNIZED BY:

Jacob, Bridge graduate teaching English in Georgia with the Peace Corps.
Get the training you need to succeed as an EFL/ESL teacher.
Enter the English language teaching field with confidence.
Choose from two levels of accredited online Professional TEFL / TESOL Certification: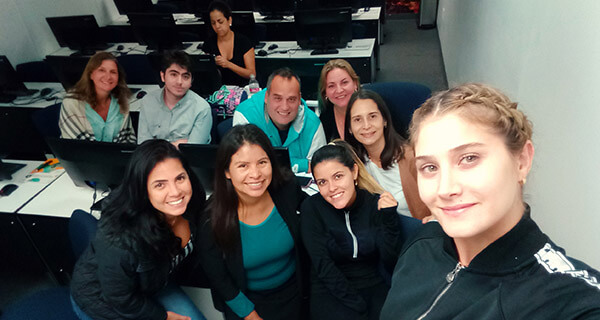 Not your average 120-hour TEFL certification
Meets certification requirements to teach English.
Job advising module, resources and support
Self-paced, tutor-led online course.
Offered on our state-of-the-art learning platform with dynamic course features, including demo teaching videos.
Covers EFL theory and applications.
Coursework includes essays, graded quiz activities, and lesson planning.
Recommended for undergraduate-level university credits by the American Council on Education.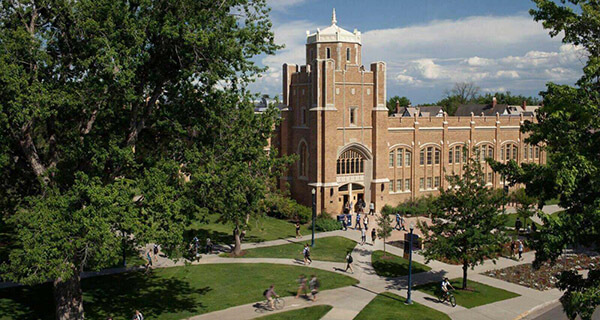 Our most advanced certification course
Exceeds certification requirements: stand out as the most competitive candidate for English teaching jobs.
Job advising module, resources, support and professional development guidance
Interactive online training: join an international group of classmates led by a master's level instructor.
Features collaborative activities, discussion boards, dynamic course features, demo teaching videos, and optional live sessions on state-of-the-art learning platform.
Focuses on comprehensive ESL theory and methodology.
Coursework includes developing a Philosophy of Teaching statement, peer review projects, discussion board posting, designing a detailed lesson plan, and completing a research summary project.
Recommended for graduate-level university credits by the American Council on Education. University-affiliated: offered as a  pathway to MA degree programs with our partners.
Qualify to Teach English in the Classroom and Online:
The Comprehensive Certification Bundle
The future of English teaching is blended – in-person and online. Combine a Professional TEFL/TESOL Certification with Specialized Certification in Teaching English Online to gain the skills and credentials you'll need to succeed. Plus, save when you bundle!
Qualify for top English teaching positions worldwide and online.
Earn versatile, internationally recognized certification.
Gain a strong foundation in TEFL/TESOL methodology before mastering the terms, technology, and teaching tools used in the virtual classroom.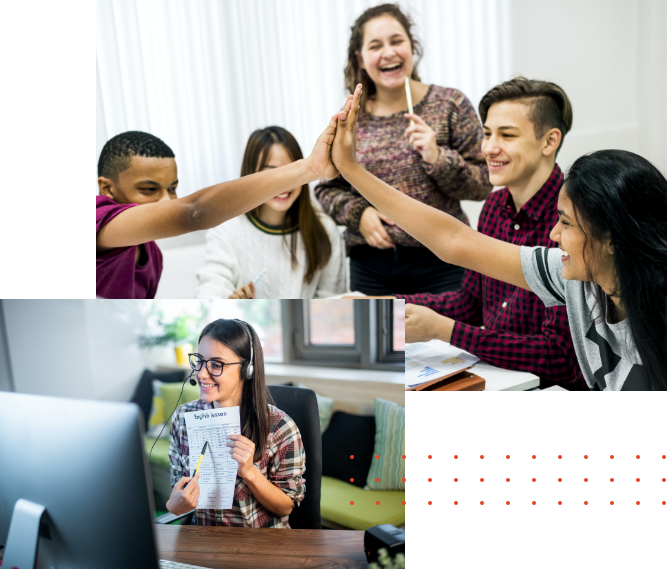 Learn More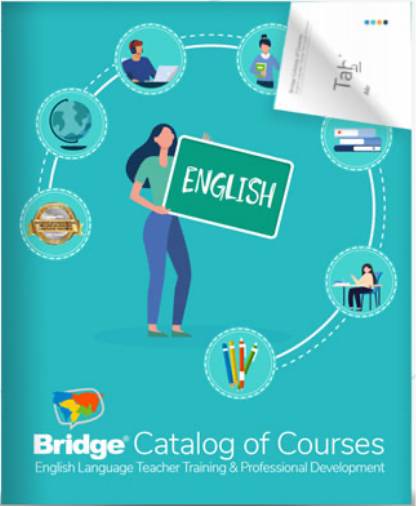 Ready to explore all of Bridge's courses?
Discover our full portfolio of professional development programs to support you in your TEFL journey!
Earn a TEFL / TESOL Certification You Can Build On.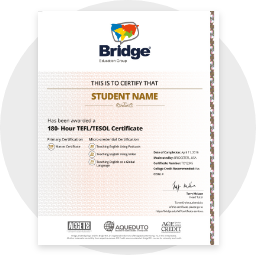 Demonstrate your expertise with a lifetime certificate.
Download and print your TEFL / TESOL certificate for free.
All Bridge certifications are detailed on your certificate, including Primary and Specialized.
Courses are stackable! The total number of hours you completed is indicated, and this number updates each time you add another course.
Option to order a hard copy certificate mailed to anywhere in the world!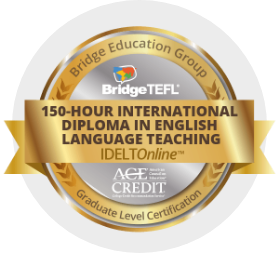 Showcase your credentials with digital badges.
Share your badges everywhere employers are looking, including LinkedIn, your resume, and your email signature.
Employers can click on your badge to see detailed, verifiable information about the course you completed.
Demonstrate your commitment to lifelong learning – earn a new digital badge for every Bridge course you take!
Earn university credit for your TEFL course.
Find the English teaching job that fits your needs.
With the Bridge Job Board, you can:
Apply to current teaching opportunities with our employment partners.
Access resources to support your TEFL job search.
Explore the various types of TEFL employment opportunities.
Who hires Bridge grads?
Our Professional Certificates prepare you for jobs with top TEFL employers– including competitive opportunities with our Preferred Employer Partners.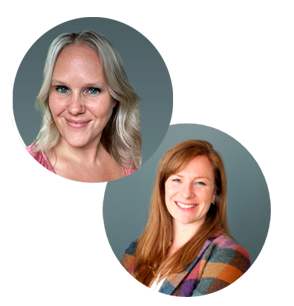 Not sure which online TEFL certificate is right for you?
Contact an advisor today!
FAQs about Professional Certificates
It is required that Bridge online course trainees are at least 18 years old and have a high school diploma, or equivalent. Trainees must also have sufficient English language ability (see chart below).
| | Fluency Requirement | IELTS | TOEIC | TOEFL IBT | Cambridge | BULATS | EU Framework | BL English Test |
| --- | --- | --- | --- | --- | --- | --- | --- | --- |
| IDELT/CELTA/Onsite TEFL | Mastery | 8.0 | 950 | 110 | CPE | 89 | C2 (Mastery) | 95 |
| IDELTOnline™ | Advanced | 7.0 | 845 | 95 | CEA | 75 | C1 (Proficiency) | 85 |
| Bridge Online Courses | Intermediate | 5.0 | 650 | 64 | PET | 59 | B1 (Threshold) | 69 |
The 120-hour Master Certificate is the most complete self-study online teacher-certification course we offer, including the core curriculum, tutor support, video tutorials, and Grammar Advisor, as well as two specialized endorsements: Teaching Business English Endorsement, and Teaching Young Learners Endorsement. The Master Certificate also includes access to a comprehensive library of lesson plans! This course is for people who want the complete TEFL package and the best value!
The 150-Hour IDELTOnline™ The Bridge International Diploma in English Language Teaching (IDELTOnline™) is a popular choice for people who are serious about their career teaching English a Foreign Language and want the highest-level online certification. It is an interactive course in which you'll join a group of trainees who work through content together, week-by-week, under the guidance of a master's-level instructor. This 12-week, university-level training not only qualifies graduates for the best jobs, but can be taken for college credit.
• While any of our International online courses meet TEFL requirements of 100+ hours for most teaching jobs abroad, the IDELTOnline™ is a more advanced, university-affiliated training. In fact, qualified IDELTOnline™ students can earn graduate-credit and take the course as a pathway to an MA TESOL with our university partners.
• The IDELTOnline™ is a 12-week course with a textbook and weekly due dates for assignments, while the other courses require no outside materials and are self-paced over 3 months.
• The IDELTOnline™ is more focused on teaching methodology, while our other online courses focus on practical classroom skills such as lesson planning and grammar.
• In the IDELTOnline™, trainees progress through the course as a group (or "cohort"), collaborating with classmates and the instructor. In TEFLOnline.com, trainees work individually with the guidance of a personal tutor.
• The IDELTOnline™ has set start dates, since it is a 12-week, structured course. You may start our self-paced online courses at any time.
• The 100-hour Professional and 120 hour-hour Master certificates provide standard TEFL certification to meet hiring standards for jobs abroad, while the 150-hour IDELTOnline exceeds those standards and can also be taken for graduate-level university credit.
Most of our online TEFL courses do not require you to purchase a textbook. The tuition for Bridge Online Courses, including Specialized Certificates, is comprehensive and entirely online; nothing else needs to be purchased to complete them.
There is a required textbook for the IDELTOnline™, which is called  Teaching by Principles: An Interactive Approach to Language Pedagogy 4th Edition  by H. Douglas Brown and Heekong Lee (2015). This textbook can be ordered online and shipped worldwide by most major book distribution companies. There is also an eText version available directly from Pearson publishing.
Online Bridge certifications are recognized and accepted worldwide, particularly in regions such as Asia and Latin America. Keep in mind that TEFL certification is often just one of the typical requirements to teach English as a foreign language, and some schools may also require a bachelor's degree or teaching experience. For more information on country-specific requirements for teaching English abroad, please review our Jobs at a Glance chart or contact a program advisor teaching experience. Successful completion of a TEFL certification does not guarantee employment in any country.
Each state has its own requirements for becoming a certified ESL (English as a Second Language) teacher, but generally TESOL (Teaching English as a Second Language) in the U.S. is an occupation that requires a minimum of a four-year university degree and, more commonly, a Master's in TESOL. Instructors in accredited Intensive English Programs (IEPs) in the US typically must have at least a bachelor's degree and a minimum of 6 months of full-time ESL or foreign language classroom teaching experience, or a bachelor's degree along with a certificate in teaching ESL or EFL that include a practice teaching component.
Bridge Online certification can serve as a supplemental certificate to someone who meets the aforementioned standards.
Absolutely! You may upgrade your Bridge Online course from 40 to 60, 100 or 120 hours at any time by clicking on the "Upgrade" button from inside your course. If you are a student in the IDELTOnline™ , you may upgrade your course by adding Specialized Certificates or a Teaching Practicum.
You may access your certificate after you have completed and passed all of the components of your course. You will be assigned a unique certificate code which may be entered into our secure Certificate Verification System by you or any employer you share it with. There, it is possible to download and print your certificate as well as read a summary of each course component's content, and see the grade that you received for each component. Click here to visit the certificate system.
You may also order a hard copy of your certificate (notarized or with apostille authentication) on that same page or from inside your course.
No, your TEFL certificate does not expire. However, some employers may be wary of certificates that were earned too far in the past, so if you are applying to your first teaching jobs a year or more after getting certified, you may want to consider adding an upgrade in order to freshen up your skills.
The Office of Qualifications and Examinations Regulation (Ofqual) is the regulator of qualifications, examinations and assessments in England and the regulator of vocational qualifications in Northern Ireland.
Bridge courses have been similarly reviewed and recommended for university credit equivalencies by The American Council on Education (ACE Credit) and many university partners. Bridge is a post-secondary institution accredited by ACCET (recognized by the U.S. Department of Education) and AQUEDUTO (Association for Quality Education and Training Online). Our certifications are regulated by our accrediting agencies, and we ensure that the targeted knowledge, skills, and outcomes are addressed through depictive course assessments. Further, we are committed to making sure that our learners have a positive experience from start to finish and that our programs prepare modern teachers for career success.
To learn more about Bridge's accreditation and university credit opportunities, please review the following chart. Please note that Ofqual equivalencies are equated to the university credit recommendations provided by the American Council on Education (ACE Credit®) and our university partners.
Accredited by:
COURSES RECOGNIZED BY:

RECOMMENDED FOR CREDIT BY:
Join the
Sign up for our newsletter to stay connected with industry news, resources for English teachers and job seekers, Bridge updates, and more.
Loading…