Bridge IDELT in Denver, Colorado USA


International Diploma in English Language Teaching

Prepare to teach English by earning a 140-hour joint TEFL/TESOL certificate from Bridge and Metropolitan State University of Denver at our U.S. headquarters.

Accredited by:
U.S. Department of Education
Recognized Agency
(Earn 14 CEUs)
NOW A JOINT CERTIFICATE WITH:
Metropolitan State University of Denver
Includes a Hands-On Teaching Practicum!
About MSU Denver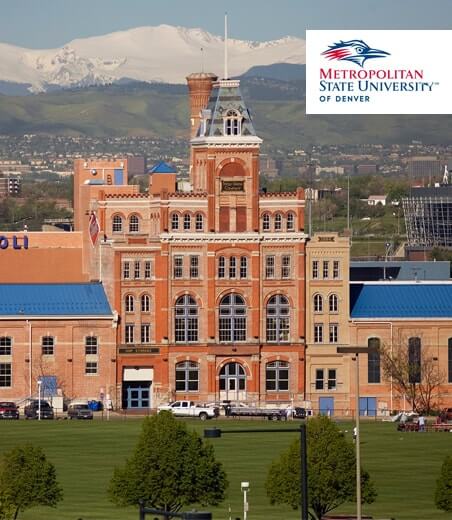 Local university partner, MSU Denver, has partnered with Bridge to bring English Language Teaching (ELT) training opportunities to the local community and beyond.

The MSUD Department of Innovative and Lifelong Learning serves all members of the community, including professionals seeking career advancement or up-to-date certification, students seeking more flexible and online learning options, community members seeking personal enrichment opportunities, and much more. They offer credit and non-credit learning opportunities and online and face-to-face courses, all at affordable costs designed to fit busy schedules.

MSU Denver is pleased to offer a joint certificate with Bridge for the International Diploma in English Language Teaching classroom-based program.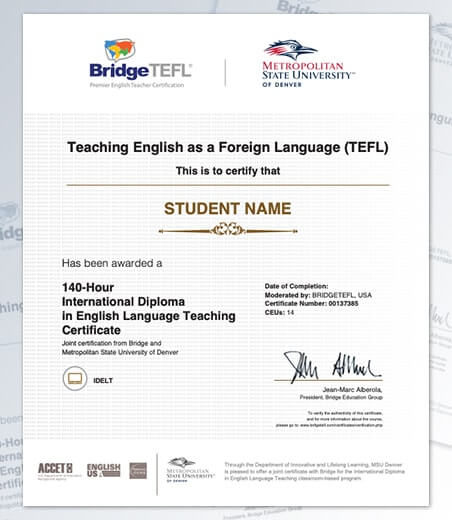 Bridge IDELT Courses in Denver fill up quickly!
It is recommended you sign up for your course 30-60 days in advance to secure a space.
Thank you for your interest in onsite TEFL/TESOL training. Due to COVID-19, Bridge recommends that you contact one of our program advisors to learn more about dates, program availabilities, and tuition. Click here to contact an advisor. Please include the program you are interested in within the comments section.
How to Apply:
Step 1
To begin the admission process for the IDELT in Denver, you must first choose your start date, complete the online application form, and pay a non-refundable deposit of USD $195.
Step 2
A Bridge Admissions Advisor will then contact you with instructions on how to complete the required pre-course written task and phone interview. (You will be required to pass both prior to course acceptance.)
Step 3
Once you are notified of your acceptance into the IDELT in Denver, your remaining tuition balance is due 30 days prior to your course start date.
To learn more about the IDELT admission requirements, please click here or contact an advisor.
About the Training Center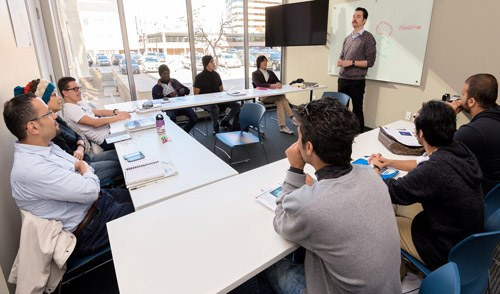 As an IDELT student at Bridge, you'll train at our newly remodeled, modern facilities downtown, in one of 11 fully-equipped classrooms. IDELT class sizes are small, in order to enhance interaction and learning, with a maximum of just 12 students. Since Bridge in Denver is also an English language center, you will conveniently complete your practice teaching sessions with English language learners from the local community.
Our comfortable downtown center also features a welcoming lobby, student lounge with computers, a common kitchen area, large outdoor patio with seating, and Wi-Fi throughout the facility. After class, you can take advantage of our central location within walking distance to shops and restaurants along the 16th Street Pedestrian Mall and other Denver attractions such as museums and sports arenas.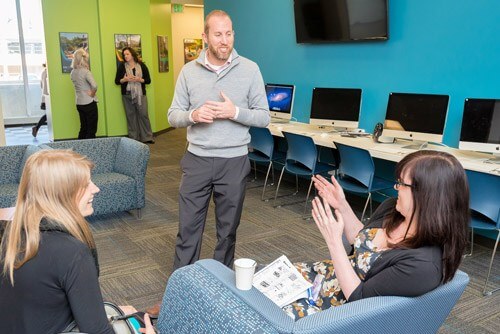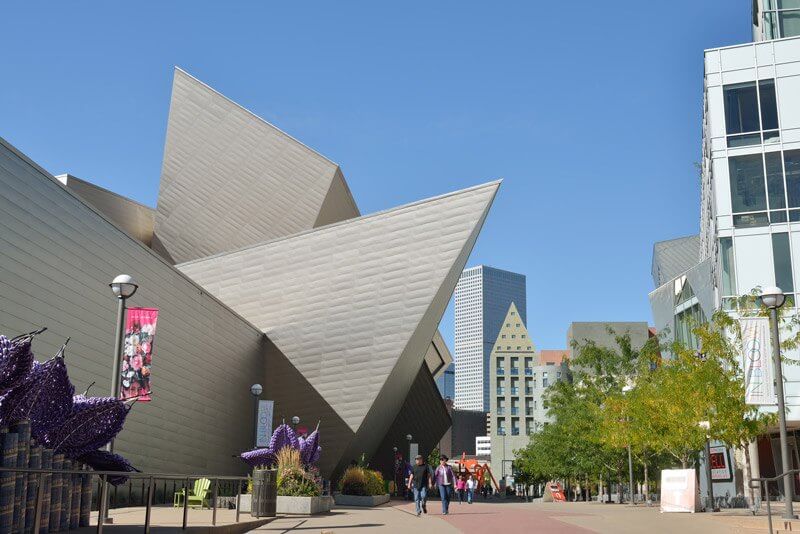 Denver, Colorado
Denver, Colorado, known as the "Mile High City" due to its elevation near the famous Rocky Mountains, is one of the most visited cities in the United States, and an ideal location to earn your IDELT certification. The Bridge center is conveniently located right downtown, within walking distance of shops, restaurants, museums and other attractions.
On weekends, IDELT Denver trainees can enjoy the city's over 300 annual days of sunshine by taking part in the type of outdoor activities Denver is known for, such as hiking local trails, skiing the nearby slopes, or biking around the city. You can also check out the vibrant museum and cultural scene and unique neighborhoods easily accessible from the Bridge center.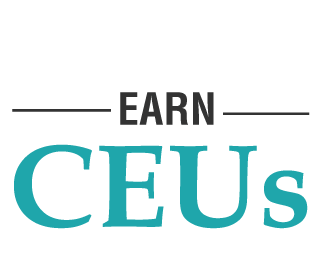 TEFL CERTIFICATION AND CEUs
Continuing Education Unit (CEUs) are nationally recognized units of measurement for participation in non-credit, continuing education programs. Bridge is accredited by ACCET (the Accrediting Council for Continuing Education and Training), and any ACCET-approved Bridge course, including our online TEFL programs, can be taken for 1 CEU per 10 hours of TEFL course instruction.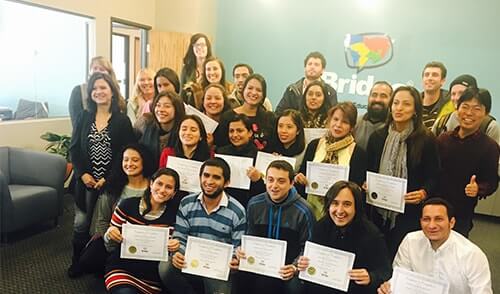 TEFL/TESOL Training in the USA for the Global English Language Teacher
Customized study abroad programs combine English classes, teacher training, and experiential learning for global English language teachers.
Learn More
Housing Options During the IDELT in Denver

Homestay (4 weeks: $1,120)
In this type of accommodation, you will have your own bedroom and either a shared or private bathroom in the host's home. Hosts provide breakfast and dinner, and they often enjoy spending time during meals chatting with students. All of our homestays are middle class, many are single-parent households, and they may or may not have children living at home. Homestays are located in attractive homes in safe neighborhoods. Distances from the schools vary from a few-minute walk to a 30-minute bus ride. During your homestay, you will be given a key to the house and are free to come and go as you please; however, as a guest, you should be sure to respect the routine of the people with whom you are staying.
In order to be accepted into our program, local hosts are carefully screened and must meet Bridge's stringent requirements. Many homestay providers have been in our program for years and have consistently received excellent evaluations
Hotel/Hostel (4 weeks: $1,960 – $4,200)
Hotels and hostels are available within a short distance of the downtown training center. Hostels provide a more economical alternative to hotels, though unlike a private hotel room, standard service for hostels places you into a dorm room with 2 to 8 people.
Meet the IDELT Denver Trainers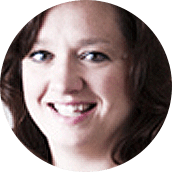 Denise Kray
IDELT/CELTA Trainer
Denise earned a Bachelor's of Elementary Education in 1995 from the University of Alberta, Canada, and also holds a Cambridge Delta Module Two (Developing professional practice). After university, she spent a year in Japan where she taught English to students of all levels. Upon returning to the U.S., Denise got her Colorado teacher credential, and in 1997 came to Bridge Education Group, Inc. where she has taught ESL classes, including test preparation, grammar, reading, listening, and speaking. Since 2003, Denise has been a teacher trainer for the Bridge programs – as the Head IDELT™ Trainer for Bridge in Denver and a tutor for the Cambridge CELTA. She has also assisted in curriculum development for both ESL classes and Bridge.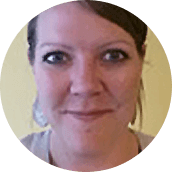 Leah Donelson
IDELT Trainer
Leah earned a Bachelor's Degree in English Literature in 2012 from the University of Colorado, and also holds a Cambridge CELTA certification. She worked for 10 years in the financial industry before making a career change and becoming an ESL teacher. Upon completion of her CELTA, she began teaching at Bridge Education Group, Inc. in 2014. She has taught ESL classes of all levels, including test preparation, grammar, reading, listening, and speaking in Academic, Business, and General English programs. She has also assisted in curriculum development for the General and Academic English programs. Since 2015, Leah has taught online ESL classes for group classes as well as private lessons to students of all levels from around the globe. Additionally, she is an invigilator for the IELTS exam. In 2016, Leah became a teacher trainer for the Bridge program as an IDELT trainer in Denver.
Would you prefer to take the Bridge IDELT course online?
You can! The Bridge IDELTOnline™ course, with optional teaching practicum, offers the same quality as the classroom-based IDELT but with the flexibility of a 100% online format.
Successful IDELTOnline™ trainees receive a 150-hour TEFL/TESOL certification and also have the option to take the course for transferrable university credit toward a graduate certificate, master's program, or a scholarship at our Pathway Partner universities and others.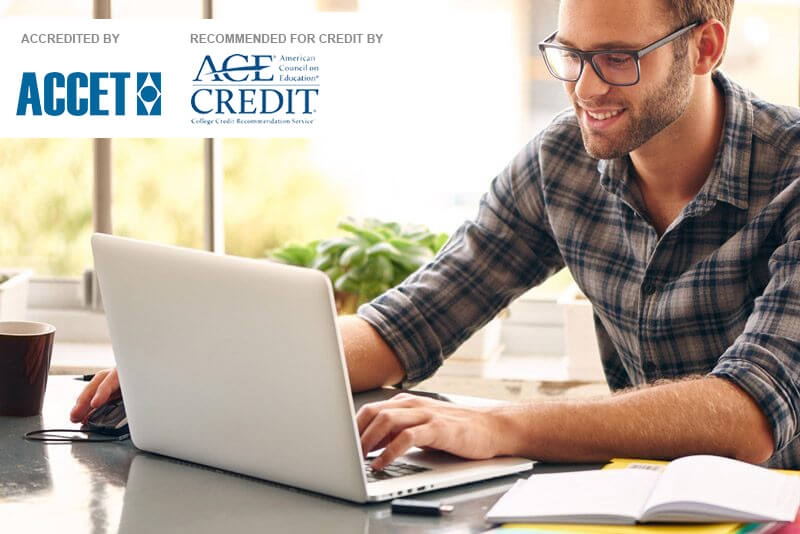 Our most advanced online TEFL/TESOL course is a pathway to an M.A. in TESOL or related degree at these Bridge university partners:



LEARN MORE ABOUT THE IDELTOnline™
The ACE CREDIT logo is a registered trademark of the American Council on Education and cannot be used or reproduced without the express written consent of the American Council on Education. Used with permission.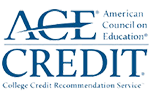 The ACE CREDIT logo is a registered trademark of the American Council on Education and cannot be used or reproduced without the express written consent of the American Council on Education. Used with permission.