You want to teach English to speakers of other languages in your home country, abroad, or online, so you're looking for TEFL certification to prepare you for the classroom and enhance your employment opportunities. Ready to get started choosing a course, you Google "TEFL/TESOL training"… and get 14,600,000 results! How do you narrow your choices to select quality training that will be accepted by schools? How can you distinguish the reputable programs from the "fly-by-night" ones? One way is to choose an accredited TEFL certification online.
What is accreditation?
Accreditation is recognition and verification that an institution meets and maintains certain standards of quality for that industry. Most common in education, accreditation typically means that an outside, objective agency has audited various aspects of an organization and its programs and found the program to meet appropriate standards. This includes everything from the school's financial stability and the training staff's qualifications to the program's objectives, methodology, assessment procedures, and record-keeping.
How does online TEFL/TESOL certification work? Find out!
Are all TEFL/TESOL courses accredited?
No, and this is one of the main reasons accreditation is so important when choosing a TEFL/TESOL course! There's no industry-wide requirement that TEFL/TESOL providers and their courses are accredited. In fact, the process of earning accreditation involves a painstaking and time-consuming review for the institutions, so TEFL/TESOL providers that choose to make this effort tend to be stable, reputable, and concerned about high standards in the industry.
TEFL/TESOL training course providers that do not undergo the accreditation process tend to be less committed to best practices, which at times results in sketchier programs with short histories and shorter futures. While these courses may have lower prices since accreditation is one factor that can affect the TEFL/TESOL certification cost, beware of taking an unaccredited course!
Remember, the best TEFL certification courses have verifable accreditation by an outside body.
Feeling confused by English teaching acronyms, like TEFL and TESOL? This article can help: What is TESOL?
Why is TEFL/TESOL accreditation so important?
It's important for several reasons.
First, it helps you, as a consumer, wade through the sea of available TEFL/TESOL certification courses and understand which ones are better quality.
Second, it helps assure your future employers (schools or online tutoring companies) that you are properly trained via a course that met industry standards.
Third, accreditation through a reputable body such as ACCET means that you can earn additional credentials, such as Continuing Education Units (CEUs) or even university credit for your training.
Learn more about earning college credit for your Bridge TEFL/TESOL course.
Remember that you want both a quality training experience and the ability for future employers to check your certificate six months or six years from now. TEFL/TESOL certification never expires, so you want to get certified with a well-established, reputable provider. You don't want future employers to get the dreaded "web page unavailable" message when they attempt to verify a certificate you earned through a fly-by-night provider.
Find out more when it comes to choosing the best TEFL/TESOL certification course.
What are some reputable accrediting bodies for TEFL/TESOL courses?
For U.S.-based TEFL/TESOL course providers, examples of accrediting bodies are ACCET (the Accrediting Council for Continuing Education and Training) or CEA (the Commission on English Language Accreditation). Courses offered through providers in other countries will vary. The UK-based Cambridge CELTA, for instance, is regulated by the Office of Qualifications and Examinations Regulation (Ofqual); another well-known accrediting body in the UK is Aqueduto (Association for Quality Education & Training Online).

How can I know if a course is accredited?
TEFL/TESOL providers who are accredited will prominently feature information on this hard-earned status on their website and in the course information they provide you to showcase the quality of their organization and programs (read about Bridge's accreditation and university affiliations here). If a program is accredited, such as by ACCET or CEA, you can simply go to the website for those accrediting bodies and verify that the TEFL/TESOL course is indeed listed there.
For example, one of Bridge's accrediting bodies is ACCET, so you can go directly to the ACCET website to verify this accreditation. Once there, click "Directory" to access the member institution directory, and enter "Bridge" under "Institution Name," and you'll find a listing of our campus locations and accredited programs, and you can even see the date we were first accredited, 1998.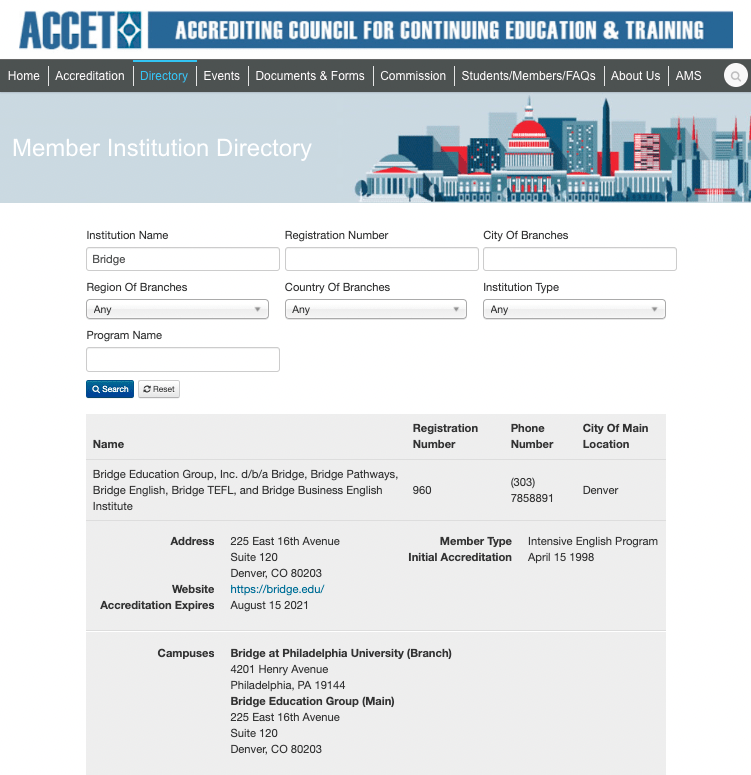 Learn more about Bridge's accreditation through ACCET and Aqueduto.
I've verified that a TEFL/TESOL course is accredited. Is that enough to ensure the quality of the course?
It's a great start, but there are other ways you can research the quality of a program. It's also recommended that you contact the TEFL/TESOL provider by phone, chat, or email to get answers to these questions:
What are the TEFL/TESOL providers' professional affiliations?
How many years has the provider been in business?
What are the TEFL/TESOL course trainers' qualifications?
If you're considering an in-person TEFL/TESOL course or a group online course, what is the maximum number of students per class/cohort?
Are objective course reviews or references from past students available?
Can you earn CEUs or college credit for any of the providers' courses?
What system is established for verification of certification by future employers?
Taking the time to select an accredited TEFL/TESOL certification online enriches your experience during your teacher training and enhances your future employment prospects. When selecting TEFL/TESOL training from any source, look for accreditation from a recognized body and then support that accreditation with your own research. Bridge staff is happy to provide details on Bridge's ACCET and Aqueduto accreditation and to answer the questions above (contact an advisor here). This willingness is shared by other reputable teacher training schools, so don't be afraid to ask.
Choosing an accredited TEFL/TESOL certification online is just one factor to consider when researching how to get certified to teach English worldwide or online. Read more about what makes a legitimate TEFL/TESOL program.