I Finished My TEFL Course, Now What? 4 Steps to Kickstart Your Job Search
By Kevin Mermel
October 4, 2019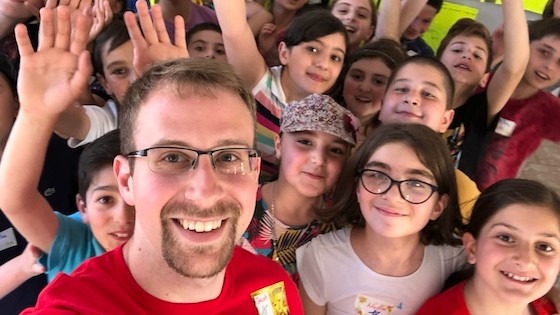 You've completed your TEFL certification course – congratulations! You're now prepared and qualified for English teaching jobs in locations around the world and online. But where should you start when it comes to the TEFL job search? If you've recently (or not-so-recently) graduated and are ready to get serious about your job search, Bridge can help. Follow these 4 steps, outlined by Bridge career advisors, to research, connect with, and ultimately land your dream TEFL job.
Step 1: Decide Where You'd Like to Teach
The market for teaching positions and the way you apply to jobs can vary significantly depending on the region or country. If you don't have a specific location in mind, it can be helpful to start by learning as much as you can about different TEFL locations, including information on the culture and day-to-day life, as well as typical teaching requirements, salary, benefits, hiring season, and other logistical information.
Therefore, as the first step in your TEFL job search, research where you'd like to teach, using the many resources that Bridge offers:

These resources will help you get a clear understanding of different teaching positions available around the world, and what market may be the best fit for you. 
Step 2: Register on the BridgeTEFL Job Board
Once you've narrowed down where you'd like to teach, your next step is to register on the BridgeTEFL Job Board, an international professional network where you can find TEFL positions around the globe and online.
Create a Teacher Portfolio
Once you do register, you can create a customized Teacher Portfolio that beautifully highlights your background, qualifications, and professional goals. The portfolio allows you to add a professional headshot, detail your education and TEFL/TESOL qualifications, describe relevant career history, and lists skill related to the specific positions you're interested in.
Let Employers Find You!
Your portfolio is an opportunity to showcase what you have to offer to employers when you apply for jobs. You also have the option to make your portfolio searchable by employers on the job board, so that schools and recruiters can find you when they're looking for candidates that match their requirements.
Step 3: Connect With Employers and Bridge Career Advisors
Connect With Employers on the Job Board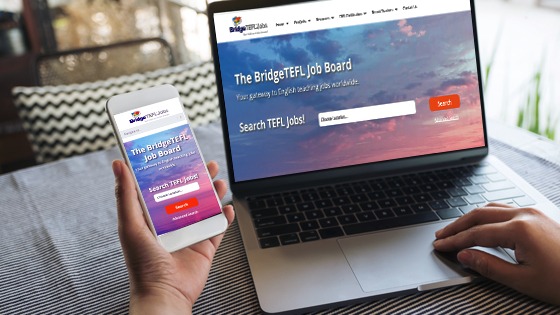 Once you have finished setting up your Teacher Portfolio, you're ready to start connecting with TEFL employers! Our Job Board has a wide range of teaching opportunities and you can search jobs by region or country (or search online jobs), and simply click on any position that grabs your interest to view details about the position and the school and to apply directly with your Teacher Portfolio. Remember, with so many different types of TEFL jobs on the Job Board, it's helpful to fill out a detailed Teacher Portfolio that emphasizes your specific skills and interests.
Reach Out to the Bridge Career Advising Team
We encourage you to be proactive and reach out to schools and recruiters on the Job Board directly, and you can also contact the Bridge Career Advising Team, who are in continual contact with Job Board employers.
Our Career Advisors have experience teaching around the world and can support you in your TEFL job search by:
Providing job advice specific to your location of interest.
Reviewing your TEFL resume and offering tips for interviewing.
Connecting you to opportunities that match your background via the Bridge Job Board and other resources (and letting you know when future opportunities arise).
Facilitating introductions within our extensive global network of schools and recruiters.
Offering insights for vetting employers abroad.
Step 4: Network With the TEFL Community
Networking is key to any job search, and it's no exception with TEFL! We provide ways you can exchange information with other Bridge alumni, teachers, and schools in need of teachers to help you find your ideal teaching job.
Subscribe to the BridgeTEFL Universe Newsletter
First, make sure to sign up for the BridgeTEFL Universe Newsletter (using the form at the bottom of this article), which is sent out every week and alternates between a TEFL and a Jobs edition. We'll share interviews with teachers and schools, information on developments in the global TEFL/TESOL industry, and the latest TEFL positions you can apply to immediately.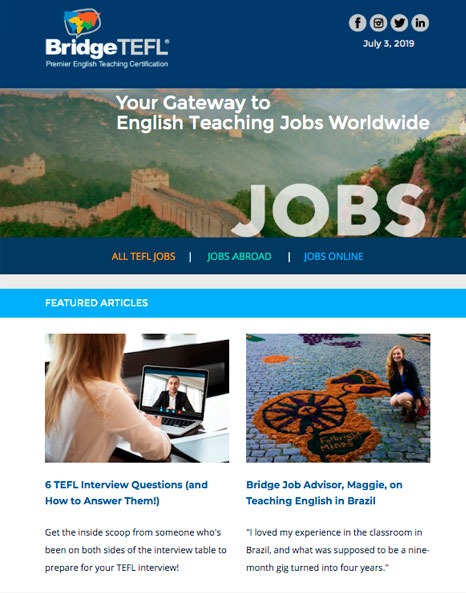 Join the BridgeTEFL Jobs Facebook Group
Next, join the BridgeTEFL Jobs Facebook Group, where you can join job-related discussions with Bridge students and alumni, as well as teachers from around the globe. This is a valuable (and fun!) forum where you can ask TEFL job questions, share information, and generally network with other job seekers.
As you can see, earning your BridgeTEFL certification is just the first step on your TEFL/TESOL journey, and we're here to support you as you move to the next phase of this process – getting a TEFL job!