Get to Know Twenix: The Latest Online English Teaching Opportunity!
By Rashmi Chugani
January 24, 2023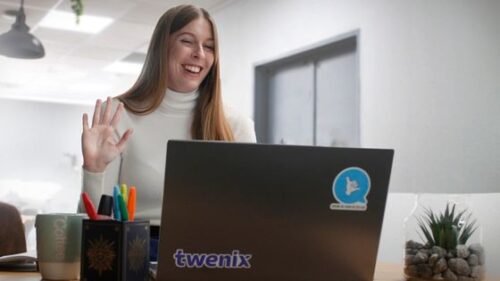 Twenix, an online English teaching company, was founded in 2017 in Almería, a coastal city in the south of Spain. Having studied English since the age of five, its founders realized that the traditional way they had been taught English had not actually helped them become fluent and comfortable when communicating in the language. They set out to change this through Twenix, a start-up with a unique methodology that is currently hiring English teachers.
Below, Álvaro Herrero, Twenix's Head of Supply Operations and Recruiter, shares the Twenix story, his vision for its future, and what hiring managers are looking for in potential candidates.
Apply to work as a TEFL teacher with Twenix now!
Hi, Álvaro! Can you give me an overview of Twenix? What's the story behind it?
Twenix's name comes from the number 26, which is the length of any class offered as part of the company's methodology. This particular length encourages complete engagement from the student and is also great for teachers as they have a four-minute break every half an hour.
All of our classes are one-to-one, and every class has a topic that has been chosen by the student, which is key to ensuring they stay engaged. This also helps teachers out as they already have all of the content planned out when they attend a class, releasing them from any stressful planning duties beforehand.
What is the company's mission?
Twenix was founded to change the way people learn English. Its purpose is to make learning English fun, simple, and personalized.
What can English teachers expect if they work with Twenix? Please be as specific as possible with schedules and payments.
If there's one thing that makes Twenix stand out from other platforms, it's flexibility. Our teachers can open and close as many class slots as they wish. If they wake up sick or have an emergency, they can transfer their class to the pool of available teachers, knowing that they will not incur any penalty for doing so.
The second biggest advantage is that once you become a Twenix teacher, you can start earning income from day one. Unlike other platforms, at Twenix you don't need to market yourself to students or lower your prices to get their attention. It is as simple as teachers opening their availability, and then Twenix starts allocating students based on this.
Regarding payments, Twenix pays teachers on a monthly basis. Teachers are responsible for generating and sending an invoice to Twenix between the second and fifth of each month, and the money is then transferred to them via WISE.
Last but not least, Twenix is a people-first company that strives to be different from robot-like platforms. Our teaching department is devoted to supporting and training teachers in addition to offering personal touch points every week to those who request it.
Want to teach English online? Get the training and certification you need to join the fastest-growing field in English language teaching!
Regarding the openings for online English tutors at Twenix, what should potential candidates know about the Twenix methodology and curriculum?
Twenix's methodology focuses on developing students' speaking skills, and its main objective is for students to practice, improve, and learn in each 26-minute lesson.
Our class content is developed in-house and, depending on the topic, in collaboration with experts from specific industries. Teachers are not required to prepare the lesson materials; however, it is expected that they familiarize themselves with the content before starting the lesson.
The class content is specifically designed to help the teacher engage the student in a conversation around a particular topic. It consists of a series of questions and answers, which are adapted to the student's level and only visible to teachers. Teachers engage in conversations with students using these questions and then respond and offer feedback.
Read 10 tips for teaching conversational English.
What is the interview process like?
We take pride in providing a recruitment system that is fair, transparent, and engaging.
Part of the process includes candidates carrying out short tasks, which can include simulating class conversations following guidance on our methodology. This may be through a video or a live interview.
Successful candidates receive ongoing and comprehensive training on how Twenix and its methodology work right from the start of their collaboration.
Want to ace your interview? Find out how to prepare for a TEFL/TESOL interview.
What equipment do Twenix English teachers need?
They need to have a stable internet connection with a minimum of 4 MBs of download and upload speed. We also recommend using a cable instead of WiFi.
Teachers should give lessons with a laptop or a desktop computer. It should be noted that smartphones are not allowed.
We highly recommend using Google Chrome as the preferred internet browser and also encourage teachers to check that their camera, microphone, and speakers are working properly.
Can you share some tips for applicants to help them pass the interview/hiring process?
Of course! Show that you are passionate about helping students develop their English. Let your warm, enthusiastic, and fun side shine through – we're looking for a people's person! Demonstrate that you are a natural conversationalist and boast excellent, active listening skills.
What type of students do you teach?
Our main pool of students comes from the B2B market and consists of professional adults who have access to Twenix through the company for which they work. However, we also have a growing number of B2C students who contract Twenix on their own accord and not through their work.
Currently, the majority of our students are based in Spain and Italy.
What's next for Twenix?
Twenix is growing very fast and is looking forward to hiring 500+ teachers in 2023. During this accelerated period of growth, Twenix will continue to work towards becoming a platform for remote teachers that is second to none.