One of the best things about teaching English online is that it's so flexible; it can be full-time or part-time, you can work from anywhere in the world, and it's a great option for new teachers without experience or for experienced teachers looking for extra income. You also have options when it comes to how to teach online; you can work with an established company, create a profile on a teacher marketplace, or work independently by starting your own business. Let's take a closer look at these options to help you decide which is best for you.
Getting started teaching English online: TEFL/TESOL certification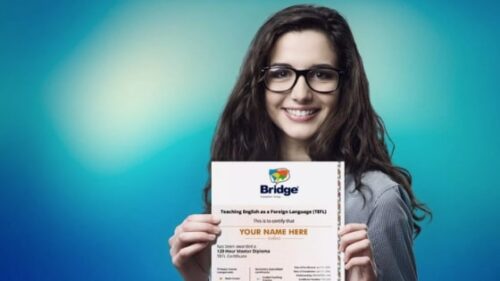 Before you even think about teaching English online with a company or for yourself, you need to make sure you're qualified! The good news is that you don't need a lot of experience or a certain degree. However, you do need to get TEFL certified. A general certificate of at least 120 hours is accepted all over the world in both online and physical schools, so start there.
And, if you want to be as competitive as possible as an online English teacher, especially when advertising your services via a teacher marketplace or when launching your own tutoring business, having Specialized Certification in Teaching English Online will help you stand out in this growing field. You can even complete the Bridge Practicum in Teaching English Online to gain familiarity with a real virtual teaching platform and build your confidence as an online teacher. The practicum includes the option to record your practice teaching sessions so that you can share your video demos with future employers or use them to further market your skills!
Here's how to become an online teacher in 5 simple steps.
Decision time – work for yourself or someone else?
Once you've gotten your online TEFL certification and are feeling prepared, it's time to jump into the online teaching job market. There are basically three categories when it comes to how to teach online. Which one you choose depends on your goals, your preferences, and your level of commitment.
You can work with an established online tutoring company.
You can work via a teacher marketplace.
You can work for yourself (i.e., start your own business).
What are these options all about and what are the pros and cons of each?
Work with a Company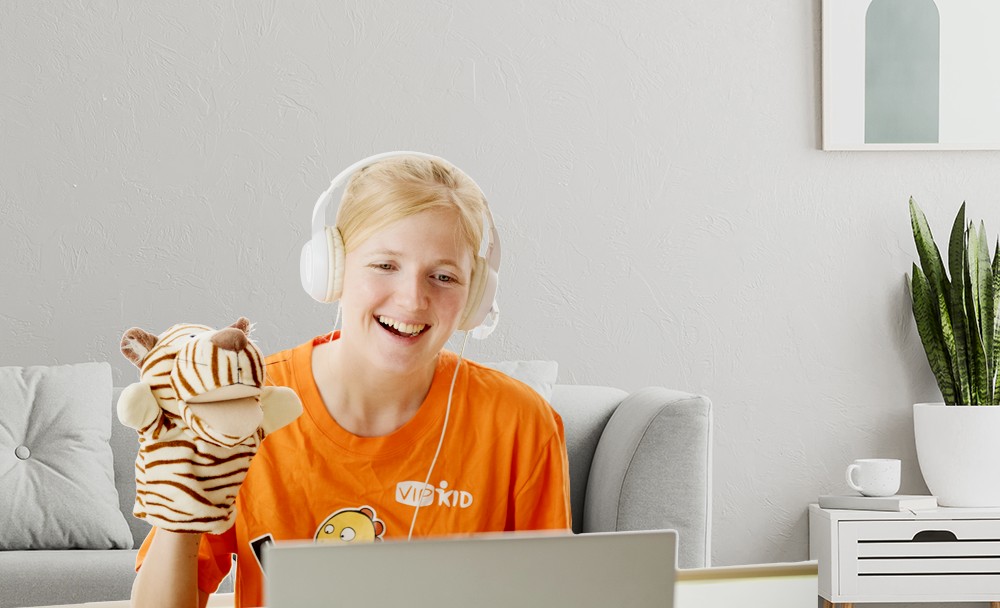 Working with an online English tutoring company is a great way to get your feet wet in this field.
Note: While, traditionally, many online English tutoring jobs have been based in China, recent changes to education law there mean fewer companies are hiring foreign teachers. As an alternative, check out 10 non-Chinese online English companies you can work with.
Pros
Most new online English teachers start out working with a company, and there are a lot of benefits to this.
Support
If you're new to teaching English online, working with a company usually offers some support, such as training and tutorials, onboarding, and even a mentor or professional development opportunities in some cases.
Learn more about the types of support typically offered by online tutoring companies.
Students provided
When you work with a company, you are not responsible for finding students; the company has a bank of students already, and they'll either be assigned to you or you will select students based on your availability.
Materials provided
Another pro of working with a company is that you won't have to come up with lesson plans and teaching materials, as these are provided for you.
No marketing required
Unlike working for yourself, either via a teacher marketplace or when running your own business, when you work with a company, you won't have to create a teacher profile, an intro video, or a website to attract students, as they are provided for you.
To browse online teaching jobs with Preferred Employment Partners, check out the Bridge Job Board.
Cons
Of course, there are downsides to working with a company, as well.
Salary limits
The first is that, of the three job options listed here, the income potential is the lowest. Online teaching companies usually offer a range of pay to their tutors (based on qualifications and experience) and also the chance to earn more through performance-based bonuses; however, there is always an upper limit to how much you can earn per hour.
Here's how to make the most money as an online English teacher.
Less freedom
When working with a company, you'll likely have to work within certain hours, you may have to wear a uniform, and lessons are usually pre-made and very structured. While having structured lessons provided falls into the "pro" category for many teachers, others prefer to have more room for creativity when it comes to the curriculum they'll teach and how they'll teach it.
Read about the pros and cons of centralized lesson plans.
Finding the right company
A third downside is that you'll have to do some legwork during your job search to find the right company for you. Points to consider include the curriculum the company uses, the number of available students (and therefore teaching hours for you), whether the company caters to young learners, teens, or adults, and where the company is located.
Here's a guide to choosing the best company for teaching English online.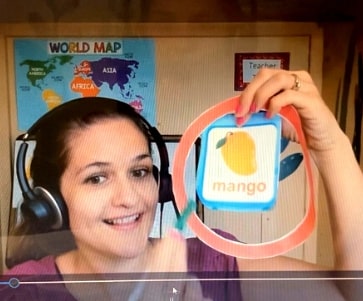 Freelance teach via a teacher marketplace
For many teachers, working in an online tutoring marketplace represents something of a sweet spot between working with a company and working entirely for yourself. The marketplace acts as an agent, or "middleman," and you use their platform to market your services to students seeking an English teacher. Three of the most popular marketplaces are italki, Verbling, and Preply.
Here's an example profile on the marketplace Preply: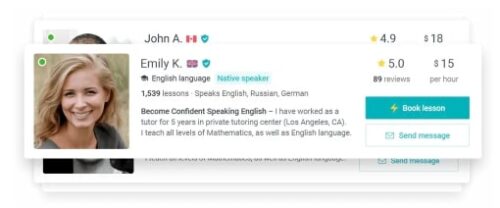 Pros
Working via a marketplace is a step on the way to total independence. As a tutor for a marketplace, you set your own hours and your own prices (the marketplace takes a commission from what you earn). Because you set your prices based on your online English teaching qualifications, the income potential can be higher than when working with a company, especially for more experienced teachers.
Cons
It takes more than just teaching skills to set up an effective marketplace profile. For example, most profiles include a professional-looking image, an engaging description of what you have to offer, and a video introduction, so you'll need to put some work into crafting all of these elements. You'll also want to think about choosing a teaching niche (such as ESL pronunciation or IELTS exam prep) so that you can stand out from the crowd.
In addition, you'll need to consider how to structure your first lesson, or trial lesson, with a student and how you'll prepare them to purchase more lessons from you. To do it well, you'll need to get comfortable with some basic sales and marketing principles. Finally, teaching in a marketplace usually means you have to source your own teaching materials.
For tips on getting started teaching on a marketplace, check out the following video by teacher Rachel, a digital nomad who has taught ESL since 2016.
Work for yourself by starting your own tutoring business
Your third choice is to work entirely for yourself as an independent English tutor. In this option, you may set up a website to market your services as a tutor, and you'll need to choose a platform on which to deliver English classes, which you'll create and teach on your own terms.
Pros
If you go this route, the sky's the limit both in terms of income potential and how you teach your classes, including the structure and schedule. Start-up costs are manageable — the quality of your internet connection matters far more than the quality of your computer, and there are a lot of great tools out there that can make it easy to get set up and teach classes. Here are a few:
Squarespace, to create your website and avoid the learning curve of WordPress.
Off2Class, a one-stop-shop for ESL materials with 800+ ready-to-teach lessons, placement tests, homework assignments, and student management tools.
Calendly, a scheduler that makes it easy to manage your calendar of students.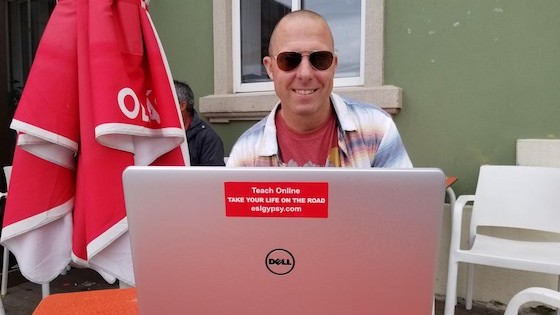 If you're willing to do what it takes to start from scratch, find your own online students, and do a little marketing, you can reap some amazing benefits.
Learn the business and marketing skills specific to launching your own English tutoring business in Bridge's Specialized Course: Teaching English Online as a Freelancer.
Cons
You'll need to keep in mind that starting an online ESL business isn't very different from starting any other kind of business — it takes time and energy to make it work! Are you ready to set up your own website (or pay someone to do it for you)? Do you have the tools necessary to teach and take payments (Skype, Zoom, PayPal)? How are your marketing skills? These are all considerations when becoming an independent online English teacher.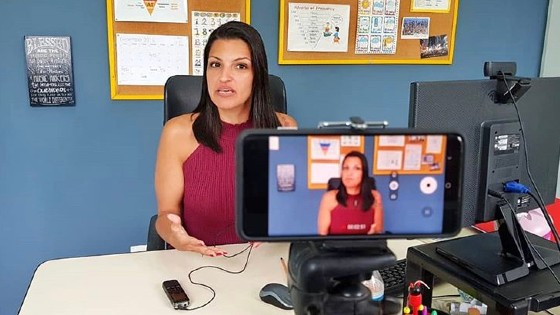 Taking the first step toward online English teaching
There are lots of options if you're considering how to teach online, whether as a main job or a side gig, so all you have to do is get started! First, make sure you're prepared and qualified, such as with a Specialized Certificate in Teaching English Online (with optional practicum), and perhaps add on the Bridge Specialized Certificate in Teaching English Online as a Freelancer if you'd like to one day be your own boss. Then, choose the type of online teaching job that suits your personality and goals, and go for it!
Guest author Chris Rush has been teaching English online since obtaining his TEFL certificate in 2012. He's currently the teacher-in-residence at Off2Class.com, where he blogs about teaching ESL.