Online TEFL/TESOL Micro-credential:
20-Hour Certificate in Error Correction in the EFL Classroom
Get Started for Free
Maximize your students' learning with strategic error correction.
Learn about the types of errors students make, issues to consider when addressing them, and strategies for constructive correction.
Start Your Course Today
Enroll for free. Upgrade anytime
Micro-credential course content is 100% free, but you can upgrade to get additional benefits. Purchase an upgrade from the start or at any time throughout your course.
Look Inside the Course Curriculum
The errors English language students make when speaking or writing provide teachers with valuable insights into their learning process that can guide future lessons. This course examines the nuances of error correction from many angles, providing teachers with the tools needed to identify, categorize, and respond to student errors effectively.  
Error Correction in the EFL Classroom (20 Hours)
| | |
| --- | --- |
| Module 1 | Understanding Error Types |
| Module 2 | Correcting Spoken Errors |
| Module 3 | Correcting Written Errors |
Learning Objectives
When you complete your course, you'll be able to:
Explain the difference between errors and mistakes

Explain the affective filter and how it relates to error correction

Categorize causes of errors and compare global and local errors

Examine effective correction techniques for spoken errors and written errors

Compare the difference between immediate and delayed correction

Examine the benefits of self-correction and techniques for promoting self-correction and peer-editing and techniques for promoting peer-editing
Explore the Course Features
Dynamic Content
Teaching Videos
Downloadable Resources
Start Learning for Free. Upgrade Anytime.
Take your professional development further with tutor feedback, a sharable digital badge, and an accredited certificate.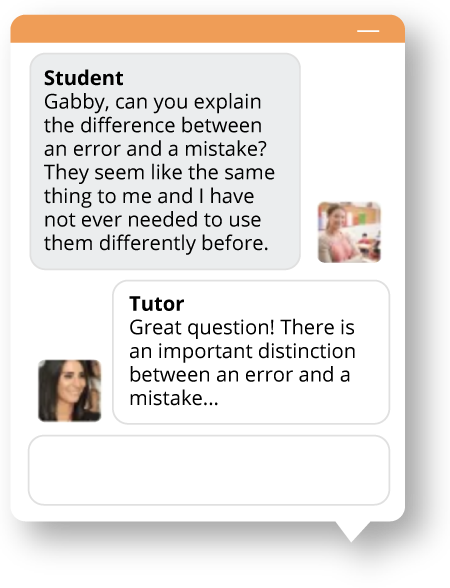 Get support from TEFL/TESOL experts.
You'll be assigned a personal tutor who will provide feedback on your written assignments.

Bridge tutors are professionals in the field who are experienced in teaching English and passionate about training English teachers.

Your tutor will also be available to answer any questions you have throughout your course.
---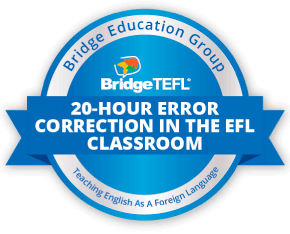 Shareable on

Showcase your credentials with digital badges.
Demonstrate your commitment to lifelong learning – earn a digital badge for every Bridge credential you earn!

Share your badges everywhere employers are looking, including your LinkedIn profile, resume, and email signature.

Employers can click your badge to see detailed, verifiable information about the course you completed.
---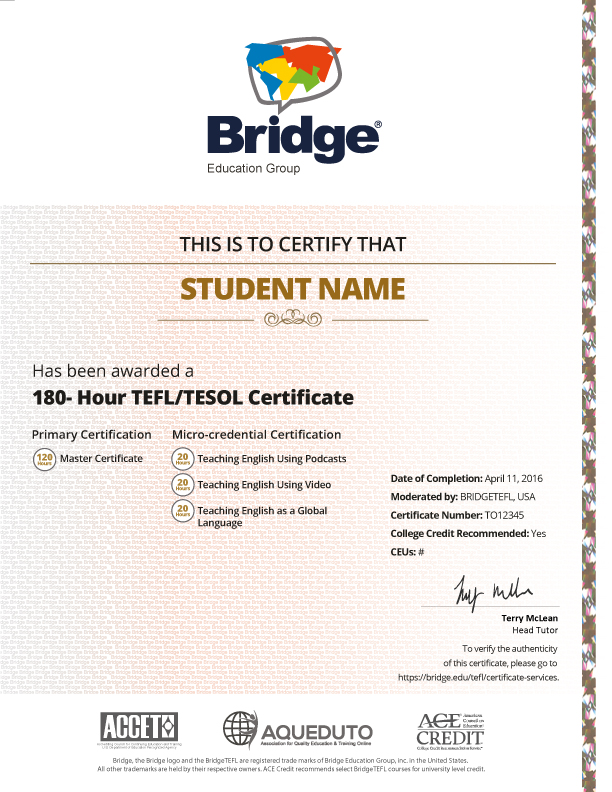 Demonstrate your expertise with a verified certificate.
Courses are stackable. Each Bridge credential you earn is listed on your verifiable TEFL/TESOL certificate.

The total number of hours completed is indicated, and this number updates each time you add a new credential.

You can download and print your certificate or order a hard copy mailed anywhere in the world.
Get additional support from our TEFL/TESOL course tutors.
Upgrade your course anytime and you'll be assigned a personal tutor who will answer your questions and provide feedback throughout your training.

Questions about Bridge Micro-credentials?
Contact an advisor to learn more!
What Will You Learn Next?
Explore our portfolio of free Micro-credentials on topics like teaching English with video, error correction, materials creation for EFL teachers, and much more.
Take your training to the next level with Specialized Certificates.