Professional Development for ESL Teachers – 9 Ways to Boost Your Resume
By Camille Turner
September 25, 2022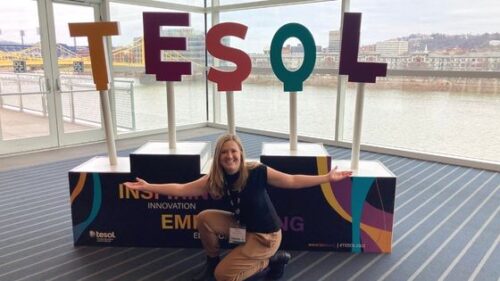 Professional development for ESL teachers is sometimes overlooked, but it's important. Whether you're looking for a new position or want to move ahead at your current job, ESL professional development can help you stand out to employers as someone who stays on top of trends in education and values lifelong learning. To make your resume shine, we'll share eight professional development opportunities, such as earning specialized TEFL/TESOL certificates, attending ELT webinars, and applying for TEFL/TESOL fellowships.
What is meant by professional development for ESL teachers?
Professional development is learning designed to improve one's capability, expertise, and knowledge in a certain job or career field. This learning often entails earning or maintaining certain credentials through academic certifications and coursework but can also involve informal learning opportunities, such as peer groups or conferences.
When it comes to ESL professional development for teachers, for example, a TEFL/TESOL-certified, experienced teacher might take a specialized course to learn a new skill, such as teaching English online, or attend an online webinar or a conference to stay on top of the latest methods of teaching English.
Why is professional development important for ESL teachers?
Professional development for EFL teachers provides opportunities for both in-person and online English teachers to stand out among other professionals in this highly competitive field. It can improve your chances as an applicant and help you advance in your current job.
Furthermore, TEFL/TESOL professional development is important if you want to continue to be a better and more successful teacher. Without participating in professional development opportunities, teachers can become stagnant in their teaching practices and in their EFL careers.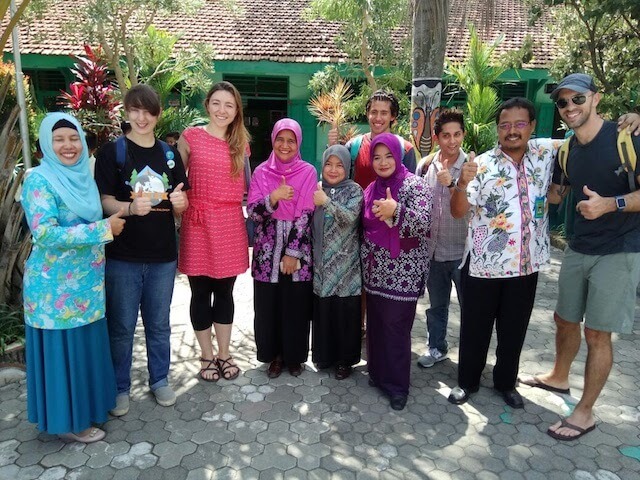 What are some examples of professional development for ESL teachers?
There are countless opportunities for ESL professional development. Below are nine of the best ways you can take part in this kind of ongoing learning, all of which will give your resume a boost and provide talking points for your next TEFL/TESOL job interview.
1. Earn TEFL/TESOL certification of at least 120 hours
If you don't already hold internationally recognized TEFL certification, earning this credential will open doors to a wider range of teaching opportunities both worldwide and online. Most reputable employers require a certification of at least 120 hours, so if your current certificate is fewer hours than that, upgrading it to meet this international standard will result in more opportunities, as there are various types of jobs you can get with a TEFL/TESOL certificate.
If you're considering making a long-term career out of teaching English, want to stand out from other teachers, or want to qualify for non-teaching EFL jobs (like language school director, teacher trainer, or curriculum designer), taking a more advanced course like the IDELTOnline™ is a good idea. This graduate-level certification offers 15 Continuing Education Units (CEUs) and up to nine college credits if you want to pursue a master's in TESOL.
Even if you're already a teacher, it's important to get TEFL/TESOL certified to advance your career. Fortunately, earning a TEFL/TESOL certificate online is an option, so it's possible to take this step no matter where in the world you're located!
Learn more about earning college credit through Bridge courses.
2. Tune in to ELT webinars to expand your knowledge
Attending live webinars like the BridgeUniverse Expert Series is a great way to connect with other educators and with leaders in the ELT industry. You can stay up to date with the latest ELT news and teaching methods, as well as engage with a global community. The BridgeUniverse Expert Series webinars are ongoing – choose from multiple live sessions each month! – and cover diverse topics ranging from pedagogy to job tips to ESL classroom activity ideas.
Past webinars have included "Free and Low-Cost Games for Intermediate English Language Learners," "Creating Relevant and Authentic Cultural Experiences for Your Business English Students, and "The Power of a Personal Teaching Philosophy and How to Create Yours."
If you can't attend a webinar live or you want to research a specific ELT topic, you can browse through a growing library of recorded sessions featuring educational publishing company experts, edtech innovators, school owners, and other industry leaders.
Here's a clip from a webinar in which panelists explained how to use games to teach the International Phonetic Alphabet (IPA) to improve your students' English pronunciation:
3. Specialize your training/certification
If you're already TEFL/TESOL certified, specialized courses will enhance your resume by showing employers that you go above and beyond and value continuous professional development.
Specialized Certificates
Teachers can specialize in high-demand areas, such as teaching young learners or teens or teaching Business English, to qualify for more diverse jobs and be better prepared for the classroom. Specialized training also provides opportunities for experienced teachers to expand into new and growing TEFL/TESOL niches, such as teaching English online or using Content and Language Integrated Learning (CLIL), a bilingual education method growing in popularity all around the globe.
Micro-credentials
You can even take professional development courses through Bridge via TEFL/TESOL Micro-credentials! These short, targeted courses cover practical, current topics in English language teaching, and you can take as many as you like. There are plenty of courses geared toward online English teachers working from home as well. You'll also get tutor support in your Micro-credential course and earn a verifiable certificate and digital badge upon completion.
Available Micro-credential courses include the following (this is just a sample of the offerings!), and more are added on a continual basis:
General Micro-credentials:
Micro-credentials for teaching English online:
4. Showcase your achievements with digital badges

When you complete an online TEFL certification course or specialized certificate with Bridge, you will receive a digital badge that allows you to highlight your achievement. Add digital badges to your resume or LinkedIn profile to showcase your professional development. These stackable, shareable digital credentials provide employers with the full scope of the program you completed with just one click.
5. Attend or present workshops at your school or virtually
Team up with colleagues to identify areas in your teaching methods or your school that could use improvement, such as handling challenging students online. Then, host a workshop on the specific skill set that needs to be addressed. Workshops can be held in person or virtually via software like Zoom.
These professional development workshops can be scheduled on a monthly or bi-monthly basis; teachers can take turns presenting or you can host a roundtable discussion instead. Consider incorporating peer evaluations or self-reflective practices like journaling into your workshops, providing teachers an opportunity to share the areas in which they excel and in which they need to improve. That way, you'll never run out of workshop topics to cover!
Learn more about reflective teaching practices.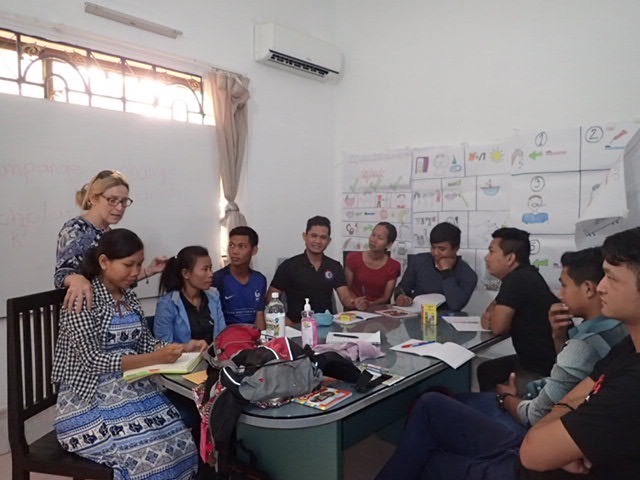 6. Connect with ESL peers and influencers
There are various ways to connect with ESL peers or other experts in the field. Try joining an interactive TEFL/TESOL training course, such as the IDELTOnline™, with an international cohort of trainees, in order to share ideas with other teachers through online forums, discussion threads, and collaborative projects.
You can also join EFL/ESL groups on social media sites like Facebook. These groups provide teaching support and allow you to discuss ESL teaching methods and ideas with other professionals. Some groups even revolve around specific topics, such as lesson planning, to help you grow in specialized areas. Others, such as the Bridge TEFL/TESOL Jobs Facebook Group, focus on job searching.
You can also connect with ESL peers through networking events like conferences. Use these opportunities to attend information sessions, share ideas, and learn from experts in the industry.
Join the Bridge Teaching English Online Facebook Group to connect with teachers around the world.
7. Attend virtual or in-person TEFL/TESOL conferences
Attending TEFL/TESOL conferences is a great way to continue your EFL professional development. There are many annual regional, national, and international conferences available to teachers, and these conferences are even shifting to a 100% online format.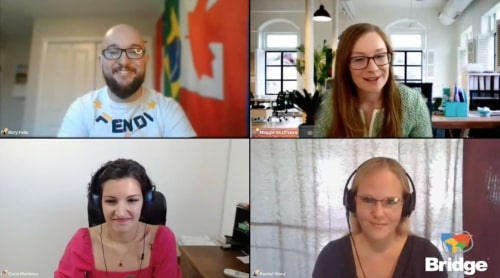 For example, BridgeUniverse Summits have covered topics such as "Teaching English Online: The New Frontier" and "English Language Testing: High Stakes for Learners & Teachers." Conferences such as these provide opportunities for ESL teachers to network and hear from leading experts in the industry. Plus, attending a prestigious TEFL/TESOL conference shows employers your continued interest in professional development and your involvement in the EFL community.
Pro Tip: If you miss out on a TEFL/TESOL conference opportunity, check for post-conference deals. Sometimes, you can purchase post-access passes that include recordings of all of the sessions and other resources.
8. Apply for a TEFL/TESOL fellowship or grant
Applying for a teaching fellowship or research grant in an ESL-related field can give your career a huge boost in terms of making you more marketable and providing you with invaluable teaching experience.
National programs, such as the U.S. Department of State's English Language Fellow Program, are competitive, and acceptance into one of these teaching programs looks great on your resume. If you'd rather focus on a research project for a specific ESL topic, try searching your government's education site for grants. Most countries have a decent budget for awarding grant money to teachers for ESL projects, and having specialized, government-funded research under your belt will set you apart from other English language teaching professionals.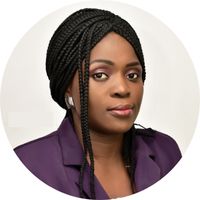 Oluyemisi Adebola Oladejo, an English teacher from Nigeria, won the 2022 ETS TOEFL® English-language Researcher/Practitioner Grant, remarking, "This prize has given me visibility and cast the spotlight on me. There is a tremendous increase in my LinkedIn profile views and connection requests. For once, it seems the world is looking in my direction, and a lot of people are genuinely interested in what I do in the low-income community secondary school 'somewhere in Africa.' Since this win, I have had the privilege of telling my story on some international platforms. Just last week, I was a panelist on the TESOL Black History Month Webinar."
9. Get your master's in TESOL
This one may not be as easy as getting a specialized TEFL/TESOL certificate, but if you're thinking of making teaching a career, consider getting your master's in TESOL. An MA TESOL opens up the most competitive job opportunities and qualifies you to teach at a higher level, such as at universities. MA TESOL jobs are diverse and include opportunities as an academic advisor or a materials writer.
If you're not ready to make the commitment to a master's program right now or you want to explore other options, consider ESL continuing education classes or certifications like the Bridge IDELTOnline™, which can be taken as a pathway to graduate study at Bridge partner universities.
Is a master's in TESOL worth it for you? Read this article to find out.
Training and participating in English language teachers' professional development opportunities, such as attending webinars or completing specializations, makes you a better teacher. But, it's also key to enhancing your TEFL/TESOL resume and standing out in a competitive job market.
If you think earning an MA in TESOL might be the right step for you, consider getting started with the Bridge IDELTOnline™ course, which can be a pathway to your master's.