Do I Need a "TEFL Resume"? FAQs and Tips (Plus a Sample Resume!)
By Coleen Monroe
March 23, 2022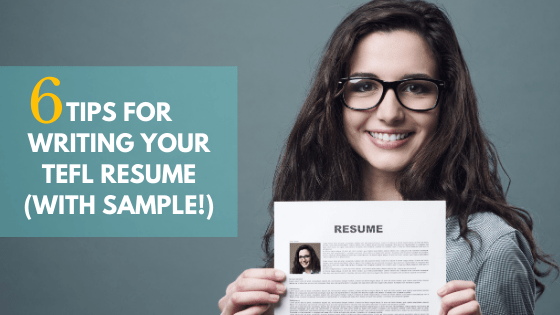 When completing your online TEFL/TESOL course or applying for teaching jobs, you may have run across references to a "TEFL resume." Is this different from a standard resume? And do you need one?
In reality, it's not much different, but yes, you need one! It's not difficult to create; in fact, it's easy to make minor tweaks to your current resume so that it's appropriate for English teaching jobs, whether in the classroom or teaching English online. These tweaks will also help you stand out from other candidates and grab a busy school director's attention so you can make it to the next stage of the hiring process.
What should an ESL teaching resume include?
Your ESL resume for teaching abroad or online needs to be tailored to both the industry and the type of work you're looking for. The information that you include for an ESL instructor resume for the classroom may differ from that for an ESL tutoring position for giving one-to-one lessons. You may also need to pay attention to what areas of your work history are suited to a resume to teach abroad or which would be best to emphasize for an online ESL teaching resume.
In general, this is what your TEFL resume should include and highlight:
If you have TEFL certification, it should be right at the top of the education section of your resume. You should also always indicate the number of certification hours.
If you have prior experience teaching English, consider creating a section on your TEFL CV that's dedicated to ESL experience and is separate from other work experience.
Be sure that you include anything that may show you have skills for the ESL classroom, including prior tutoring or online work. This may include mentoring or volunteer work as well.
Provide your educational background, including degrees earned and from which institutions.
Detail any additional ESL professional development you've done (for example, if you've completed one of Bridge's Micro-credential certification courses) and add your digital badges for those acheivements.
In addition to contact info, employers in some regions of the world require a photo as well as personal info, such as your nationality or languages spoken. Find out what's typically required where you're applying.
Get more information on how to create a resume specifically for teaching English online.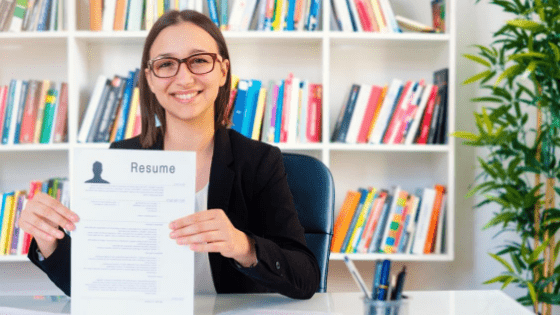 Tips for writing a TEFL resume
1. Keep the style of your resume simple (use a template).
When it comes to how to write a TEFL resume, your goal should be to keep the employer's focus on your skills and qualifications. To do this:
Avoid using too many font sizes. Stick to two, maximum.
Limit yourself to using just one font style and one main color, typically black (using one other color as an accent is widely accepted, too).
The good news is, instead of trying to decide how to organize your sections or which font styles and sizes look most professional, you can just choose a formatted template that does the work for you! Both Microsoft Office and Canva have a bunch of templates from which to choose.
2. Present your information in a concise way.
This is good advice for any resume, but certainly for a TEFL resume. Why? Mainly because the person reviewing your resume may not speak English as a first language. Don't use flowery language or technical abbreviations in an attempt to sound more educated. Be clear and precise.
Below is an example to clarify what types of language you should use and what types to avoid.
Overly complex job title/description:
Adult Education Language Acquisition Specialist: Level 1
Utilized assessment data to facilitate language acquisition for adult ELLs of varying proficiency, adhering to institute standards.
Concise job title/description:
English Language Teacher – Adults
Planned, prepared, and taught student-centered English lessons to small classes of adult learners at a private language institute.

3. Use digital badges to showcase your skills and qualifications.
If you complete an online TEFL course through Bridge, you'll receive a digital badge that you can add to your online teacher resume to show your qualifications to potential employers.
These badges provide additional relevant information about your certifications, such as the learning objectives you met and important projects you completed.
You can also add badges from Specialized or Micro-credential courses as a way to demonstrate that you have specific skills in areas like teaching English online or teaching IELTS exam prep.
Find out more about how to use digital badges for TEFL/TESOL.
4. Include a photo and your personal information at the top of your resume.
This is one of the biggest differences between a regular resume and a TEFL resume. Information about your gender, age, or place of birth is not included in a standard resume. However, in many regions of the world, it's common to include these points. You should be aware that some employers will place a huge emphasis on your photo. Make sure that you take a professional-looking headshot.
Add a "Personal Information" section to the top of your ESL instructor resume, like this: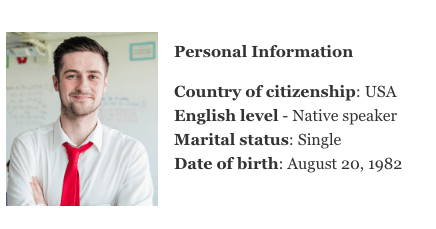 5. Don't have teaching experience? Highlight other skills that apply to ESL.
You can have a great ESL resume even if you've not yet entered your first classroom! Spend a little time generating a list of skills that will help you transition to the world of ESL in a graceful manner. For example, communication, language skills, and working with young people are all non-teaching skills that apply to teaching English online or abroad that you can highlight on your resume.
Newly certified? Find out how to get TEFL/TESOL experience.
6. Use a functional layout and order your sections with care.
It makes sense to make "Education" one of the first headings on your ESL tutor resume since this is where the school can see your TEFL/TESOL certificate and any degrees or other certifications you hold. After your personal info, this is the most important thing they want to know about you. The following is an example of how you can order the components of your TEFL resume:
Personal Info
Professional Summary
Education
Teaching Experience (or relevant additional experience, such as coaching, tutoring, or being a conversation partner)
Other Professional Experience
Awards/Publications/Professional Memberships (Optional)
Skills (Optional)
Hobbies (Optional – Use this section to add personality to your ESL/EFL resume.)
ESL Teacher Resume Sample
Check out these free resources to enhance your TEFL/TESOL resume.
How do I write a cover letter for an ESL teacher?
In order to get a potential employer to look at your resume, you may first need a cover letter that catches their eye and introduces you. It's important to show that you know what kind of position you're applying for and to highlight any relevant experience you have. You can check out this guide to writing a TEFL cover letter for more tips and to see a sample letter.
Applying for a TEFL/TESOL job doesn't have to be scary. By following these simple TEFL resume tips, you're sure to make your ESL resume stand out!