Do I Need a "TEFL Resume"?
By Bridge
July 26, 2019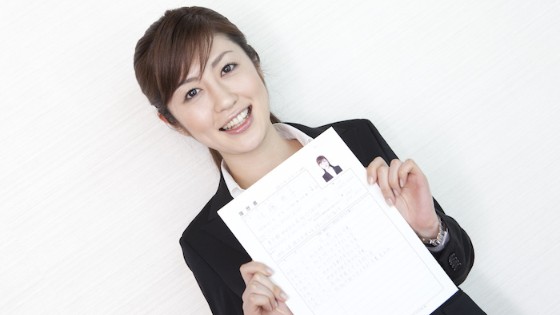 When completing your TEFL certification or applying for teaching jobs, you may have run across references to a "TEFL resume." Is this different from a standard resume? And do you need one?
In reality, it's not much different, but yes, you need one! However, it's not difficult to create; in fact, it's easy to make minor tweaks to your current resume so that it's appropriate for English teaching jobs, whether in the classroom or for jobs teaching online. These tweaks will also help you stand out more than other candidates and grab a busy school director's attention so you can make it to the next stage of the hiring process.
Learn how to showcase your TEFL resume and qualifications to employers on the BridgeTEFL Job Board as by creating a free Teacher Portfolio.
Tips for writing your TEFL resume
1. Keep the style of your resume simple (use a template). 
Keeping your resume style simple puts the focus on your skills and qualifications. To do this:
It's recommended that you avoid using too many font sizes; stick to two, max.
Also, limit yourself to using just one font style and one main color: black (using one other color as an accent is pretty widely accepted, too).
You can use bold and italics for emphasis for headings or job titles, but be sure to be consistent when you do this (for example, use bold for all heading titles and italics for all job titles).
Avoid ALL CAPS at all costs (the exception to this is for section titles, such as "EDUCATION")
The good news is, instead of trying to decide how to organize your sections or which font styles and sizes look most professional, you can just choose a formatted template that does the work for you! Word and Canva have a bunch to choose from.
2. Make the most important info on your resume easy to scan.
School directors or hiring managers are generally pressed for time. They want to quickly scan your resume for important details, such as your TEFL certification and teaching experience, rather than read every word!
So, whether you use a template or not, be sure to make your TEFL certification front and center (toward the top of your resume) and list your teaching or related jobs as clearly as possible.
One way to highlight work experience in this way is to put simple job titles first in each listing (rather than the school/company name or location) and set job titles apart from the rest of the text, perhaps in bold font or italics. Also, avoid acronyms, jargon, or wordy titles.
Avoid unclear job title: 
Adult Education Language Acquisition Specialist: Level 1
Clear and simple job title:
English Langauge Teacher – Adults 
3. Make your contact info abundant, professional, and clear.
The school director will likely communicate with you via email, but just in case they want to call you, you'll want to be sure that you include a phone number with country code, as well as a Skype ID, and/or WhatsApp.
For your email address, it's best to keep it professional. If you're still using an old email address from your college days (beachbum4ever@gmail.com), it's time to create a new one.
4. Include a photo and your personal information at the top of your resume.
This is one of the biggest differences between a regular resume and a TEFL resume. In some countries, information about our gender, age, or marital status is not shared as part of the hiring process; however, in many regions, it's standard to include this.
Therefore it's commonplace to include a professional-looking photo and a "Personal Information" section at the top of your resume, like this: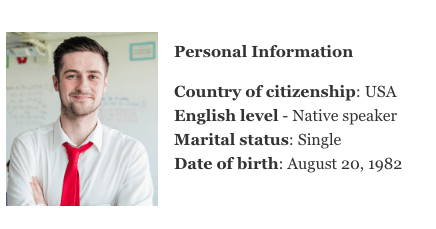 5. Put the most important qualifications first.
It makes sense to make "Education" the first heading on your resume since this is where the school can see your TEFL certificate and any degrees or other certifications you hold. After your personal info, this is the most important thing they want to know about you. The following is an example of how you can order the components of your TEFL resume:
Personal Info
Objective (optional and can go right under your personal info)
Education
Teaching Experience
Other Professional Experience
Awards/Publications/Professional Memberships (This is optional, depending on whether you have relevant achievements to share)
Skills (Optional, but if you include it, focus on hard skills, such as computer programming or language proficiency rather than soft skills, like communication or organization)
Hobbies (This is an optional place to let your personality shine through)
6. Present your information in a concise way.
This is good advice for any resume, but certainly for a TEFL resume. Why? Mainly because the person reviewing your resume may not speak English as a first language. To make it easier for whoever reviews your resume to see your stellar qualifications right away, it's best, as mentioned in #2, to keep job titles clear, but you should also keep your description of job responsibilities to-the-point. Again here you'll want to avoid industry jargon or flowery language. Returning to our example job titles, let's look at example job descriptions:
Not concise: 
Adult Education Language Acquisition Specialist: Level 1
Utilized assessment data to facilitate language acquisition for adult ELLs of varying proficiency, adhering to institute standards.
Concise:
English Langauge Teacher – Adults 
Planned, prepared, and taught student-centered English lessons to small classes of adult learners at a private language institute.
7. Avoid abbreviations– even common ones– on your TEFL resume.
While you might be tempted to include that you earned and M.Ed, are a member of the CATESOL or served in the USMC for 10 years, your meaning may not be so clear to a school director in, for example, Taiwan. Spell everything out.
Remember that the overarching goal of your TEFL resume is to make it easy as possible for a language school to see the reasons they should hire you, such as that you're a proficient English speaker, you have a TEFL certificate and/or a degree, and perhaps some relevant experience. Review your resume with this goal in mind and you'll have yourself an effective TEFL resume.