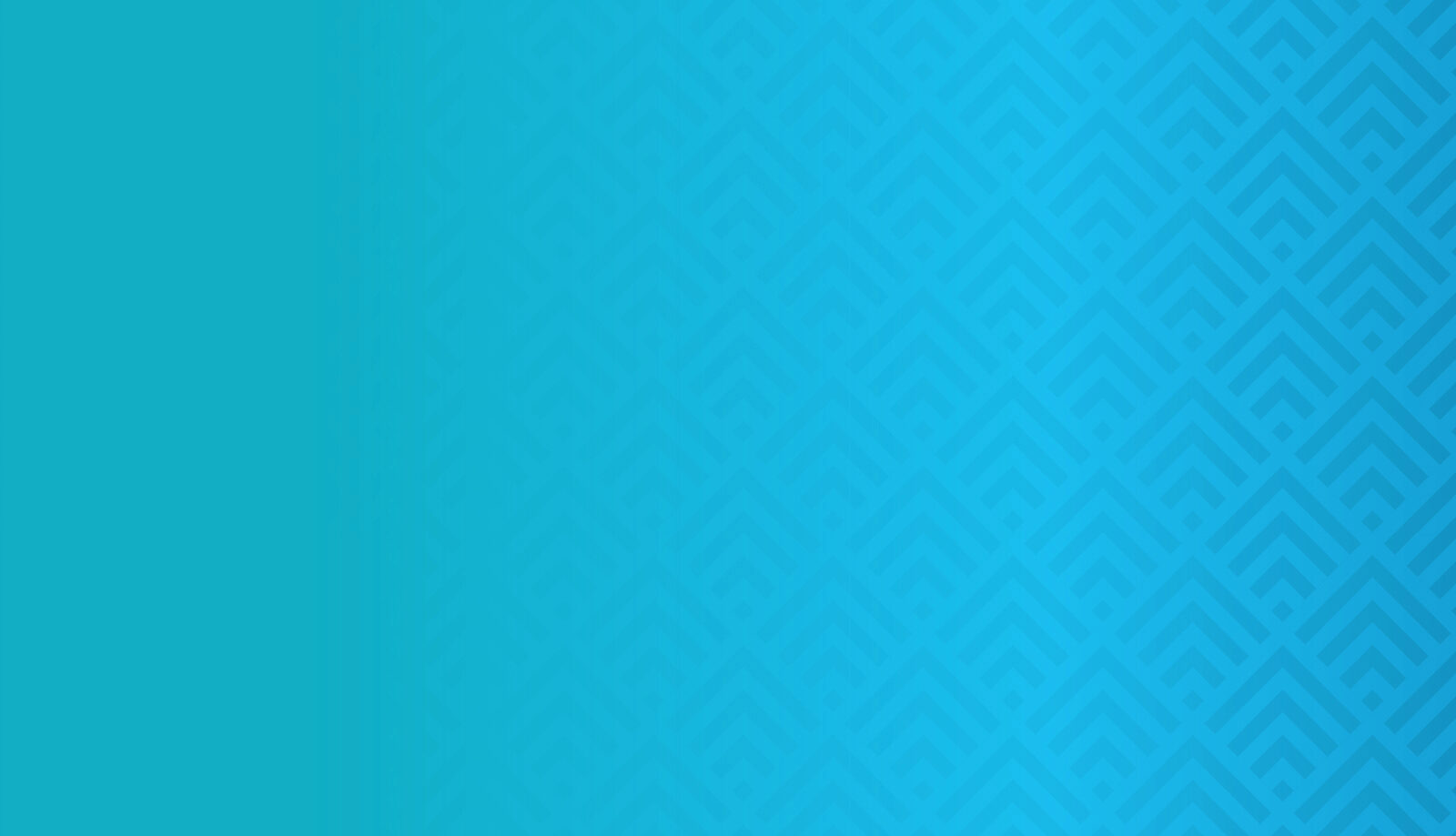 Online TEFL/TESOL Micro-credential:
10-Hour Certificate in Games and Activities for the Online Classroom (Adults)
Get Started for Free
ESL games aren't just for kids! Boost adult learners' engagement and confidence with activities for the online classroom.
Learn how integrating fun games and activities into your online classes with adult learners can help them apply new language skills in context and meet learning objectives.
Start Your Course Today
Enroll for free. Upgrade anytime.
Micro-credential course content is 100% free, but you can upgrade to get additional benefits. Purchase an upgrade from the start or at any time throughout your course.
Look Inside the Course Curriculum
It's a common misconception that adults aren't interested in games or activities in their online English classes. The key is choosing activities that are age-appropriate, have a clear learning objective, and provide practical applications for students. This course examines the many benefits of using games and activities with adults and provides examples your students will love, as well as inspiration for creating activities of your own.  
10-Hour Micro-credential in Games and Activities for the Online Classroom (Adults)
| | |
| --- | --- |
| Module 1 | Theory Behind Using Games with Adults in the Online Classroom |
| Module 2 | Activities and Games for Communication, Vocabulary, and Music |
| Module 3 | Using Task-Based Learning in Online Classes |
| Module 4 | Teaching Reading and Writing Online to Adults |
Learning Objectives
When you complete your course, you'll be able to:
Discuss the research and methodology that support the use of games and activities with adult online language learners

Create and deliver stand-alone games for adult learners in the online classroom

Create and deliver task-based learning games and activities for adult learners in the online classroom

Conduct successful reading and writing activities for adult learners in the online classroom

Investigate the use of digital resources as tools to create online activities for adults

Discuss strategies for using games and activities to motivate adult learners in their online language lessons
Explore the Course Features
Dynamic Content
Teaching Videos
Downloadable Resources
Teaching Online Games and Activities Suite (TOGAS©) eBook
When you upgrade your course, you'll receive our TOGAS© eBook (Teaching Online Games and Activities Suite) featuring 16 fun and engaging educational games you can use with your online students! TOGAS© content has been carefully designed to include a mix of digital and realia-based activities linked to language-based skills and learning outcomes specific to this age group.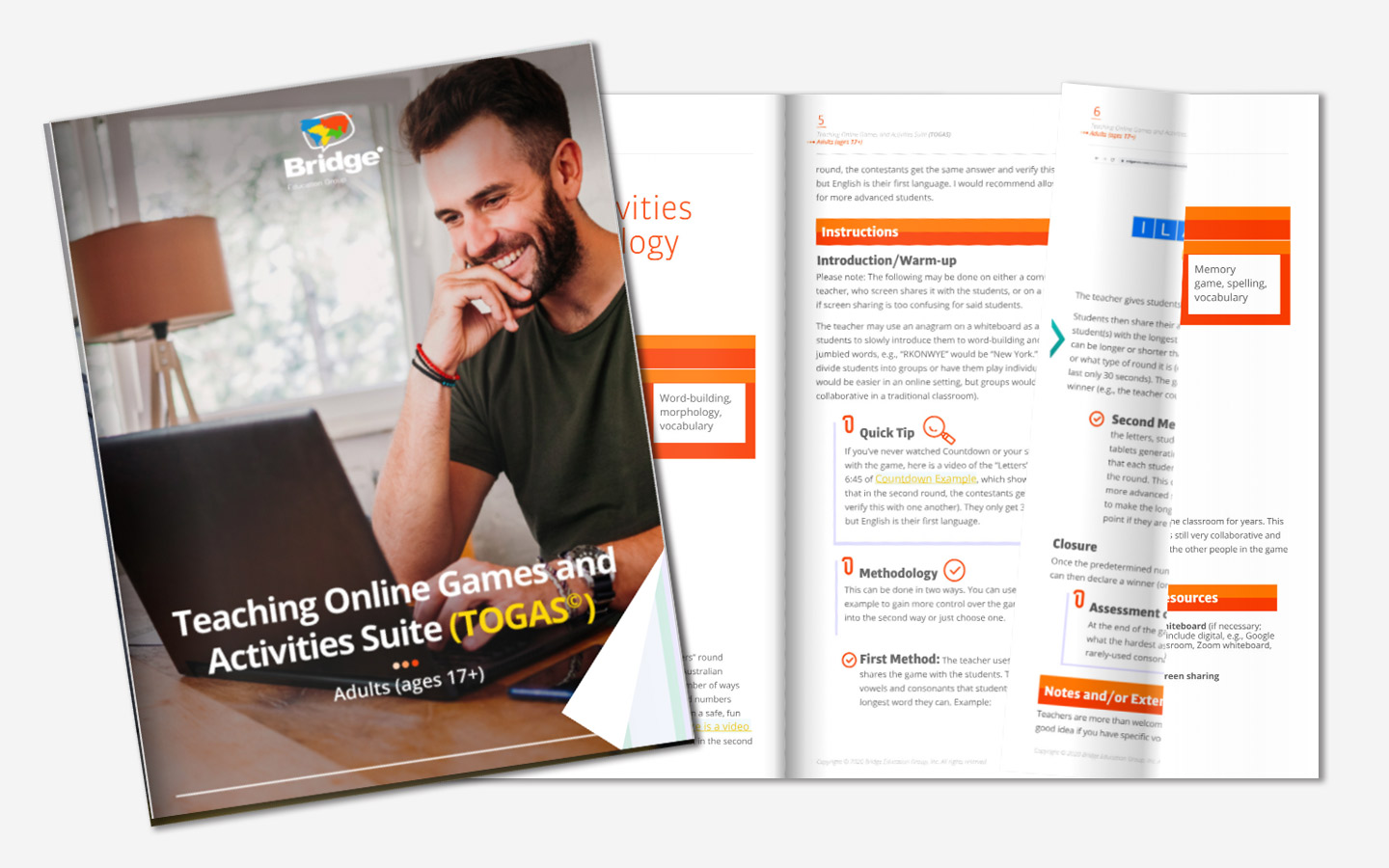 Start Learning for Free. Upgrade Anytime.
Take your professional development further with tutor feedback, a sharable digital badge, and an accredited certificate.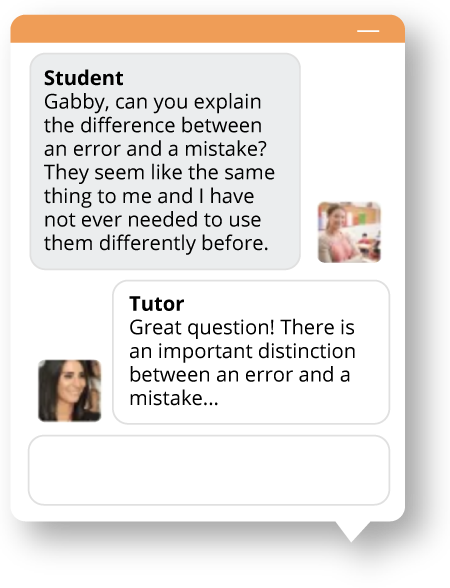 Get support from TEFL/TESOL experts.
You'll be assigned a personal tutor who will provide feedback on your written assignments.

Bridge tutors are professionals in the field who are experienced in teaching English and passionate about training English teachers.

Your tutor will also be available to answer any questions you have throughout your course.
---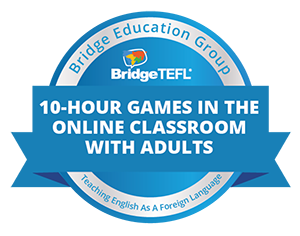 Shareable on

Showcase your credentials with digital badges.
Demonstrate your commitment to lifelong learning – earn a digital badge for every Bridge credential you earn!

Share your badges everywhere employers are looking, including your LinkedIn profile, resume, and email signature.

Employers can click your badge to see detailed, verifiable information about the course you completed.
---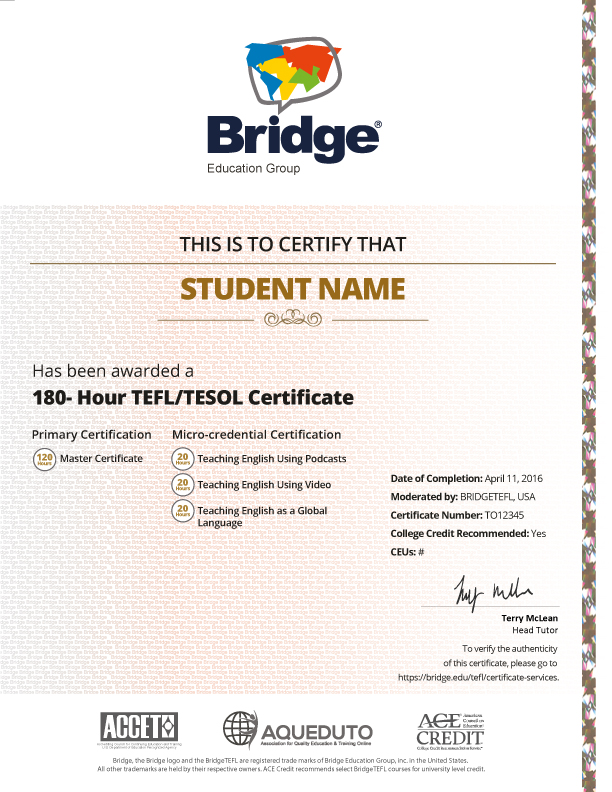 Demonstrate your expertise with a verified certificate.
Courses are stackable. Each Bridge credential you earn is listed on your verifiable TEFL/TESOL certificate.

The total number of hours completed is indicated, and this number updates each time you add a new credential.

You can download and print your certificate or order a hard copy mailed anywhere in the world.
Get additional support from our TEFL/TESOL course tutors.
Upgrade your course anytime and you'll be assigned a personal tutor who will answer your questions and provide feedback throughout your training.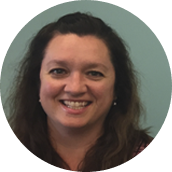 Denise Kray
Denise has a B.A. in Elementary Education, a Cambridge Delta Module Two (Developing Professional Practice), and a Colorado teacher credential. She has previously taught ESL in Japan and has been delivering English classes with Bridge since 1997.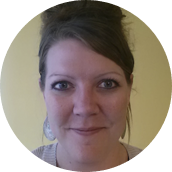 Leah Donelson
Leah has been teaching ESL classes with Bridge since 2004 and has a B.A. in English Literature as well as a Cambridge CELTA certification. She has taught ESL classes of all levels and is also an invigilator for the IELTS exam.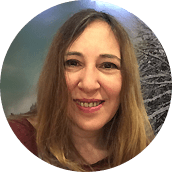 Karina Zew
Katrina has a Master's degree and has been involved with education for around 30 years. Her experience includes teaching Business English to international companies and general English to young learners. She has presented at multiple TEFL/TESOL conferences and has been teaching with Bridge since 2003.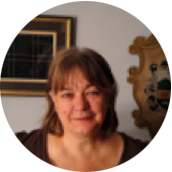 Terry McLean
Terry has a B.A. in Business and an M.A. in Education in ESL. She is currently studying for her Doctorate in Education in Curriculum and Instruction. She has more than 20 years' experience teaching English, including working with high school students in North Carolina and tutoring in Germany.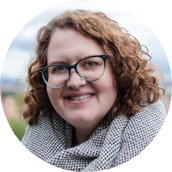 Katrina Schmidt
Katrina started teaching English as a volunteer in New Orleans, Louisiana after Hurricane Katrina. She has a Master's in TESOL and has taught at universities in the US, Colombia, Mexico, and China. She has served as an English Language Fellow and has presented at conferences across the US and Latin America.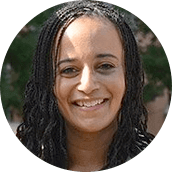 Ashli Seehase
Ashli has been teaching since 2002 in the United States and Costa Rica. She has a B.A. in Linguistics, an M.A. in Education, and a TEFL certificate. Her experience includes teaching Business English in Central America, and she currently teaches English classes at a university in Germany.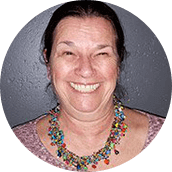 Cheryl Madrid
Cheryl, Ed.S., lives just outside of Denver. Her past experience includes working as the academic coordinator at an intensive English program. She has also been an online TEFL tutor and IELTS examiner for Bridge since 2009 and is currently an ESL instructor for the Denver Public School District.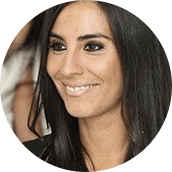 Gabriela Torregiani
Gabriela (Gabby) has an Associate's in ESL Education, a Bachelor's in Public Technical Literary Translation, and more than 25 years' experience in Teaching English as a Foreign Language (TEFL). She has worked as a classroom TEFL trainer for more than 15 years and as an online trainer for Bridge since 2005.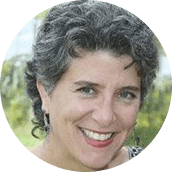 Katie Henley
Katie earned her Bachelor's degree in French and her Master's degree in TESL/TEFL. She has taught ESL for intensive English programs in Colorado and Wisconsin. She loves the science, art, and pedagogy of language acquisition and has studied French, Spanish, German, Japanese, Italian, and Arabic.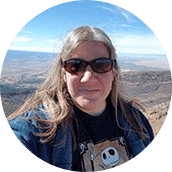 Tiffany Hendrix
Tiffany holds a Master's degree and has taught history and ELL in Nevada and Guatemala. She has presented at iTESOL conferences in Utah and is an active member of iTESOL and TESOL. She is currently working as a French and ELL teacher in Western Colorado.
What Will You Learn Next?
Explore our portfolio of free Micro-credentials on topics like teaching English with video, error correction, materials creation for EFL teachers, and much more.
Take your training to the next level with Specialized Certificates.