Online TEFL/TESOL Micro-credential:
10-Hour Certificate in Games and Activities for the Online Classroom (Adults)
Get Started for Free
ESL games aren't just for kids! Boost adult learners' engagement and confidence with activities for the online classroom.
Learn how integrating fun games and activities into your online classes with adult learners can help them apply new language skills in context and meet learning objectives.
Start Your Course Today
Enroll for free. Upgrade anytime.
Micro-credential course content is 100% free, but you can upgrade to get additional benefits. Purchase an upgrade from the start or at any time throughout your course.
Look Inside the Course Curriculum
It's a common misconception that adults aren't interested in games or activities in their online English classes. The key is choosing activities that are age-appropriate, have a clear learning objective, and provide practical applications for students. This course examines the many benefits of using games and activities with adults and provides examples your students will love, as well as inspiration for creating activities of your own.  
10-Hour Micro-credential in Games and Activities for the Online Classroom (Adults)
| | |
| --- | --- |
| Module 1 | Theory Behind Using Games with Adults in the Online Classroom |
| Module 2 | Activities and Games for Communication, Vocabulary, and Music |
| Module 3 | Using Task-Based Learning in Online Classes |
| Module 4 | Teaching Reading and Writing Online to Adults |
Learning Objectives
When you complete your course, you'll be able to:
Discuss the research and methodology that support the use of games and activities with adult online language learners

Create and deliver stand-alone games for adult learners in the online classroom

Create and deliver task-based learning games and activities for adult learners in the online classroom

Conduct successful reading and writing activities for adult learners in the online classroom

Investigate the use of digital resources as tools to create online activities for adults

Discuss strategies for using games and activities to motivate adult learners in their online language lessons
Explore the Course Features
Dynamic Content
Teaching Videos
Downloadable Resources
Teaching Online Games and Activities Suite (TOGAS©) eBook
When you upgrade your course, you'll receive our TOGAS© eBook (Teaching Online Games and Activities Suite) featuring 16 fun and engaging educational games you can use with your online students! TOGAS© content has been carefully designed to include a mix of digital and realia-based activities linked to language-based skills and learning outcomes specific to this age group.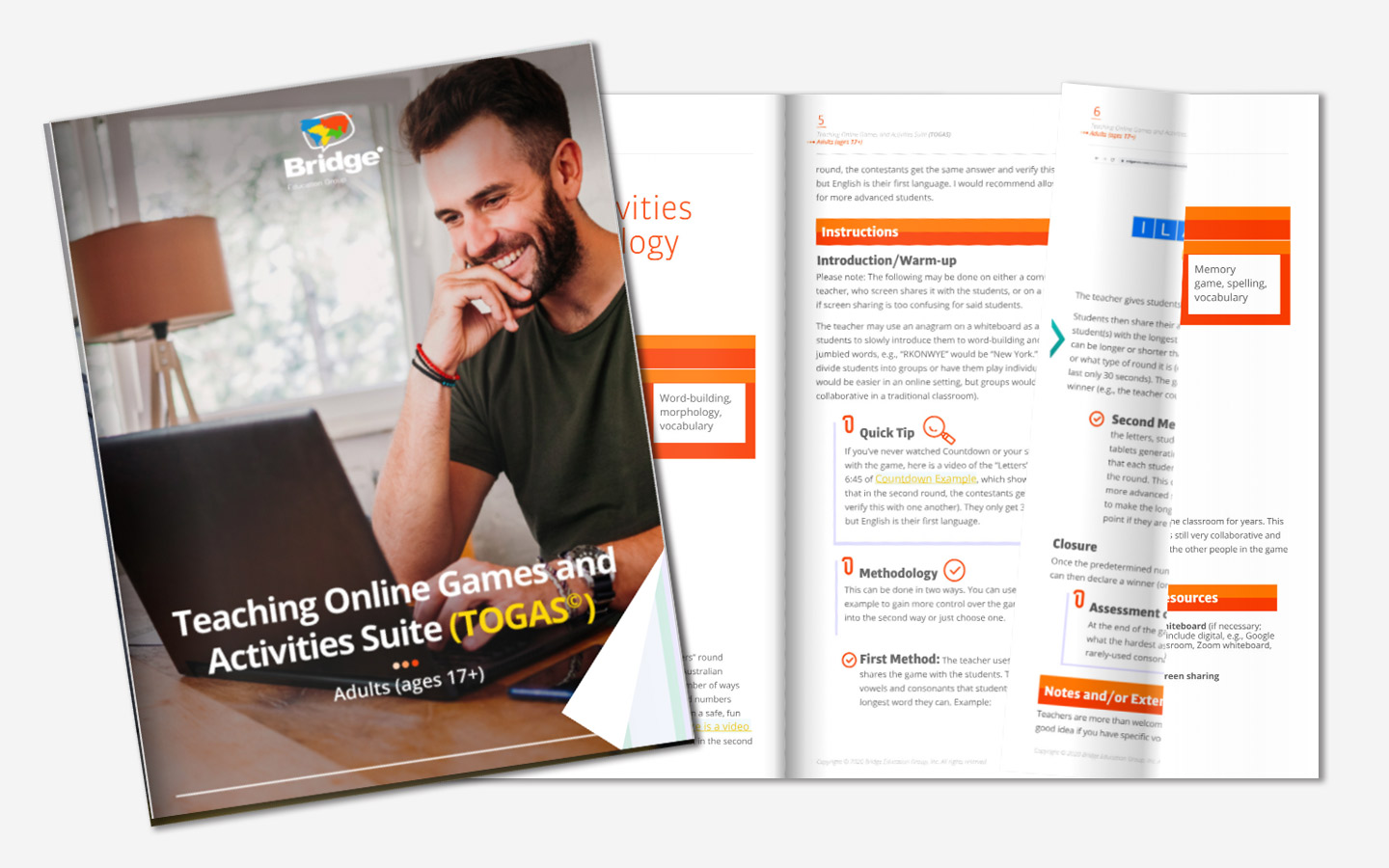 Start Learning for Free. Upgrade Anytime.
Take your professional development further with tutor feedback, a sharable digital badge, and an accredited certificate.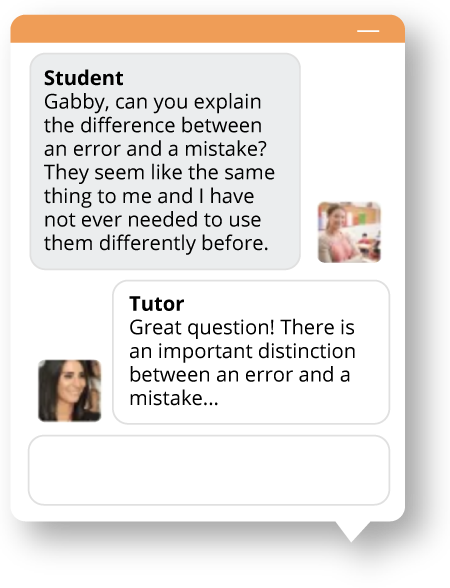 Get support from TEFL/TESOL experts.
You'll be assigned a personal tutor who will provide feedback on your written assignments.

Bridge tutors are professionals in the field who are experienced in teaching English and passionate about training English teachers.

Your tutor will also be available to answer any questions you have throughout your course.
---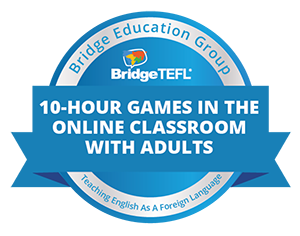 Shareable on

Showcase your credentials with digital badges.
Demonstrate your commitment to lifelong learning – earn a digital badge for every Bridge credential you earn!

Share your badges everywhere employers are looking, including your LinkedIn profile, resume, and email signature.

Employers can click your badge to see detailed, verifiable information about the course you completed.
---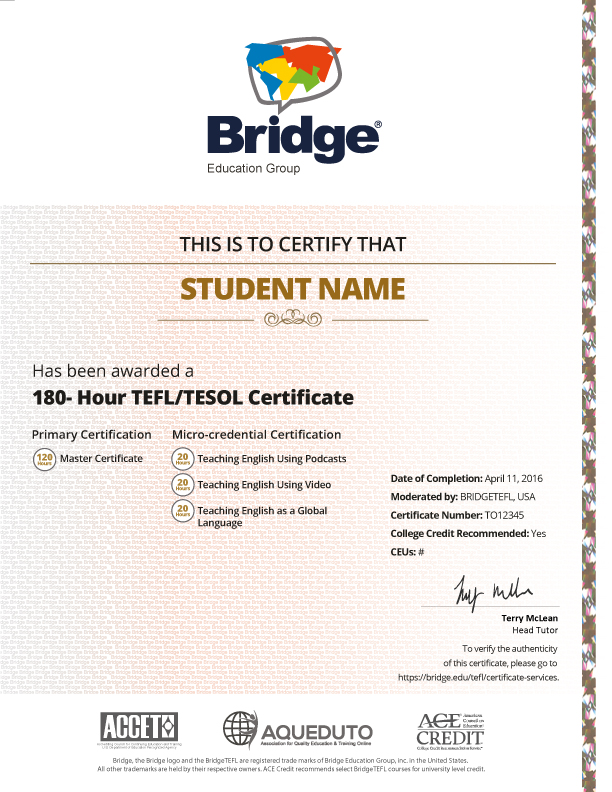 Demonstrate your expertise with a verified certificate.
Courses are stackable. Each Bridge credential you earn is listed on your verifiable TEFL/TESOL certificate.

The total number of hours completed is indicated, and this number updates each time you add a new credential.

You can download and print your certificate or order a hard copy mailed anywhere in the world.
Get additional support from our TEFL/TESOL course tutors.
Upgrade your course anytime and you'll be assigned a personal tutor who will answer your questions and provide feedback throughout your training.

Questions about Bridge Micro-credentials?
Contact an advisor to learn more!
What Will You Learn Next?
Explore our portfolio of free Micro-credentials on topics like teaching English with video, error correction, materials creation for EFL teachers, and much more.
Take your training to the next level with Specialized Certificates.