Online TEFL/TESOL Micro-credential:
10-Hour Certificate in Teaching English Online to Groups
Get Started for Free
Prepare to teach English online to groups of any size with confidence.
Online learning is growing, and so are class sizes. Expand your opportunities as a teacher with the skills needed to expertly manage small or large groups of online students.
Start Your Course Today
Enroll for free. Upgrade anytime.
Micro-credential course content is 100% free, but you can upgrade to get additional benefits. Purchase an upgrade from the start or at any time throughout your course.
Look Inside the Course Curriculum
While most online English teachers have experience teaching students one-on-one, the industry is trending toward group instruction. Though sound TEFL/TESOL methodology applies to both settings, teachers need additional skills to effectively manage multiple students, including classroom management and the use of specific teaching technology and tools for group interaction and instruction.  
10-Hour Micro-credential in Teaching English Online to Groups
| | |
| --- | --- |
| Module 1 | Technical Requirements and Considerations |
| Module 2 | General Teaching Principles and Class Types |
| Module 3 | Teaching Different Class Types |
Learning Objectives
When you complete your course, you'll be able to:
Discuss the unique class types that exist in group online learning

Describe various classroom management techniques unique to teaching groups

Compare the technology and software available to assist teachers during group online classes

Describe teaching strategies to use when working with different sized groups (small, medium, or large)

Describe teaching strategies for different age and ability ranges in the group setting

Recognize and address common issues that occur during group online instruction, including with technology or student interaction
Explore the Course Features
Dynamic Content
Teaching Videos
Downloadable Resources
Start Learning for Free. Upgrade Anytime.
Take your professional development further with tutor feedback, a sharable digital badge, and an accredited certificate.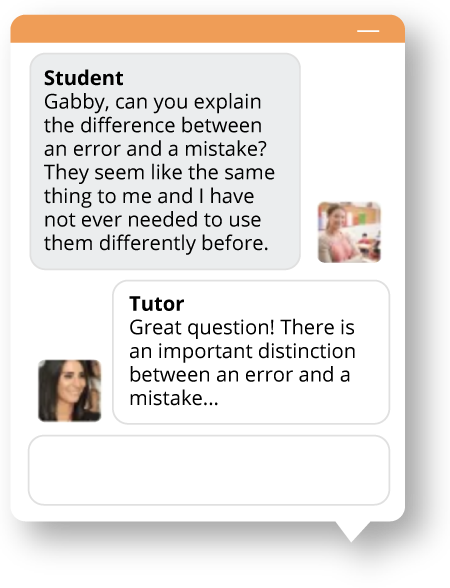 Get support from TEFL/TESOL experts.
You'll be assigned a personal tutor who will provide feedback on your written assignments.

Bridge tutors are professionals in the field who are experienced in teaching English and passionate about training English teachers.

Your tutor will also be available to answer any questions you have throughout your course.
---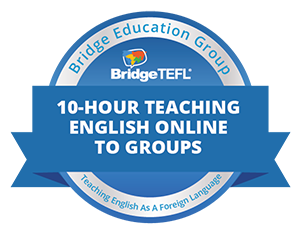 Shareable on

Showcase your credentials with digital badges.
Demonstrate your commitment to lifelong learning – earn a digital badge for every Bridge credential you earn!

Share your badges everywhere employers are looking, including your LinkedIn profile, resume, and email signature.

Employers can click your badge to see detailed, verifiable information about the course you completed.
---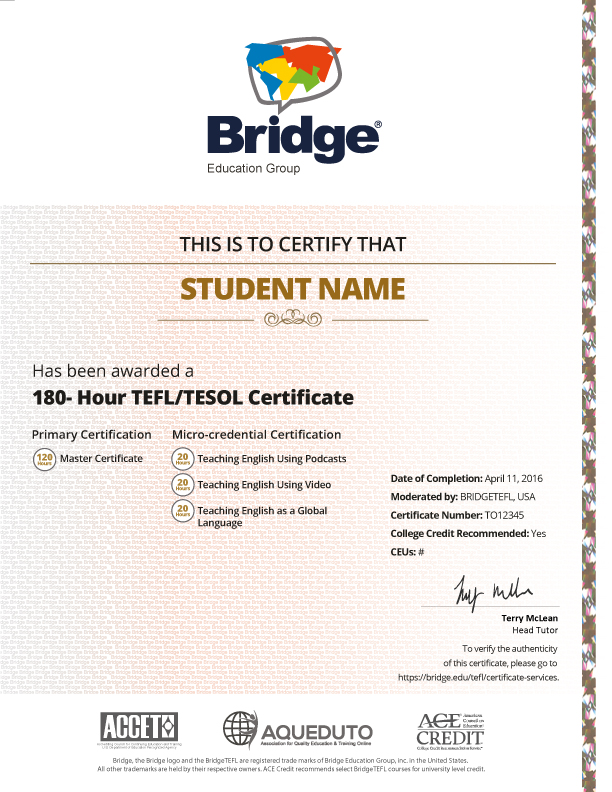 Demonstrate your expertise with a verified certificate.
Courses are stackable. Each Bridge credential you earn is listed on your verifiable TEFL/TESOL certificate.

The total number of hours completed is indicated, and this number updates each time you add a new credential.

You can download and print your certificate or order a hard copy mailed anywhere in the world.
Get additional support from our TEFL/TESOL course tutors.
Upgrade your course anytime and you'll be assigned a personal tutor who will answer your questions and provide feedback throughout your training.

Questions about Bridge Micro-credentials?
Contact an advisor to learn more!
What Will You Learn Next?
Explore our portfolio of free Micro-credentials on topics like teaching English with video, error correction, materials creation for EFL teachers, and much more.
Take your training to the next level with Specialized Certificates.