Pros and Cons of Teaching English Online
By Camille Turner
July 15, 2020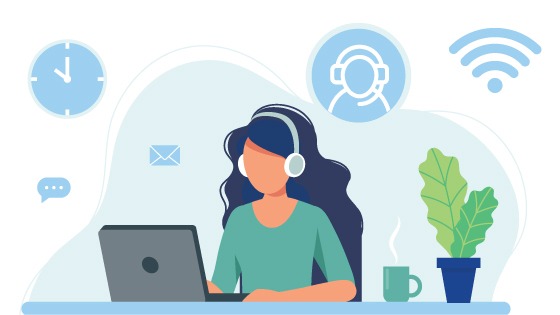 Looking to meet people from all over the world while getting paid in your PJs? Then you may be wondering about online English teaching. If you're thinking about this career move, you need to consider the many pros and cons of teaching English online—everything from a flexible schedule and less teaching prep time to working strange hours!
What is teaching English online all about? 
Teaching English online is a popular alternative to teaching in a traditional brick and mortar school or language institute. There are several different types of online teaching jobs to choose from, but most teachers start out teaching for a company, such as VIPKid or Qkids, which offer competitive pay and automatically connect you to students, who are often young learners. 
You can also become a freelance online English teacher. Freelancers sometimes use what are called "teacher marketplace" platforms, like Preply or Cambly, which help tutors and students connect, or they start their own business.
Starting a business takes some know-how in terms of marketing yourself and establishing a base of students but is very rewarding because you'll be your own boss, keep all of the money you earn, and get to create a business that's exactly what you want it to be!
Learn the specific skills to start your own online tutoring business in Bridge's new Specialized Certificate course: Teaching English Online as a Freelancer.
What are the pros of online English teaching?
Diverse job opportunities
The online TEFL/TESOL industry is going strong and growing by the minute, which means there are plenty of job opportunities for qualified teachers. Now is a fantastic time to start teaching online, with more online ESL companies cropping up each day (which also means they're competing to get teachers by offering better pay, benefits, etc.).
Browse online teaching jobs now on the Bridge Job Board!
Work from anywhere
One of the main benefits of teaching English online is that you can work from anywhere in the world. There are many online ESL teachers who frequently travel, (like Krzl, from the Philippines, in Chile), and some even teach English from their Airbnb! An added bonus is that having a remote job means that your work isn't affected if you ever have to move.
Choose your own hours
Online ESL jobs are often very flexible in that you can choose your own schedule. You pick when you want to work and how many hours each week you want to invest in teaching.
Competitive hourly pay
Online teachers typically earn a decent hourly rate, with companies offering anywhere from $9 to $24 per hour. If you decide to enter into the online TEFL/TESOL industry via a teacher marketplace or set up your own online teaching freelance business, you can even set your own pay rate!
Compare working for a company with teaching English online as a freelancer. 
Minimal teaching prep
Teaching online means spending less time and money on things like printing materials and arranging your classroom. Furthermore, if you teach for a company, you almost never have to design your own curriculum, which means there's less time spent on preparing to teach and more time dedicated to actual teaching.
No commuting required
For those still wondering, "Should I teach English online?" the fact that you can say goodbye to your morning commute just might be enough to sway you to the world of online teaching! Not only is there no commute, but you also don't even need to invest as much time and money into getting ready because you can essentially teach in your sweat pants—just as long as you look decent from the waist up!
Flexible vacation time
Being able to choose your own hours and having a flexible schedule typically means more vacation time as well. You'll have the freedom to take time off when you want/need to without stressing over admin permissions or arranging a substitute teacher to cover you. 
Smaller class size
Another one of the benefits of teaching English online is that most classes are smaller in size. This means that you'll be able to devote more attention to each student. You'll find many opportunities to tutor students one-on-one online or teach classes of no more than four students. 
Learn more about teaching one-on-one vs. group online English classes. 
Utilize technology in the classroom
For experienced teachers, teaching English online may require you to adapt some of the techniques you're used to using in the classroom, but it can also be a lot of fun! Brand new teachers will also enjoy learning how to use technology to engage their students. From interactive software to virtual whiteboards and online games, there's no end to the cool ways you can adapt technology to make online learning fun and personal.
Master the technology, terms, and teaching methods for the virtual classroom in the Bridge Foundations and Advanced Methods of Teaching English Online courses.
Connect with students all over the world
Perhaps the biggest benefit of all when it comes to teaching English online is that you get to connect with interesting students all over the world. You'll learn about different cultures and interact with people who have different backgrounds from your own. Plus, not many people can say that they've made a difference in the lives of people around the globe, all while sitting in their own homes!
What are the cons of teaching English online? 
A competitive job market
More and more teachers are switching to online jobs, especially in the current worldwide climate (i.e., the 2020 pandemic!), so the market is starting to get competitive. You can set yourself apart from the competition by ensuring that you're as qualified as possible. A great way to do so is to earn Specialized Certification in Teaching English Online. You'll learn the unique technology and teaching strategies for the virtual classroom and demonstrate to employers that you're more prepared for the job than other candidates. 
Few to no health/retirement benefits
One of the biggest things you have to consider when it comes to the pros and cons of teaching English online is whether or not you need a job that has benefits, such as a retirement plan or health insurance. It's important to be aware that most online ESL tutoring jobs don't offer these types of benefits.
You often work strange hours
Since you're going to be teaching people in other parts of the world, you'll have to consider time differences. Often, this means that you'll teach at odd hours. If you teach online for a company, many of the students may be based out of Asia, which means you could be teaching very late at night or in the early morning hours.
Booking isn't guaranteed
When weighing the pros and cons of teaching English online, you'll need to remember that booking isn't guaranteed. Unlike when you teach at a physical school, your hours may vary and you might not get paid for a time slot you open if it doesn't fill or is canceled at the last moment. Many teachers make sure they have enough students by teaching online with multiple companies or supplementing their job with freelance online English teaching. 
You're reliant on your Internet connection
Another issue with any online work is that you have to rely on a stable and fast Internet connection. If you experience a lack of coverage or a power outage, for example, then you forfeit classes (and thus, pay!) for those hours. For this reason, many online tutoring companies require teachers to have an Ethernet (wired) Internet connection, rather than wireless. 
Is teaching English online worth it? 
While there are both pros and cons of teaching English online, it's can be the perfect job if you're looking for a flexible, fun way to earn a living from the comfort of your own home. As long as you do your research and choose the type of position that meets your needs, schedule, and teaching style, online English teaching – whether full-time or as a side gig – is definitely worth it.