Claire, Mapping Out Her Future as an Online English Teacher
By Krzl Light Nuñes
January 10, 2020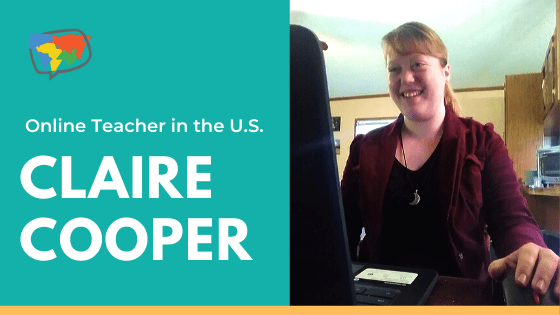 Hailing from Huntsville, Texas, 28-year-old Claire Cooper is a long-time English teacher whose deep love for teaching the language led her to become a full-time online English tutor last year.  She already had a degree in English and Creative Writing and took the Bridge International Diploma of English Language Teaching (IDELTOnline) to further prepare herself. In this interview, she shares her background, her passion for teaching ESL classes, and where she plans to TEFL in the future.
What made you decide to get into online English teaching?
I got into online English teaching because I wanted to start getting teaching experience without having to relocate immediately. My online teaching job has allowed me to save money for relocating wherever life takes me!
Who do you work for? How did you find your online TEFL job?
I work for Education First, Inc. I found them through the job board, Glassdoor. They are one of several different companies hiring people to work from home, but I knew something was different about EF when I interviewed with them. The sheer amount of resources and support they provide for teachers is incredible.
Their EF Kids program has only just celebrated its first year (on October 10th), but I immediately fell in love with their detailed, thoughtful curriculum, especially as I began to see how it's designed to engage our students and help them achieve their "lightbulb" moments in learning.
Browse online teaching jobs on the Bridge Job Board.
Can you tell us about your students?
My students are Chinese children, ages 6-10. EF uses the CEFR scale and has Units available for every proficiency level from A1 (Breakthrough or beginner) to C2 (Mastery or proficiency). I am privileged to have students at all different ability levels and to be able to conduct action research on what is most effective for each of them. EF has Learning Centers in both Beijing and Shanghai, so most of my students live in one of those two cities. My students attend the EF Learning Centers for 2 hours every week and have group class, and then I tutor them online in one-on-one, 25-minute sessions once a week.
What is a typical workday for you?
A typical workday for me begins at 4 a.m. I teach back-to-back lessons from 4-7 a.m. on most weekdays, with 5-minute breaks in between each lesson. Our classroom is an interactive webpage where my student and I can hear and see each other, type messages back and forth, and do a variety of activities together, such as puzzles, word and picture games, reading stories, and singing songs. I also teach from 7-10 p.m. on Friday and Saturday nights. China is currently 14 hours ahead of Central Standard Time, so 7 p.m. on a Friday night for me is 9 a.m. on a Saturday morning for my students.
What is a memorable experience you've had as an online teacher?
The best experiences I've had as an online teacher all revolve around my students smiling, laughing, and asking me questions. When an English language learner is comfortable enough to ask for information, or to make jokes, not only are we connecting as teacher and student, but there is serious language acquisition happening!
What are some difficulties you've encountered as an online teacher?
It's always difficult when technical problems occur, especially when a student is particularly nervous or excited about class, because their anxiety or disappointment over the failing technology can be intense! But by far, the biggest difficulty I've encountered as an online teacher is when a child is so anxious that they shut down and become unresponsive. They know that the session will eventually end, and they retreat and try to wait it out.
These situations can happen even in the best of circumstances, because all children struggle sometimes with big emotions – and we adults do too! But a meltdown or "shut down" experience is also an opportunity to demonstrate patience, kindness, and show a student that you are not giving up on them. Some of my best student relationships have blossomed out of this situation.
Has the certification course helped your teaching? And if so, how?
Absolutely! The Bridge IDELTOnline certification has been invaluable to my teaching, firstly because it helped me think through potential situations with students and formulate my own ideas about method and approach before I ever taught my first lesson. The tools I learned through my certification have made me a confident teacher, because I have a variety of resources, theories, and ideas to pull from in the moment.
I can't count the number of times I've been in a lesson, and I've been amazed to see something that was covered in my textbook or class discussions suddenly unfolding right before my eyes, and I have the resources in my mind to know exactly how I can handle it. While I'm helping my students have their "lightbulb" moments in class, I'm having my own!
I think the biggest takeaway from my course that I use daily is to, above all else, focus on building rapport with my students and keeping them engaged. If I can do those two things, the rest will come naturally, because students can sense that the learning environment is truly centered around them. This helps them feel valued and want to keep persevering with their studies.
What is your favorite activity or technique to use while teaching online?
My favourite activity to use when teaching online is to read dialogue with my students. My student and I will choose roles and read the dialogue on the screen one time through, and then begin swapping roles and filling in the dialogue ourselves as more and more words disappear with each passing slide. This activity appears in every single Unit in the EF Kids Program and is accessible for all ability levels.
I love this activity because it mimics organic conversation, and helps my students feel confident asking and answering questions in English. What often starts out as just reading dialogue on the screen can often end up being a genuine conversation by the end of the activity. This activity is fantastic for eliciting language as well as drilling grammar, and helping my students notice language patterns all on their own. As they become more confident with the dialogue, they often start consolidating other words or phrases they know into the conversation!
Where do you see yourself in the future? Do you plan on taking your TEFL career further?
Absolutely! My ultimate goal with TEFL was always to be able to work from anywhere in the world. Right now, that means I can teach online from my hometown while I map out my future. But my dream is to travel overseas and teach in as many different countries as possible!
You can become location independent and teach online from anywhere in the world! Qualify for the best jobs with the Specialized Bridge TEFL/TESOL course, Teaching English Online + Virtual Practicum.