Bridge Grad Rachel Describes Teaching Online With VIPKid
By Bridge
March 25, 2021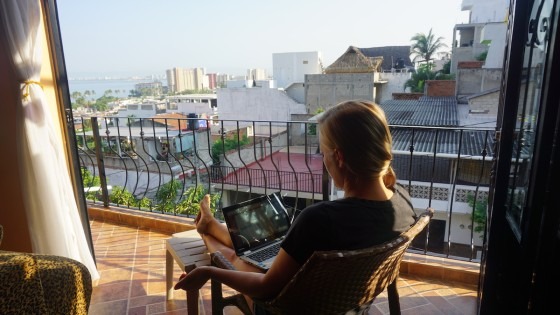 Bridge graduate Rachel Story is an online ESL teacher from Tennessee. She has been teaching, traveling, and living around the world with her husband Sasha since 2010 and is currently in Puerto Vallarta, Mexico. Together, Rachel and Sasha have created the blog Grateful Gypsies, which documents their travels and provides tips to those looking to pursue opportunities teaching English as a second language online.
In this post, Rachel tells us all about her online teaching job with the popular company VIPKid, which allows her to teach ESL from her laptop and live anywhere in the world. 
Teaching English online is becoming very popular. It's a great way to move abroad without the stress of lining up a job first. You could even bounce around different countries until you find one you like, earning money along the way. Aside from traveling, it provides the opportunity to simply work from home.
I teach online for VIPKid, and in this article, I'll give you a look inside online teaching by sharing details about what it's like to teach for this particular company, including info about the job itself and some pros and cons.
Learn more about how to teach kids English.
About the online English teaching company, VIPKid
VIPKid is a Beijing-based online English teaching company paving the way for online language learning. Started in 2013, it has grown exponentially over the past year. In January 2016, they had a few hundred teachers. Now, they have more than 20,000 teachers and more than 200,000 students, and they don't plan to stop growing anytime soon.
VIPKid's mission is to provide children in China with an American elementary school education. Their one-on-one immersive program is based on the U.S.'s Common Core State Standards curriculum. Children from the ages of 5-12 years old are able to have classes with a native English speaker without having to leave the comfort of their homes.
VIPKid requirements
Must be legally authorized to work in the U.S. or Canada
Must have a Bachelor's degree in any field
Two years of experience teaching or working with children recommended*
A TEFL/TESOL certificate helps but is not required
*Note: Experience can include working at a daycare or summer camp, or even babysitting.
Discover how to get TEFL/TESOL experience so you can land your dream job.
VIPKid classes and pay
Each class you teach is 25 minutes long. Classes are scheduled in 30-minute time slots because you have to leave feedback for the parents when the class is finished. The extra five minutes gives you time to do this while the class is still fresh in your mind.
Currently, the base pay is $7-9 USD per class (where you fall within that range is calculated based on your previous experience plus your interview and demo). That means your base earning potential can be up to $18 per hour since you can teach two classes in one hour.
You also have opportunities to earn incentive bonuses for things like teaching more classes or referring teachers to VIPKid, which can easily raise your hourly pay to around $22 per hour.
The company deposits your salary directly to your bank account or via PayPal on a weekly, bi-weekly, or monthly basis (depending on your preference).
Find out how to make the most money as an online English teacher.
VIPKid schedule
You set your own schedule, and the parents book the teachers. You will make an online teacher profile that has all of your information plus a VIPKid teacher bio that you write and a video that the parents can watch.
The company suggests that you open up 15 time slots (7.5 hours) each week, as this will provide more opportunities for parents to book classes with you. There is no limit to how many time slots you open up, so you could potentially teach up to 50 classes every week!
Read these tips for creating an ideal online English teaching schedule.
VIPKid peak hours
As the kids you'll tutor are school-age, VIPKid happens after school. The peak times for classes are from around 6 pm to 9 pm Beijing time every day. Beijing time is 13 hours ahead of Eastern Standard Time (EST) and 12 hours ahead during Daylight Savings Time (EDT). This is what the peak times look like in different time zones:
EST 5 am – 8 am; EDT 6 am – 9 am
CST 4 am – 7 am; CDT 5 am – 8 am
MST 3 am – 6 am; MDT 4 am – 7 am
PST 2 am – 5 am; PDT 3 am – 6 am
On the weekends and in July and August, you have the option to teach more hours as the kids are not in school.
VIPKid tech requirements and teaching platform
Equipment you'll need to teach English online with VIPKid:
Computer (desktop or laptop)
Webcam
Microphone
Headset
The company makes all of the lessons as PowerPoints. So, you don't have to prepare any lessons yourself. You simply need to familiarize yourself with the PowerPoints.
VIPKid has its own teaching platform via the company's website. It's a sophisticated video chat similar to Skype. There is a box to upload the PowerPoint lesson where it's visible to both the teacher and student, two smaller boxes for the video so the teacher and student can see each other, and a chat box where you can type messages to the student. It looks like this:
The pros and cons of working for VIPKid
I believe that the pros seriously outweigh the cons when working for VIPKid, but I want to give you an honest snapshot of all the ups and downs of the job.
Pros
Location independent
The first reason VIPKid appeals to so many people is that it's a flexible job you can do from anywhere. It's pretty awesome that you can do the job so long as you have space and an internet connection.
Find out more about how to teach English online as a digital nomad.
Flexible schedule
Another awesome thing about this job is being able to take time off to travel or do whatever else you want very easily. It's very simple to schedule travel time around classes. For example, you could bust your butt one week, then take four or five days off to go on a short trip, then jump back into it.
 Teacher support
One concern a lot of people have when starting this job is whether there will be any support. While there were complaints from teachers in the company's first two years, they've got a great support system in place now. All of the new support systems they've implemented are a result of teachers' requests.
Read more about the support online English tutoring companies provide.
Easy and fun
At the end of the day, this is a pretty simple gig. Show up with your orange T-shirt on, load up the lesson, and spend 25 minutes cruising through it with one student.
Working for VIPKid is also fun. You get to bring in toys and other props, make silly voices, sing songs, and play games. Happy kids = happy parents = happy company. As a teacher, you play a big part in maintaining that harmony.
Read about other reasons to become an online English teacher.
Adorable students
We can't talk about VIPKid without mentioning the stars of the show: the VIP kids themselves. One of the best parts about working for the company is all of the adorable little learners you get to meet. Before long, you'll start having regulars who book your class on a weekly basis.
Looking to teach children? Get certified with our courses in teaching English to young learners and teenagers.
A great intro to ESL teaching
Finally, working with VIPKid is a great intro to the ESL world. If you're thinking about teaching abroad, before signing a year-long contract, going through all the red tape, and spending $1,000 or more on a flight, give it a try with VIPKid for six months. If it goes well and you like it, you'll be better prepared for that first job, and you'll have experience on your resume to boot.
Here are more reasons to teach online now before going abroad.
Cons
Time zone (depending on where you live)
Life isn't all rainbows and unicorns, and that's the case when working with VIPKid too. To begin, the time difference can be pretty rough. For example, during the winter months, a teacher on Pacific Time will be facing peak teaching times of 2-5 am. Ouch. This is a deal-breaker for many potential teachers, and it's totally understandable.
Internet intensive
Unlike other online jobs, you have to teach your classes at a specific time and place. Parents book the classes and expect teachers to be there. This isn't a job you can just do when you feel like it. You have to set your schedule in advance and then stick to it.
This shouldn't be a problem for most teachers, but if you're working with VIPKid from developing countries, this can be a concern. You need a reliable, relatively fast connection to make this job happen.
Get tips for teaching English with limited resources.
Unstable hours at first
One thing lots of teachers complain about is the unpredictability of hours. This is especially true when you're just starting out. Parents choose their own teachers for classes, primarily based on your profile and your reviews. If you don't have any reviews, you might see a lot of empty time slots to start.
Can be tiring/repetitive
Finally, the job can be quite tiring and repetitive. Sure, it seems super easy – you wake up, pour some coffee, sit down at your computer, and speak English for 25 minutes. Do this six times in a row, though, and you realize how draining it can potentially be.
Check out these strategies to avoid burnout when teaching English online.
Conclusion: Just go for it!
At the end of the day, the pros seriously outweigh the cons. At least for me, having flexibility and a job that pays well with the potential for bonuses makes it well worth dealing with the time difference. Quit dreaming about working remotely and having more freedom in your life, and just go for it!