How to Teach English Online From Home (or Anywhere)
By Camille Turner
April 13, 2023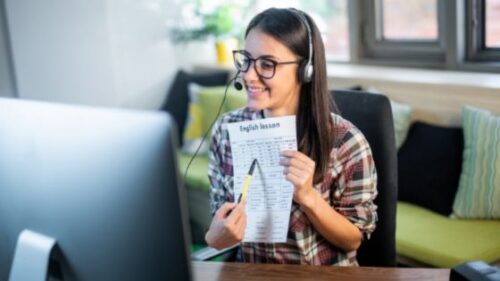 Working from home, controlling your schedule, virtually meeting different people around the world — there are so many things to love about teaching English online from home! It's no wonder that more and more ESL teachers have joined this growing field and that job offers for online teachers are steadily increasing. If you're interested in learning more about how to teach English online from home, here are some frequently asked questions — and their answers — to help you get started.
What does it mean to teach English online from home? Is teaching English online difficult?
Teaching English online from home is a popular alternative to teaching in a traditional brick-and-mortar school or language institute. While there are some possible difficulties you can face, such as technical issues or challenging online students, there are plenty of diverse online job options so you can find the right fit for you. Below are just some of the possible reasons to become an online English teacher, as well as some of the types of students you can teach.
Read more about the differences between teaching online vs. the classroom.
Who is teaching online?
Online English teaching jobs are an attractive option for many different people. Some are K-12 teachers teaching English online as a side gig, working from the comfort of their couch in the evenings or on weekends, while others are digital nomads, funding their world travels with a portable online income. There are so many reasons to teach English at home, or anywhere on the go! Teaching English virtually is a rapidly growing career field with endless possibilities.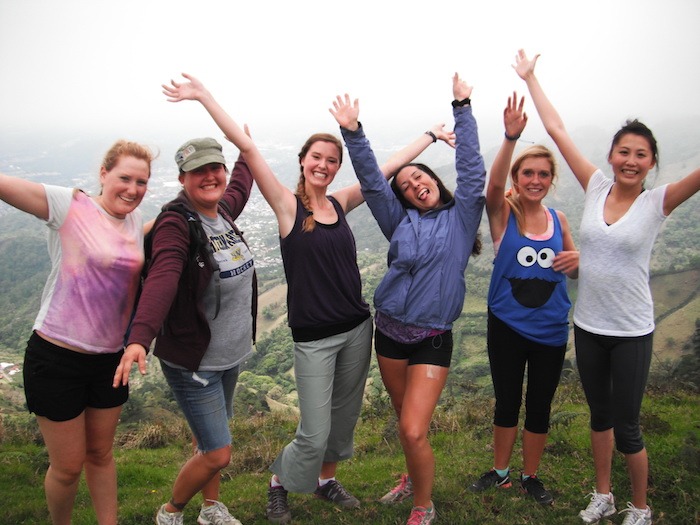 For example, Bridge graduate Caitlin Peterson says, "I was teaching English for a school in Costa Rica when I started teaching online. I wanted a little extra income since teaching in Latin America doesn't pay much. Teaching online actually became a full-time job for me for the last three months since the school I was teaching at didn't have enough classes for me at the time."
Who are online English students?
It's possible to teach English online from home to any age group! Technological advances have expanded the reach of learning to just about every corner of the globe. The virtual classroom is a convenient option for those without access to in-person classes. Whether due to their location or to budget limitations, switching to an online classroom has a lot of benefits.
Online students tend to be young kids or teenagers. They usually attend their virtual classes after regular school hours or on the weekends. Many countries put a strong emphasis on English learning at a young age, so there are many online teaching companies to choose from catering to young learners.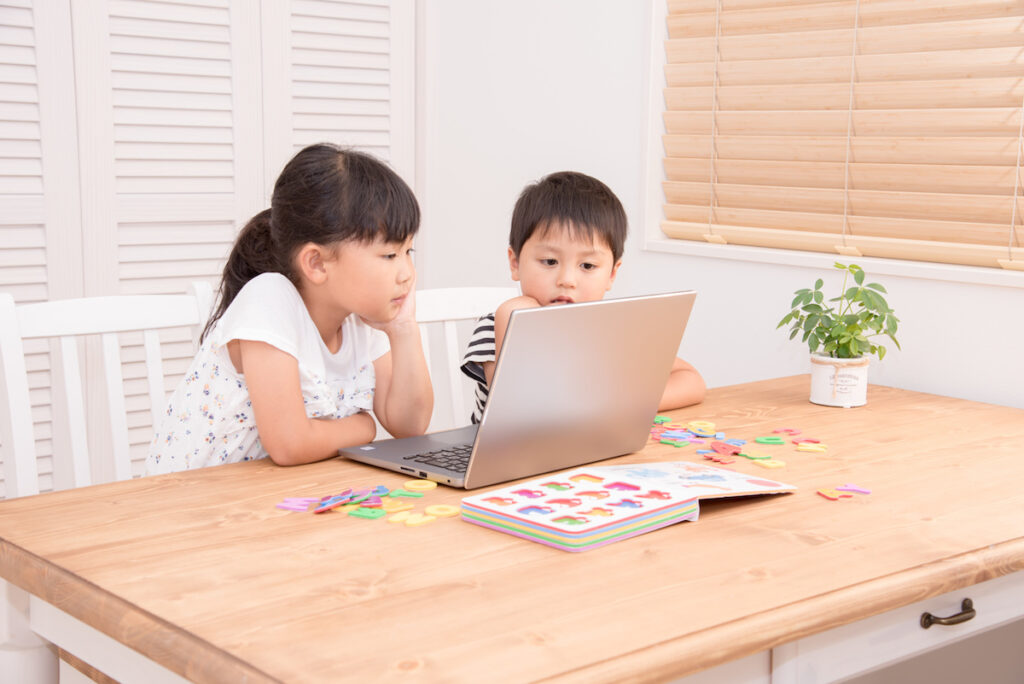 It's also possible to teach English to adults online. For example, you might teach business professionals or students who attend virtual classes in the evening or on weekends. Online English classes work well for more disciplined, independent students.
As Valentina, an online English teacher who works with adult students in Chile, points out, "Online classes are especially good for students who are very organized with their time. Some students are good at working on their own. For those students, virtual classes are ideal."
How does teaching online work? What types of online teaching jobs are there?
Depending on your preferences and teaching goals, you can choose from many types of online English teaching jobs. Teaching English online can take several forms. You can work for an online English tutoring company or you can market yourself via an online "marketplace." A third option is to start your own freelance online English tutoring business. Here's a quick breakdown of the ways you can learn how to tutor English online.
Work with an online ESL company
Many new online ESL teachers start by working with online language companies or institutes. Aside from assigning the students and lessons to teachers, companies also handle logistics like payment, making the process very simple. This is a good option for teachers who prefer to work for a few hours a week. Keep in mind, though, that some companies may require a specific number of working hours per week. However, it's more than possible to teach English online from home at your own pace, and around your existing schedule!
Promote your profile on an online teacher marketplace
Alternatively, you could offer classes through an online tutoring marketplace, such as italki or Verbling. They facilitate interactions and payment transactions between you and students. The rest of the details — rates, hours, etc. — are up to you. You'll create an online teacher profile and market yourself to students. This is a good option if you want a little more autonomy while you teach English online from home or abroad.
Still not sure which option is right for you? Read this next: How to Teach Online – Should I Work With a Company or for Myself?
Start your own online ESL tutoring business
Finally, you can choose to work for yourself. From marketing your classes to designing courses and arranging payments, all aspects of the business are in your hands. While this requires more time and dedication, it also has a higher earning potential. Starting your own business means you can either specialize or branch out later on. You can focus on English proficiency test prep, such as teaching Pearson Test of English (PTE) preparation, for example, or create courses for other teachers on how to start teaching English online.
If you're interested in learning how to start your own freelance business, check out Bridge's Specialized Certification in Teaching English Online as a Freelancer.
What are the requirements to teach English online from home?
Do I need a TEFL/TESOL certificate to teach English online?
You should possess an accredited and internationally-recognized TEFL certificate of at least 120 hours. Earning certification specific to teaching English online is an even better option! This will fully prepare you for the virtual classroom and help you stand out to employers. It will also help you find and keep a student base if you decide to start freelance English teaching online.
The Bridge Specialized TEFL/TESOL Certificate in Teaching English Online + Practicum offers 180 hours of training and hands-on experience via a real online teaching platform. You'll even have the ability to record your practice teaching sessions and share the best sample videos with future employers when applying for jobs teaching English online from home.
Want to take a deep dive into how to teach ESL online? Browse online TEFL courses.
Can you teach English online with no experience?
Do you lack teaching experience? It's perfectly possible to teach English online with no experience! And, teaching online will give you the perfect opportunity to gain experience and enhance your resume for future teaching jobs in locations worldwide. Plus, you can use non-teaching skills that apply to teaching English online when searching for a job. There are tons of industry and life skills you can apply to teach English online from home. From babysitting to being a camp councilor, getting creative can help pad your resume until you get your feet under you.
Can you teach English online without a degree?
Yes, you can teach English online with no degree. A university degree will be required by some, but not all, online teaching companies. And there are even companies that will accept anyone who is currently enrolled in a degree program, regardless of when you plan to graduate.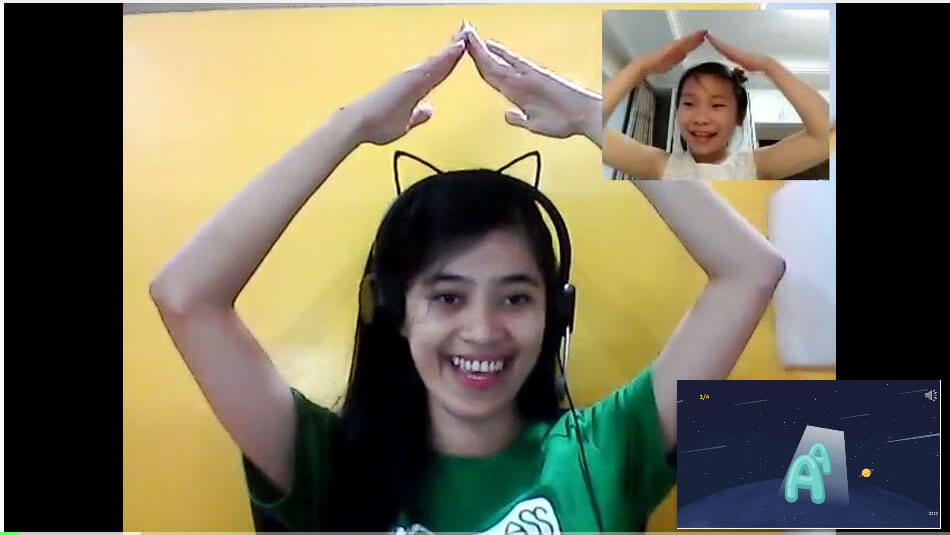 Can I teach online if I'm not a native English speaker?
Definitely! Don't fret if you come across online tutoring companies looking only for native speakers. There are many advantages of non-native English-speaking teachers in the ESL classroom. Yes, there will be companies that only hire native speakers, but there are also many language schools that will hire bilingual teachers, as long as they meet certain English proficiency requirements.
Read about Krzl's experience as a non-native English-speaking online teacher in Chile.
What equipment and internet speed do I need to teach online?
Most online teaching or tutoring companies will have their own software or platform that facilitates the lessons for you, making it as easy as logging in. However, you will still need to be equipped with certain tools if you want to teach English online successfully:
For starters, you should have a reliable, fast internet connection. How fast? The speed requirement varies from company to company, and they will indicate this as part of the application requirements; however, 10-15 Mbps should be enough to hold uninterrupted, quality online classes. Of course, higher speed is always preferable!
Many companies also require that you have a wired internet connection (ethernet) instead of or in addition to a Wi-Fi connection.
You'll need a good webcam, mic, and headset. Consider investing in a pair of noise-canceling headphones that do a good job of enhancing call quality.
If you decide to work for yourself as a freelance teacher, you'll also need to choose a videoconferencing platform for your classes. Luckily, there are lots of options! Skype and Zoom are highly recommended for ESL teaching. Both are user-friendly and have helpful features, such as screen-sharing.
How much do online English teachers make?
The salary to teach English online varies based on credentials and experience. Online language schools' starting rates are usually between $12 to $21 per hour. Some also offer performance incentives or increase their pay rates when you stay with the company for a long time.
Teachers who work through tutor marketplaces and independently, on the other hand, set their own rates, ranging from $20 to $25 per hour. Your rates depend on the size of your client base and your students' interest. For full-time online teaching work (about 30 hours per week), an online English teacher's income could range from $1,000 to $3,000 per month.
Find out how to make the most money as an online English teacher.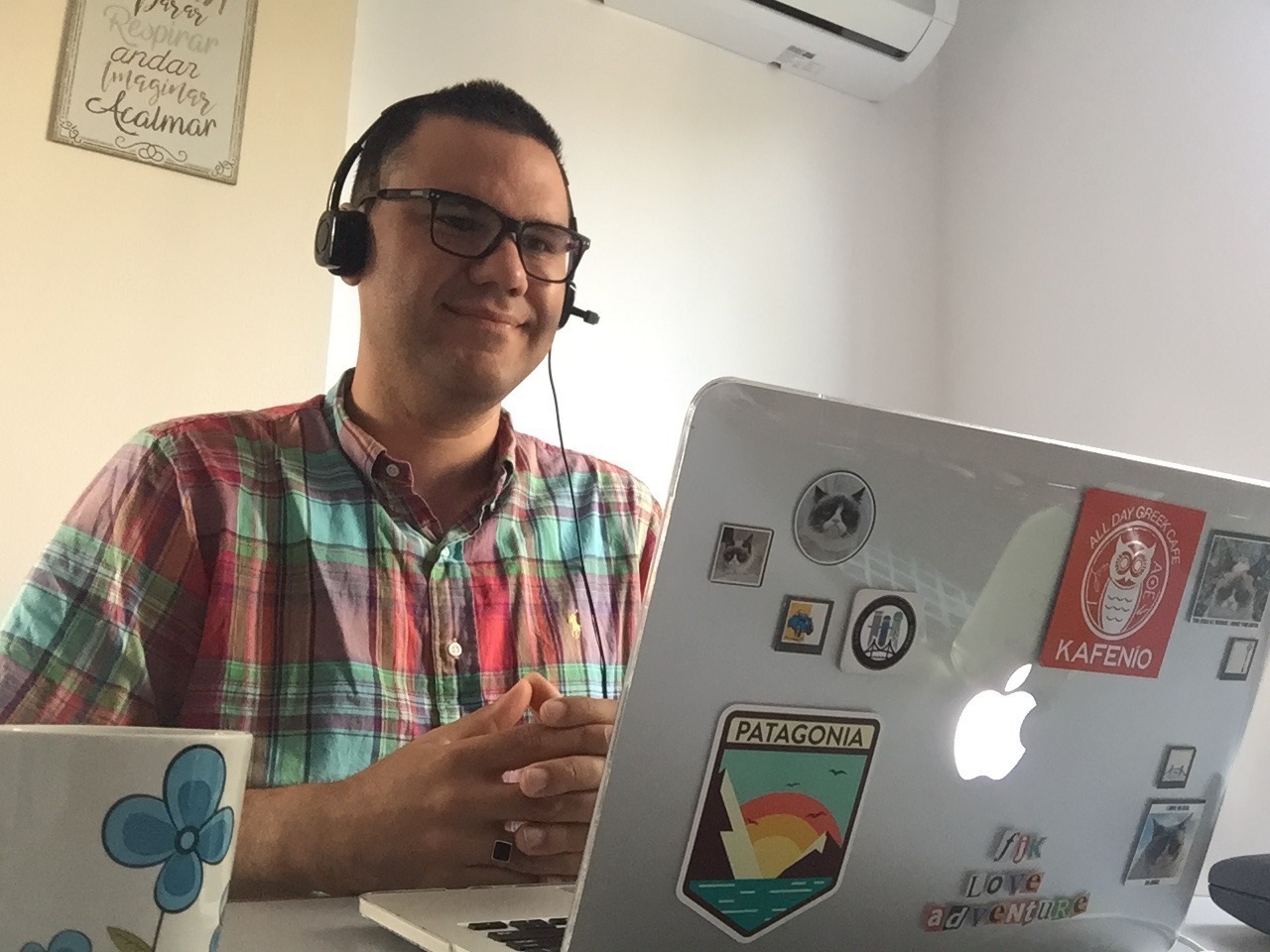 What are the pros and cons of teaching English online?
What are the pros of online English teaching?
Diverse job opportunities: The online TEFL/TESOL industry is going strong and growing by the minute, which means there are plenty of job opportunities for qualified teachers. This also means that companies are competing to get teachers by offering better pay, benefits, etc.
Location independence: One of the main benefits of teaching English online is that you can work from anywhere in the world. There are many online ESL teachers who frequently travel, and having a remote job means that your work isn't affected if you ever have to move. Plus, working from home means no commuting!
Ability to set your own schedule: Online ESL jobs are often very flexible when it comes to choosing your online English teaching schedule. You pick when you want to work and how many hours each week you want to invest in teaching. You'll also usually have the freedom to take time off when you want/need to without stressing over admin permissions or arranging a substitute teacher to cover for you.
Competitive hourly pay: Online teachers typically earn a decent hourly rate, with companies offering anywhere from $9 to $24 per hour. If you decide to enter into the online TEFL/TESOL industry via a teacher marketplace or set up your own online teaching freelance business, you can even set your own pay rate!
Minimal teaching prep: Teaching online means spending less time and money on things like printing materials and arranging your classroom. Furthermore, if you teach with a company, you almost never have to design your own curriculum, which means there's less time spent on preparing to teach and more time dedicated to actual teaching.
Smaller class sizes: Another one of the benefits of teaching English online is that most classes are smaller in size. This means that you'll be able to devote more attention to each student. You'll find many opportunities to tutor students one-on-one or teach classes of no more than four students.
Connect with students all over the world: Perhaps the biggest benefit of all when it comes to teaching English online is that you get to connect with interesting students from all over the world. You'll learn about different cultures and interact with people who have different backgrounds from your own.
What are the cons of teaching English online?
A competitive job market: More and more teachers are switching to online jobs, so the market is starting to get competitive. You can set yourself apart from the competition by ensuring that you're as qualified as possible. A great way to do so is by earning Specialized Certification in Teaching English Online.
Few to no health/retirement benefits: One of the biggest things you have to consider when it comes to the pros and cons of teaching English online is whether or not you need a job that has benefits, such as a retirement plan or health insurance. It's important to be aware that most online ESL tutoring jobs don't offer these types of benefits.
Odd work hours: Since you're going to be teaching people in other parts of the world, you'll have to consider time differences. Often, this means that you'll teach at odd hours. If you teach online with a company, many of the students may be based out of Asia, which means you could be teaching very late at night or in the early morning hours.
Booking that isn't guaranteed: When weighing the pros and cons of teaching English online, you'll need to remember that booking isn't guaranteed. Unlike when you teach at a physical school, your hours may vary and you might not get paid for a time slot you open if it doesn't fill or is canceled at the last moment. Many teachers make sure they have enough students by teaching online with multiple companies or supplementing their job with freelance online English teaching.
Reliance on internet connection: Another issue with any online work is that you have to rely on a stable and fast internet connection. If you experience a lack of coverage or a power outage, for example, then you forfeit classes (and thus, pay!) for those hours.
How can I start teaching English online? Where can I find reputable online TEFL/TESOL jobs?
Once you're set with your credentials, you can get started with your job search!
How to get an online teaching job working with a company
If you plan to teach English online from home with a company (where most online teachers start out), online portals like the Bridge Job Board are a good place to start. You can easily search for online teaching positions that match your qualifications and experience. Do your research and know what your requirements for salary and schedule are. Knowing your worth is a vital step to success.
Of course, it's a good idea to also update your online teacher resume, and some companies may also require you to send in an application video. If you complete the Bridge Practicum in Teaching English Online, you'll have plenty of recorded teaching demos to choose from!
A week or two after submitting your application, interested institutes usually set up an online interview. Aside from having to talk about your qualifications and experience, you may need to do an online demo lesson as the final part of the hiring process.
Here are a few companies to take a look at to get your search started!
Offering corporate language training to companies around the globe, BridgeEnglish teachers will work with professional students in private or small group classes. Bridge is a multicultural and welcoming environment that is fast-paced, customer-oriented, and entrepreneurial. Bridge Business English teachers will find opportunities to grow their careers, free access to professional development courses as part of a personalized professional development plan, a multicultural and diverse team of more than 40 nationalities, and a very supportive administrative team.
Learn more about BridgeEnglish!
An up-and-coming competitor in the ESL online market, Twenix is a company that offers 26-minute conversation lessons to students. It boasts an easy-to-use platform, provides teachers with a curriculum and teaching methodology, and allows teachers to create a flexible schedule.
VIPKid has been around since 2013, with classes catering to students aged 4-15, providing a wide age range for online teachers who are looking to work with younger students. Teachers who want to work with this company do need at least two years of experience, but that experience can range from tutoring to substitute teaching and everything in between.
Read about the typical hiring process for online English teaching jobs.
How to get an online teaching job via a marketplace
Working for a tutoring marketplace or for yourself, however, is a completely different game. Here, you try to get potential students by creating an online teacher profile, and often a self-introduction video. These sites are competitive and popular! Having the best possible credentials, such as a TEFL/TESOL Certification in Teaching English online, will make your profile stand out.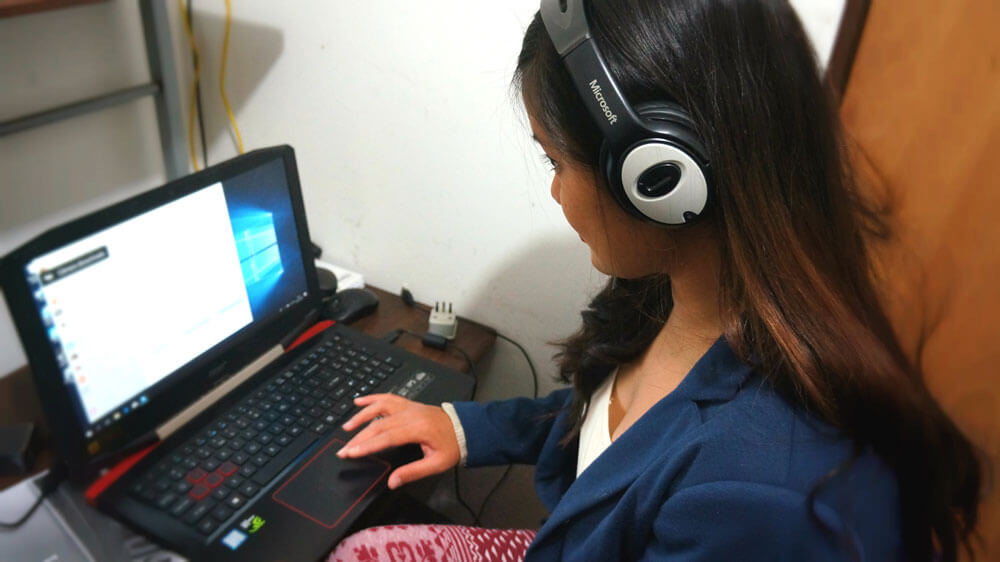 How to get online teaching jobs when working for yourself
On the other hand, if you choose to start your own online teaching business, you'll need to create a website to showcase yourself as a teacher, promote the services you offer, and manage payments. You'll also need to advertise your services to prospective students using social media and other channels.
Do you need to brush up on your business and marketing skills? Bridge's 30-Hour Teaching English Online as a Freelancer Course was designed for prospective teacherpreneurs like you!
Read these tips to attract and retain more students as a freelance online English teacher.
No matter which option you choose, be sure to research the schools, positions, and marketplace platforms that you have your eye on to make sure they're credible. Check reviews and ask other teachers about their experience, if possible!
Is teaching English online worth it?
While there are both pros and cons to teaching English online, it can be the perfect job if you're looking for a flexible, fun way to earn a living. And being able to work from the comfort of your own home or while you travel is a huge plus! With a little research and proper planning, online English teaching – whether full-time or as a side gig – is definitely worth it!