FAQs: How to Teach English Online from Home
By Krzl Light Nuñes
March 2, 2020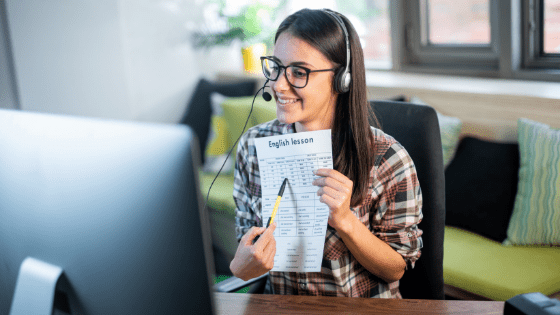 Working from home, controlling your schedule, virtually meeting different people around the world – there are so many things to love about online English teaching jobs! It's no wonder that more and more ESL teachers have joined this growing field, and why job offers for online teachers are steadily increasing. If you're interested in learning more about how to teach English online from home, here are some frequently asked questions –and the answers – to help you get started.
What does it mean to teach English online from home?
Who is teaching online?
Online English teaching jobs are an attractive option for many different people. Some are just looking to earn some extra money after their "day job," working from the comfort of their couch in the evenings or on weekends, while others are digital nomads, funding their world travels with a portable online income.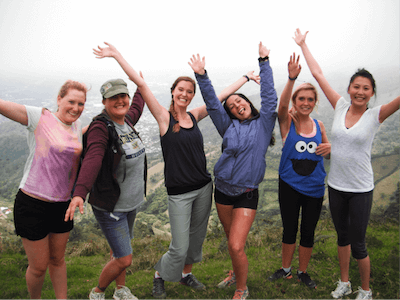 For example, Bridge graduate, Caitlin Peterson (2nd from left, above), says "I was teaching English for a school in Costa Rica when I started teaching online. I wanted a little extra income since teaching in Latin America doesn't pay much. [Teaching online] actually became a full-time job for me for the last 3 months, since the school I was teaching at didn't have enough classes for me at the time."
Still other online English teachers are classroom teachers who supplement their salary by using their existing skills to teach in the virtual setting. At BridgeEnglish in Chile, for example, where most teachers travel from one place to another to do face-to-face classes onsite at companies, there are currently 20 teachers who also teach online classes! One of these teachers is Valentina Caroca, who teaches in-company classes during the day and virtual classes at home in the evenings.
Browse online teaching jobs with companies.
Who are online English students?
Online English classes have expanded the reach of learning to just about every corner of the globe. The virtual classroom is a convenient option for those without access to in-person classes, whether due to their location or to budget limitations.
Online students tend to be young kids or teenagers. They usually attend their virtual classes after regular school hours or on the weekends. Asian countries, such as China, put a strong emphasis on English learning at a young age, making it common for many online teaching companies to be based there.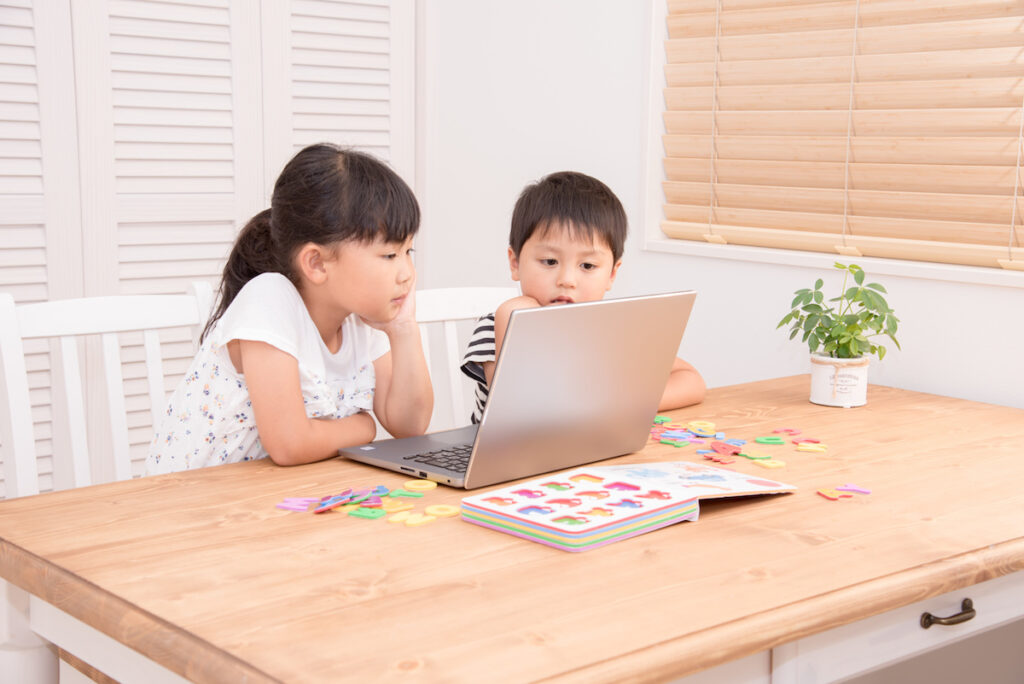 It's also possible to teach English to adults online, such as working people or students who attend virtual classes in the evening or on weekends. Online English classes work well for more disciplined, independent students. As Valentina, an online English teacher who works with adult students in Chile points out, "Online classes are especially good for students who are very organized with their time. Some students are good at working on their own. For those students, virtual classes are ideal."
How does teaching online work? What types of online teaching jobs are there?
Depending on your preferences and objectives, there is a wide variety of online teaching jobs. Teaching English online can take several forms. You can work for an online English tutoring company (the most common option) or you can market yourself via an online "marketplace" for English tutors. A third option is to start your own freelance online English tutoring business.
Work for a company
Many new online ESL teachers start by working for online language companies or institutes. Aside from assigning the students and lessons to teachers, the companies also handle the organizing and payment, making the process very simple. This is a good option for teachers who prefer to work for a few hours a week, although some companies may require a specific amount of working hours.
Post and promote your profile on an online teacher marketplace
Alternatively, you could offer classes through an online tutoring marketplace, such as italki or Verbling. They only facilitate interactions and payment transactions between you and students, and the rest – rates, hours, etc. – is up to you. This is a good option if you want a little more autonomy as an online teacher.
Work for yourself as a freelance online ESL tutor
Finally, you can choose to work for yourself. From marketing your classes, designing the courses, and arranging payment schemes, all aspects of the business are in your hands. While this requires more time dedication, it also has a higher earning potential.
If you're interested in learning how to start your own freelance tutoring business, check out Bridge's newest Specialized Certification Course: Teaching English Online as a Freelancer.
What are the requirements to teach English online from home? Can you teach online without a degree?
The Essentials
You should possess an accredited and internationally-recognized  TEFL/TESOL certificate of at least 100 hours. Earning certification specific to teaching English online is an even better option, as it will fully prepare you for the virtual classroom and help you stand out to employers – or to students if you decide to freelance via an English teaching marketplace.
The Bridge Specialized TEFL/TESOL Certificate in Teaching English Online + Practicum offers 180 hours of training and hands-on experience on a real online teaching platform. You'll even have the ability to record your practice-teaching sessions and share the best sample videos with future employers when applying for jobs teaching English online.
Other Qualifications
Do you lack teaching experience?  That's not a problem for many online teaching jobs, giving you the perfect opportunity to gain experience and enhance your resume for future teaching jobs in locations worldwide. Furthermore, a university degree will be required by some, but not all, online teaching companies.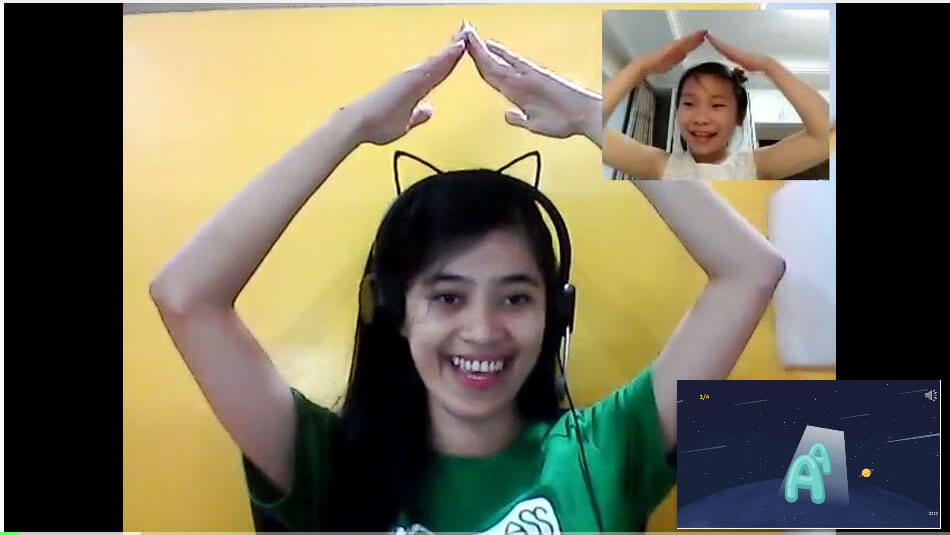 Juicy Mae, teaching English online in the Philippines
What equipment and Internet speed do I need to teach online?
Most online teaching or tutoring companies will have their own software platform that facilitates the lessons for you, making it as easy as logging in but, of course, you should be equipped with certain tools if you want to teach English online successfully.
For starters, you should have a reliable, fast Internet connection. How fast? The speed requirement varies from company to company, and the company will indicate this as part of the application requirements; however, 10-15 Mbps should be enough to hold uninterrupted, quality online classes. Of course, higher speed is always preferable!
Many companies also require that you have a wired Internet connection (ethernet) instead of or in addition to a Wi-Fi connection.
You'll need a good webcam, mic, and headset. Consider investing in a pair of noise-canceling headphones that do a good job of enhancing call quality. 
If you decide to work for yourself as a freelance teacher, you'll also need to choose a videoconferencing platform through which to conduct your classes. Luckily, there are lots of options! Skype if the one most people are familiar with, but Zoom is another that's highly-recommend for ESL teaching because of its user-friendliness and helpful features such as its screen-sharing.
How much do online English teachers make?
The salary range for online ESL teaching varies based on credentials and experience. Online language schools' starting rates are usually between $12 to $21 per hour. Some also offer performance incentives or increase the rates when you stay with the company for a longer time.
Teachers who work through tutor marketplaces and independently, on the other hand, set their own rates, which hover around $20 to $25. This depends on the size of one's client base and the students' interest. For full-time online teaching work (about 30 hours per week), an online English teacher's income could range from $1,000 to $3,000 per month. 
How do I get an online English teaching job?
Once you're set with your credentials, you can get started with your job search.
How to get an online teaching job working for a company
If you plan to teach for a company (where most online teachers start out), online portals like the Bridge Job Board are constantly posting new positions, including with our trusted network of Preferred Employment Partners. You can easily search for online teaching positions that match your qualifications and experience and meet your expectations as far as salary and schedule.
Of course, it's a good idea to also update your online teacher resume and some companies may also require you to send an application video. If you complete the Bridge Practicum in Teaching English Online, you'll have plenty of recorded teaching demos to choose from!
A week or two after submitting your application, interested institutes usually set up an online interview. Aside from having to talk about your qualifications and experience, you may also need to do an online demo teaching class as the final part of the hiring process. 
How to get an online teaching job via a marketplace
Working for a tutoring marketplace or for yourself, however, is a completely different game. Here, you try to get potential students by creating a teacher profile and often a self-introduction video. As there are plenty of teachers promoting their courses on the same websites, it is the most competitive, so having the best possible credentials, such as TEFL/TESOL certification specific to teaching online, will make your profile stand out.
How to get online teaching jobs when working for yourself
On the other hand, if you choose to start up your own online teaching business, you'll need to create a website to showcase yourself as a teacher and the services you offer, and to manage payments. You'll also need to advertise your services to prospective students using social media and other channels. Do you need to brush up on your business and marketing skills? Bridge's 20-Hour Teaching English Online as a Freelancer Course was designed for prospective teacherpreneurs like you!
No matter which option you choose, be sure to research the schools, positions, or the marketplace platforms that you have your eye on to make sure they're credible. Check reviews and ask other teachers about their experience, if possible!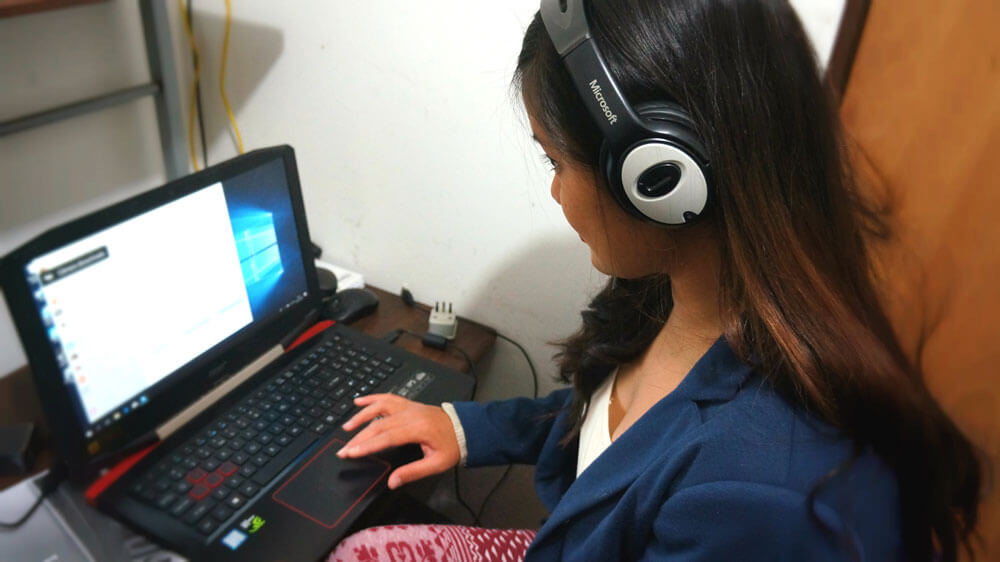 Krzl, teaching English online from Chile
Can I teach online if I'm not a native English speaker?
Definitely! Don't fret if you come across online tutoring companies looking only for native speakers. Yes, there will be companies that only hire native speakers, but there are also many language schools that will hire bilingual teachers, as long as they meet certain English proficiency requirements.
Read about Krzl's experience as a non-native English speaking online teacher in Chile. 
The ability to teach English online from home has created opportunities for teachers and students around the world to connect in more ways than ever. If you'd like to become an online English teacher and join this rapidly-growing field, all you need is the proper training and some basic equipment and in no time you'll be expanding your horizons across the virtual world!
Interested in learning more about what life is like as an online English teacher? Get a sneak peek of a week in the life of an online English teacher.