Denver-based ESL pathway provider, Bridge®, will host two cohorts of Mexican students as part of the Proyecta 100,000 scholarship program. The scholarship recipients will study English language and American culture at Bridge's on-campus language center at
Colorado Mesa University
this summer and fall.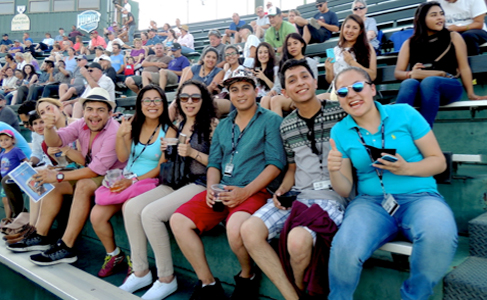 Proyecta 100,000 students attending a baseball game in Grand Junction, Colorado
The first group of students arrived last week and have hit the ground running as they participate in an action- packed program. Students study English for five hours per day and then engage in various excursions and cultural activities such as sports events, outdoor activities, and interacting with local residents.
"Overall, my experience has been really good. I love it here. It is amazing and completely different from what I am used to", said Paulina Gonzalez, a student at the Universidad Politécnica Del Valle De Toluca. A fellow classmate, Jesiel Martinez, further commented, "So far I feel very excited about this place. It is very beautiful. I am happy to be focusing on my English, and I hope to learn to speak more quickly."
Proyecta 100,000 complements the President Obama's
100,000 Strong in the Americas initiative
, and came out of the creation of the U.S.- Mexico Bilateral Forum on Higher Education, Innovation and Research (FOBESSI) in May of 2013. One goal of Proyecta 100,000 is to increase student mobility between the two countries, with the aim of sending 100,000 Mexican students to the U.S., and 50,000 American students to Mexico by the year 2018.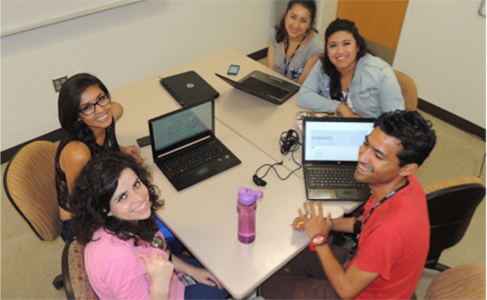 Students studying English at Bridge at Colorado Mesa University
"As part of the Bilateral Forum on Higher Education, Innovation and Research (FOBESSI), the Proyecta 100,000 initiative is an example of the renewed cooperation between the governments of Mexico and the United States," said Jeremias Guzmán, Deputy Consul General. "The Consulate General of Mexico in Denver is glad that Colorado Mesa University and Bridge are taking part in this amazing effort that aims to increase the social, intellectual and economic development for both nations. I'm sure Mexican students will be able to create a true a connection between them and the academic organizations involved, as well as develop long-lasting human bonds that will span all borders."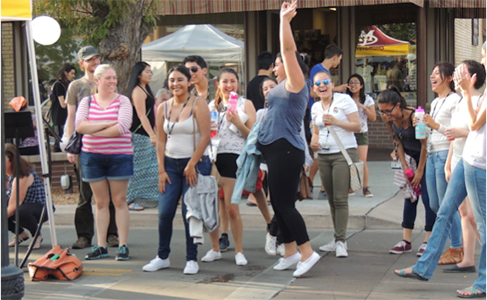 Mixing with the locals at an outdoor market
Bridge and Colorado Mesa University were selected to host the students as part of an annual request for proposals by the Mexican government. The next cohort will arrive in October when the students will have even more opportunity to interact with American university students.
"We are pleased to be a part of and to support the Proyecta 100,000 initiative," said Jim Whitmore, Regional Director for Bridge. "We look forward to delivering an enriching and engaging program that will not only advance each student's linguistic skills, but will also create long-lasting positive impressions of the United States on the students."
>>See more pictures.
About Bridge Education Group, Inc. d/b/a Bridge (www.bridge.edu)
Founded in 1986, Bridge is a world leader in language and education abroad. An international company with headquarters in Denver, Colorado, Bridge offers a wide spectrum of language related products and services, including language training and immersion programs, teacher training and development courses, language testing, translation and interpretation services, and cross-cultural education abroad programs.