BridgeUniverse
, the media, research, and news arm of Bridge Education Group, is excited to host the upcoming
Virtual Summit on
English Language Testing: High Stakes for Learners & Teachers
. The free event, which will take place April 26th-28th, will cover the latest developments in English language testing and assessment. BridgeUniverse Summits are designed to support the global English language teaching (ELT) community by focusing on relevant, timely topics and featuring experts in the field.
The Power of Virtual Events
Bridge developed the BridgeUniverse Summits to meet the ongoing interest in professional development and the growing demand for greater accessibility through free and low-cost online events. These Summits are unique on several fronts, but, most importantly, they dig deep on key topics in the ELT space. The inaugural Summit, which took place in December 2021, covered the topic of teaching English online, a trend accelerated by the pandemic. This second Summit covers English language testing.
"As opposed to annual summits that attempt to cover all of ELT, we are offering more frequent and specialized events," explains Ian Wright, the Director of BridgeUniverse.
"We also look to give ELT companies a platform to showcase their solutions, be they testing, publishing, online platforms, or technology, that support teachers and the industry as a whole."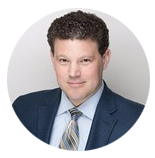 Bridge believes the Summits provide a welcome balance of high-quality sessions from sponsor-partners with fascinating discussions and insights from peers and leaders in the field. Another benefit of the Summits is that (similar to many post-pandemic events that have shifted to virtual or hybrid affairs) they allow for greater participation by audiences across the globe.
Teaching English Online: The New Frontier Summit
Last December, BridgeUniverse hosted its first Summit: Teaching English Online: The New Frontier. It consisted of 25 live sessions and four interactive networking and social events over five days. Some of the topics covered included "Build a Booming Online ESL Teaching Business" as well as "How ELT Social Media Influencers are Redefining Online English Teaching." Sponsor-partners of the event were: Pearson, ETS, Huntington University Institute for TESOL Studies, Duolingo, and SIT Graduate Institute.
The Summit had over 3,700 registrants from 140 different countries, led by the USA, Brazil, South Africa, India, Russia, and Mexico. 96% of Summit survey respondents agreed that the Teaching English Online sessions were "useful & interesting."
"This theme allowed us to explore a variety of topics critical to our audience, including Teacherpreneurship, Global Trends, Jobs, and Skills, and was very highly regarded by those who attended as well as the more than 50 presenters from across the globe who contributed to this educational exchange," says Wright.
Speakers included founders of ELT startups, university professors, teachers who made the leap to school owners, and digital nomads.
An attendee summed up the event: "The Summit was an excellent presentation of what is involved in becoming an online English teacher. The interviews and experiences were both informative and enlightening. Thank you for this experience and all the effort put into it. I feel well informed to make a decision about pursuing this field in the future."
The Latest Summit Focuses on English Proficiency Assessment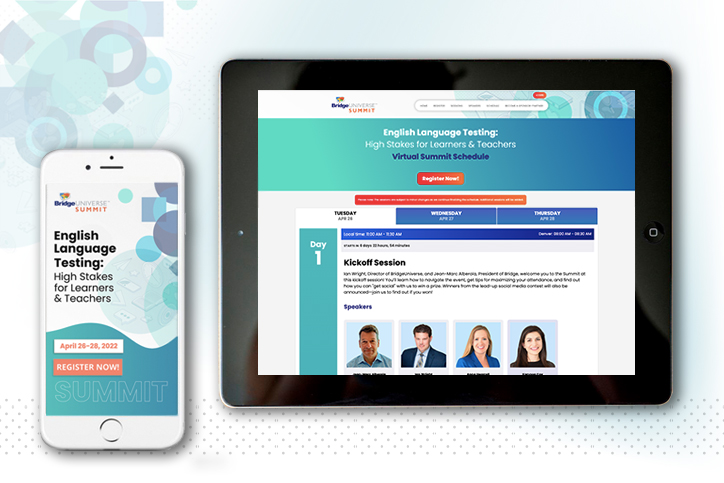 The upcoming Summit, English Language Testing: High Stakes for Learners & Teachers, will focus on English proficiency assessment as a central facet of language teaching. The live, three-day event will feature
over a dozen unique, virtual sessions
filled with leaders and providers in the field of high-stakes and adaptive English language exams.
"With English Language Testing: High Stakes for Learners & Teachers, we sharpened the focus to the topic of assessment and placement while expanding outreach to BridgeUniverse's growing ELT audience," says Wright.
The Summit sessions are intended to meet the interests of a wide range of English Language professionals, ranging from current and aspiring English teachers to agents, school owners, and university admissions staff.
Top testing providers will be sponsoring and delivering sessions about the latest developments in their solutions. Sponsors include
Pearson
,
ETS
,
Duolingo
,
Trinity College London
, and
Bright Language
. One topic that speakers will dive into is the future of virtual testing and how artificial intelligence can now deliver accurate results for tests taken online from any place and at any given time.
Sessions will also cover best practices for teachers who want to support their students as they prepare for English language exams. Topics ranging from "Adapting to Online English Exams," to "Testing for Specific Purposes: Industry-Specific Language Evaluation," to "Practical Tips & Activities for Teaching Test Prep."
The BridgeUniverse Summits serve Bridge's goal to empower a global community of English teachers and support excellence in English language
teaching.