As the English teaching field continuously evolves, there is always a new concept for teachers to learn, a skill to upgrade, or a challenge to tackle. One way teachers can stay on top of trends in the field, while also boosting their professional development and connecting to the greater TESOL/TEFL community is by taking part in TEFL/TESOL conferences, such as the like recent virtual TESOL ELevate event "for new and emerging English language professionals."
What did the event have to offer? Even as an experienced English teacher, I came away with new ideas, insights, and connections, and I also spoke with other attendees to find out what they viewed as the main benefits of the conference as English language teaching professionals. Here are our takeaways.
1. The event offered opportunities for teachers to level up their English teaching techniques
From developing lesson plans to teaching grammar, a lot of the presentations at the TESOL ELevate conference were geared towards growing English teachers' instructional and classroom management skills.
One of the sessions I found useful was "Pronunciation: Don't teach it, DO it!" by Anne Taylor, which introduced the Color Vowel Chart as a tool for helping learners master sounds in the English language through colors and keywords.
While learning how to utilize this approach in their classes, attendees could actively contribute words to the chart and download resource materials during the presentation.
2. The event helped teachers stay up-to-date with emerging TESOL issues
Through roundtable sessions and workshops, the conference also opened discussions on the latest opportunities and challenges posed by global events and recurring critical topics to the English language industry. "I think the best part was the roundtables because they allowed having a very natural and free conversation among teachers, trainees, and experts regarding the topics that were discussed," attendee Emiliano Garcia, a Mexican ESL teacher to deaf and blind students, said.
Among the workshops he attended, Emiliano pointed out that the dialogue on "Support Queer SLIFE in TESOL" was the one he enjoyed the most. "It gave me a full-on perspective on how our students feel when we don't acknowledge their true identities. Moreover, it provided me the necessary tools as a gay teacher to introduce diversity into the classroom," he shared.
3. We were inspired to lead, help others, and become better teachers.
Another key focus of the workshops and roundtables was to engage English language professionals in topics related to leadership and advocacy, such as leadership styles and creating a close-knit education community. One of the conversations that caught my eye was the session on peer mentoring, which had several peers sharing their experiences and the benefits of helping fellow TESOL professionals.
Newbies in the TESOL field were a main focus of the event as well. For instance, in the workshop "9 Tips for Success as New ELT Teacher," Laura Dzieciolowski gave invaluable pieces of advice on how teachers can manage their time, classes, and materials effectively without sacrificing important aspects like self-care.
4. We had the chance to network with English language professionals worldwide
Though held online, the TESOL ELevate conference still enabled participants to meet each other. On the "Attendee Connection" section of the event platform, you could see a list of all the attendees and send networking requests to people you want to connect with. It was also possible to send a direct message, start a video meeting, and exchange contact details with another person anytime.
Attendees could also get to know each other during the sessions. The presentations and roundtables were held through the video conferencing app Zoom, which enabled the presenters to split the audience up into different breakout rooms.
Cristy Tello, an ESL teacher from Panama, was one of the attendees who immediately found an opportunity while networking at the event. "I participated in one roundtable at the beginning of the week, and one teacher made an offer to all the group, and I said yes right away. Long story short, he invited me to teach his college students in Bangladesh this Sunday. I'm going to teach them about business writing, I'm so excited! This will be my first international class. The conference allowed this wonderful partnership," she said.
5. ELevate was a place to find job opportunities and potential business partners
We may not have the physical booths and color flyers for this event, but it was still possible to find prospective employers in the "Career Fair" section of the platform. Here, you could find companies and institutions, send your CV, and get career tips from seasoned professionals.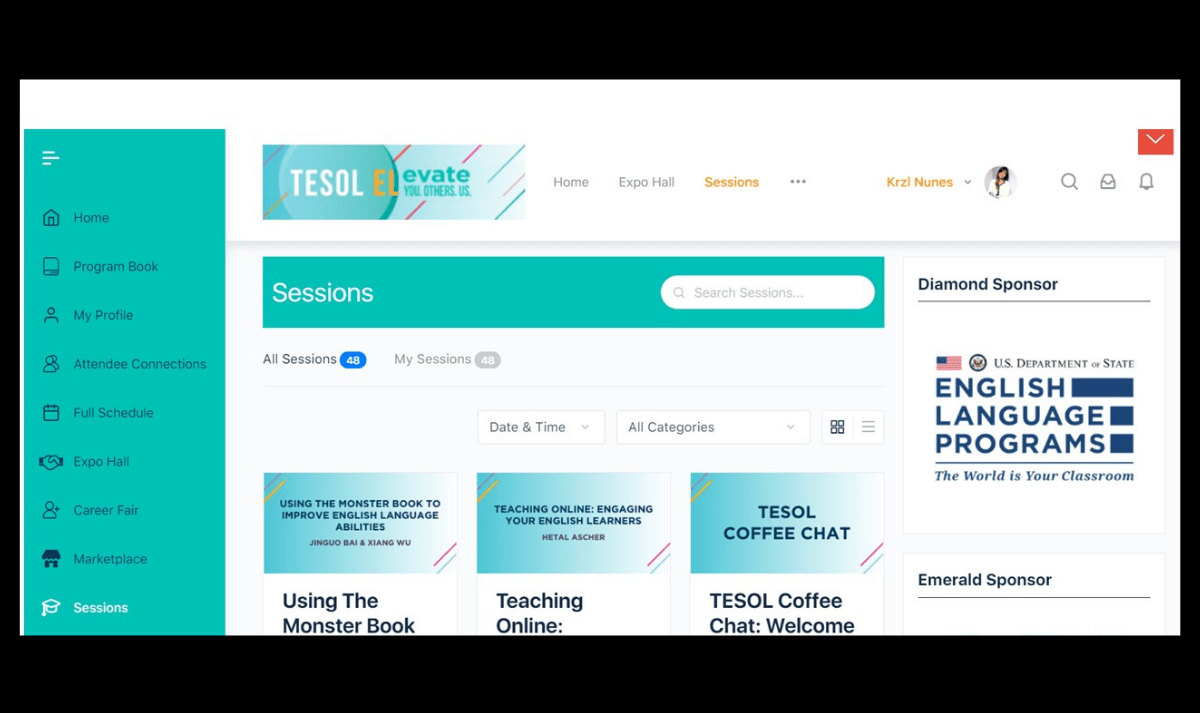 6. Teachers could attend the conference from anywhere in the world!
Though frequent attendees of TESOL conferences may miss the fun of watching sessions and mingling with other professionals in person, the silver lining of this year's online event is that it enables more English language professionals to take part regardless of their location.
The conference's user-friendly platform was accessible anytime, and it always kept participants up to date about the daily happenings during the event.
Through the platform, attendees could:
Know about the ongoing and future sessions on the main page
Get direct access to presentations and roundtable sessions
Post announcements or news of their profile timelines
Check out virtual booths of sponsors and exhibitors on the Expo Hall section
Join a points-based game, wherein participants had to complete challenges to earn points, such as making more connections or following an exhibitor's page.
Be it for leveling up teachers' professional skills, gaining new insights, or expanding networks, attending the online TESOL ELevate Us conference is an experience that English language professionals should have as part of growing their career—just take it from the teachers, like me, who benefited from it! After the event, I felt that I had taken my teaching skills up a notch, and I'm looking forward to developing more in the next TESOL conferences to come.