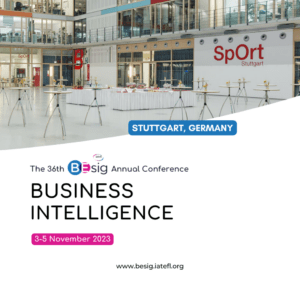 This year's conference theme is "Business Intelligence", which plays on the buzz surrounding Artificial Intelligence. We will explore the role of business English training in developing and enhancing intelligence in the workplace. Topics will include: business English training in the age of digital transformation, remote work and discourse communities, evaluating learning impact and the role of business English in promoting positive social change and sustainable practices.
Come discover and help shape the future of business English – register today.
Call for Proposals closed on Friday, 30 June at 16:00 UK time
Early bird registration is open until Friday, 29 September at 16:00 UK time.
Online registration closes on Friday, 13 October at 16:00 UK time.
After you register, you will receive a confirmation email. Please check your spam folder as well. If you do not receive the email, please contact sig@iatefl.org.
The first draft of the event programme will be here around 8 August with the final, full programme, containing all the presentations will be posted online two weeks prior to the event.
The programme will not be printed and will be available online as a pdf file. You will have access to the programme on the IATEFL BESIG website.