South African Teacher, Britta, in the Republic of Georgia
By Bridge
November 4, 2019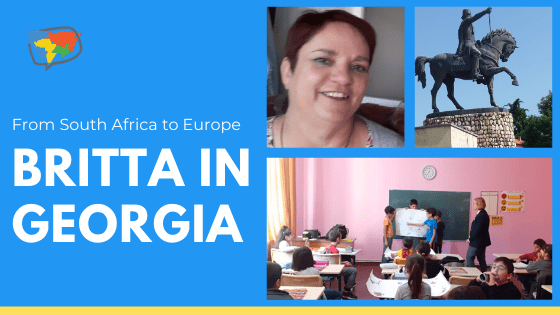 Sometimes life calls and when it does, it's a good idea to pick up. Britta, from South Africa, would surely agree. A few years ago, feeling bored in her career, she decided there must be more to life than what she was currently doing. After some soul searching, she discovered TEFL certification, got a job as a teacher in the Republic of Georgia, and hasn't looked back! Get inspired by Britta as she tells her story, in her own words.   
About Me
I am a 55-years young and from South Africa. I spent the first 5 years of my life in Germany before moving to Johannesburg with my parents. We moved around a lot in my younger years, but most of our time was spent in Johannesburg. I left home, aged 15, to finish school in Bloemfontein. After school I started working, I fell in love, got married, and had kids – the usual stuff that we did in those years.
My Early Career
I worked for almost a decade in jobs that bored me until I eventually decided to follow my passion –sewing. I enrolled in the required courses and got myself organized to become a professional seamstress. I had already been sewing for many years, learning from my grandmother and mother. The business part was a bit new, but with the experience I had gained from my jobs, I was quite comfortable and capable of doing what was needed. I had a wonderful 8 years. My circumstances changed suddenly, and I needed to redirect my life. It was a bit difficult, but not impossible. I sold my business and went back to working for a boss.
Waking Up – The Turn to TEFL
In the middle of 2018, I sort of had what many would call a mid-life crisis. I just call it waking up. I decided that there was surely more to life than just sleeping, working, eating, and cleaning all day, every day. So I took a trip to Europe for 5 weeks, visiting family, and really found myself.
TEFL Certification
I found that I did have something to offer other people and that I had knowledge that I would love to share. After spending hours and days surfing, trying to find the elusive secret to life, I came across TEFL (Teaching English as a Foreign Language). It was a tiny little stepping stone, but it kept calling me back.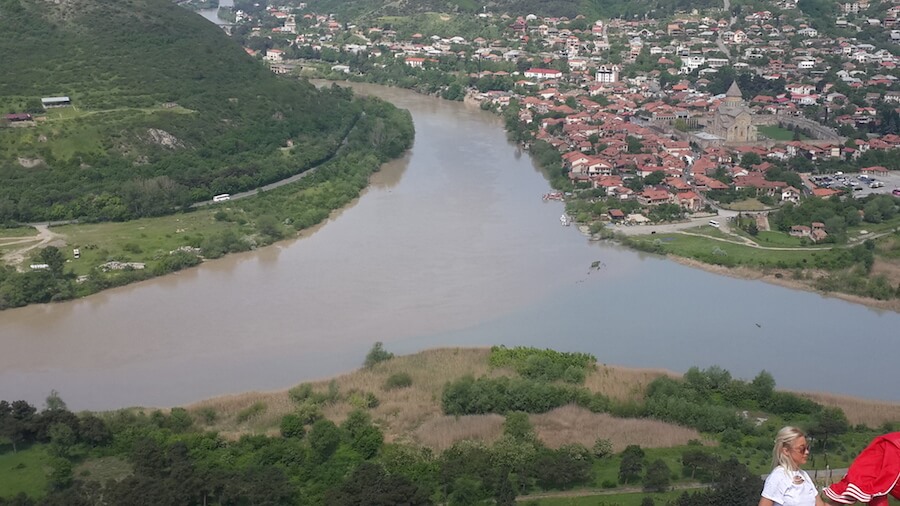 The city of Mtskheta, near Kvarel, where I now teach
The TEFL Job Search
Once I had finished a general TEFL certification course, I started searching for jobs. Most online searches didn't work for me as my internet connection was very weak. I started searching for jobs in print ads instead and came across the advert for Georgia. The hunt was over. From the first contact I made with Georgia, everything just seemed to fall into place.
Browse online TEFL courses.
Getting Hired as a Teacher in the Republic of Georgia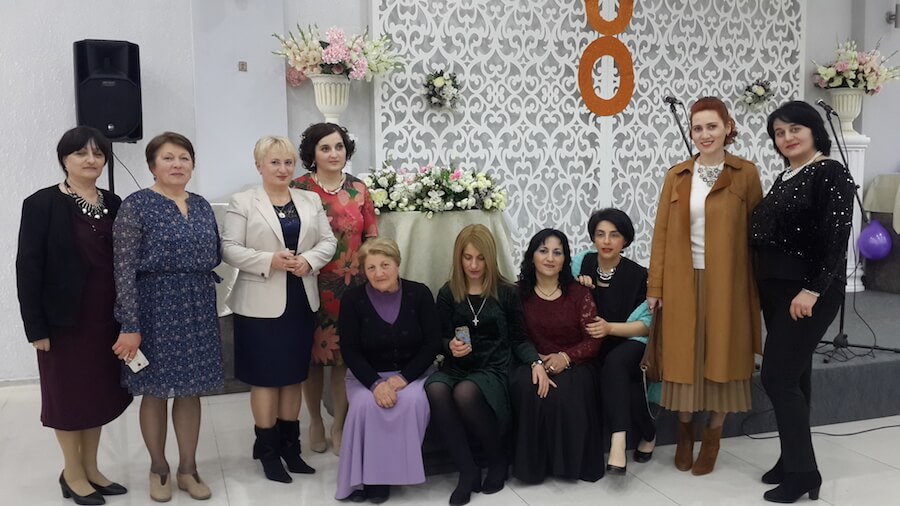 Women's Day Celebration – all province's schools came together for a fancy dinner – these are some of my colleagues
In January 2019, I moved to Georgia. I now work for a government organization that employs native speakers to assist their English teachers in rural public schools. When I realized that things would work out the way I wanted, I decided on doing the Bridge Young Learners TEFL certification as well. I felt that if I was going to go across the world to help in public schools, I would need more than just a general certification. Oh boy, am I glad I did the Young Learners course. It has helped me understand kids so much better and opened my eyes to see how small, and sometimes seemingly insignificant, things can have a huge impact.
I would really just like to recommend the Young Learners TEFL Certification for anyone that wants to work with children.

The Presidential residence in Tbilisi, the capital of Georgia
Working and Living in Georgia
About Georgia
Georgia escaped the Iron Curtain in 1991, but the scars are still very visible and tender. A huge amount of growth has already taken place, but sadly, as in most developing countries, the rural areas are left behind.
Being part of an organization that understands this, and wants to rectify the problems, really makes every day worthwhile. The children here are already quite well taught in English, but the main improvements that are needed are in pronunciation, reading, and speaking. This is where the organization aims its TEFL teachers.
My Town – Kvarel 
When I started in 2019, I was placed in the quaint town of Kvarel in the northeastern part of the country, in the foothills of the Caucasus mountain range. It is located in the most popular wine region, Kakheti. The people are very welcoming and open, and I made many friends in a very short time.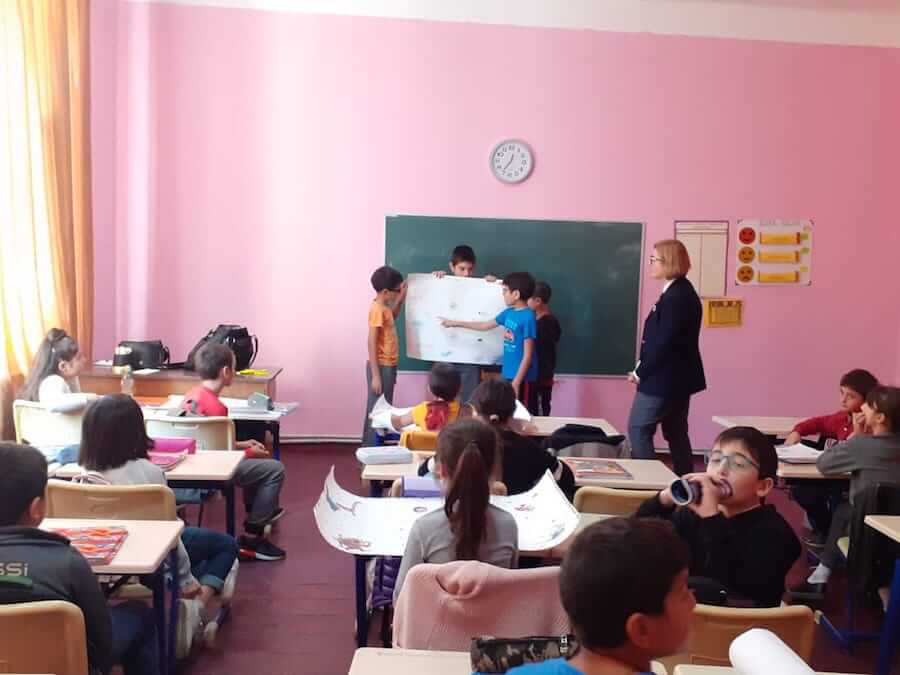 A class of 4th-graders showing off their projects
The Schools Where I Work   
I worked in Public School No. 1, until the end of June. With the start of the new school year on September 16, I was asked to divide my time between the 2 schools that have English as a second language. Both schools have 4 English teachers, with whom I am required to work. I do a lot of lesson planning to ensure that we cover the curriculum and try to spread the work evenly between the 2 schools. I teach from grade 1 to 11 at the moment, but we are trying to assess where my help would be most effective. This is also a very challenging exercise but will be well worth the effort.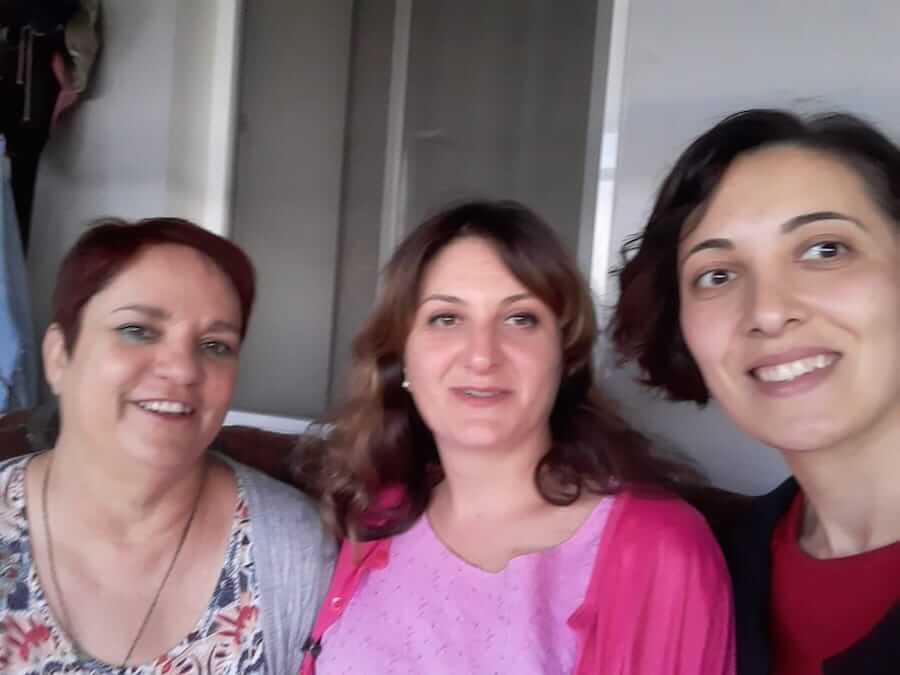 Me on the left, visiting with two parents
Day-to-Day Life as a Teacher in the Republic of Georgia
I walk to school, which starts at 9 am, and usually have a bunch of children accompanying me. They are my Georgian teachers – trying to teach me their language with more enthusiasm than they show in the classroom. I love it and I love them – I feel free and happy and proud that I can help them with my language skills. It is also wonderful to be so appreciated by the whole town.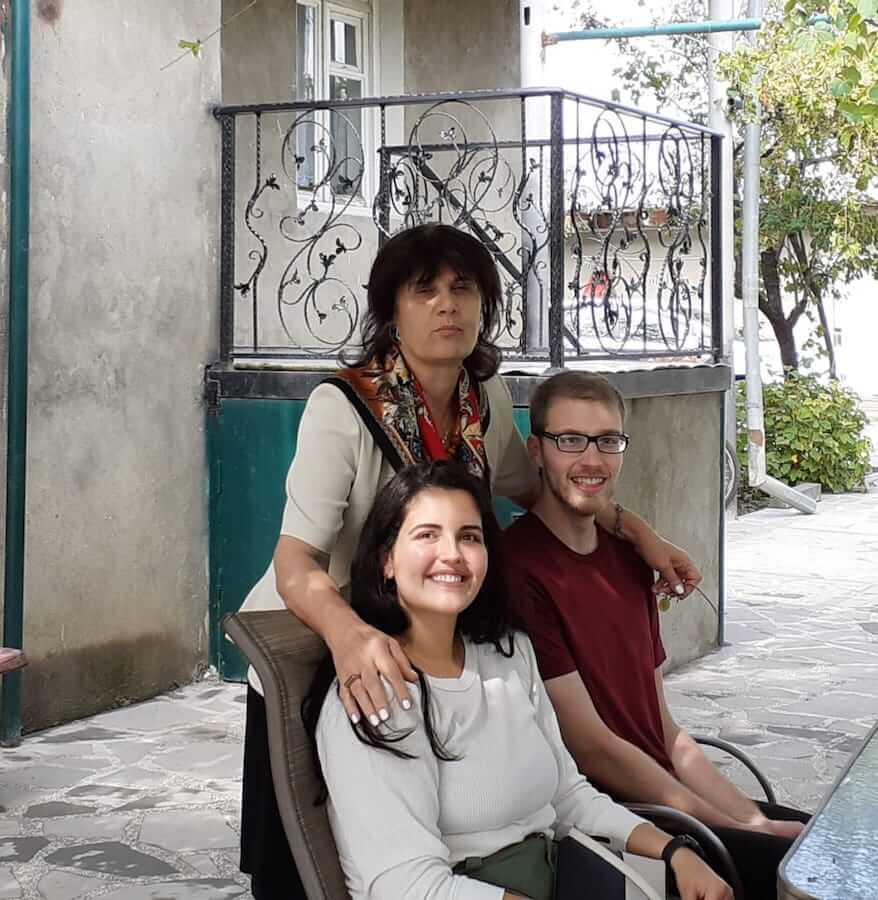 Two volunteers at the TLG (seated) with Neli, a teacher   
I work 25 hours a week and offer extra classes to non-students after school hours. I have enough time to do the things I want to, like sewing and crafting. I get to see a lot of the country, too, as it is small and has a wonderful public transport system.
Living here is really cheap in comparison to living costs in South Africa. The local culture, food, and language are all unique, and the country is filled with World Heritage Sites. Anyone that loves museums, site seeing, skiing, and lazing on the beach, will love Georgia. We have it all!
I am looking to relocate here permanently. I have a contract till mid-2020 and I am fairly certain that I will be able to renew it for another year.