TESOL Colombia 
is a nonprofit organization whose mission is to enhance professionalism in English language teaching within the country. The organization's annual conference is an opportunity for educators and administrators to come together in order to learn, share ideas, and build relationships.
Bridge was pleased to take part in this year's conference,
TESOL Colombia III: Going Beyond Theory: Rejuvenating Literacies, Culture, and Language Pedagogy,
held at the Universidad de La Sabana campus in Chía. The three-day conference focused on themes of innovation, research, and development in language learning and teaching, which also align with Bridge's core values and mission.
Diverse Attendees

The conference had over 600 attendees and over 100 speakers from more than 20 countries (as far reaching as Armenia, Egypt, and Poland). Many attendees were from the field of higher education or were head teachers or academic coordinators at language institutes. Some elementary, middle, and high school teachers were also in attendance, providing a diverse environment of English language educators.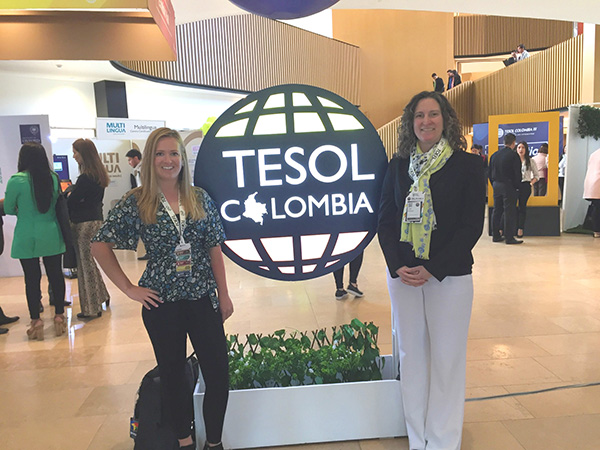 Lisa Rooney, Vice President of Institutional Relations at Bridge
(above, right
), found the event to be extremely informative, addressing important topics in the English Language Teaching field today.
"It was an excellent opportunity to connect with Colombian colleagues, and to better understand the country's unique challenges within a wide variety of teaching contexts."
Event Sponsors and Sessions

Including Bridge, the event had 25 education-related sponsors, ranging from large non-profits such as National Geographic and the YMCA, to book publishers such as Cambridge University Press and Pearson, and regional universities and language schools.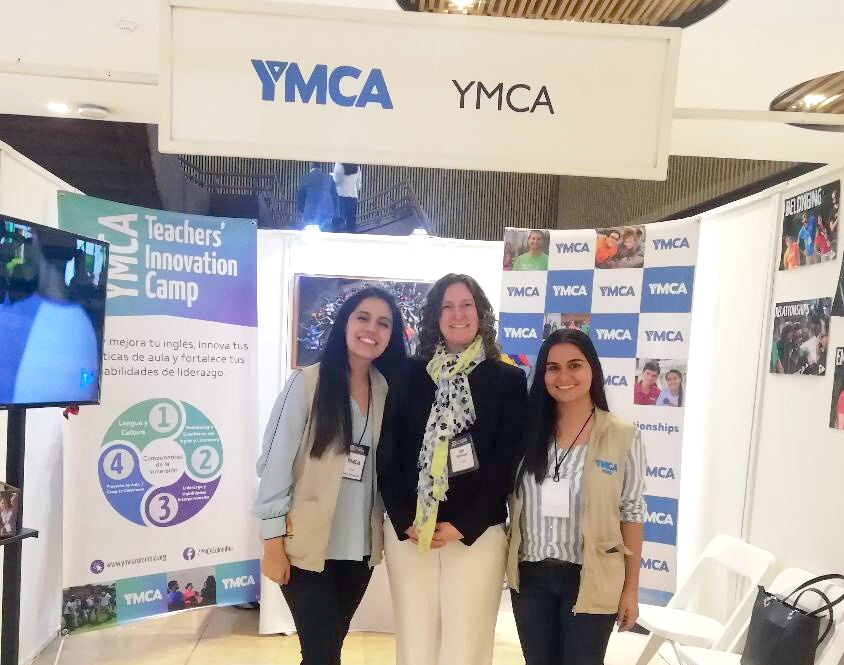 Several keynote speakers and dozens of other presenters hosted sessions that covered a range of topics centered around this year's theme, which included digital learning experiences, teaching and learning communities, assessment, and teacher development. Particularly popular sessions at this year's event included 21
st
Century Skills, Technology in the Classroom, and Contextualization.
Bridge Presents on Trending Topics in ELT

Also highly attended were the sessions presented on behalf of Bridge by David Deubelbeiss, experienced English professor, educational consultant, teacher trainer, and curriculum developer. David addressed two trending topics in ELT: Teaching English in English and going beyond theory in the classroom.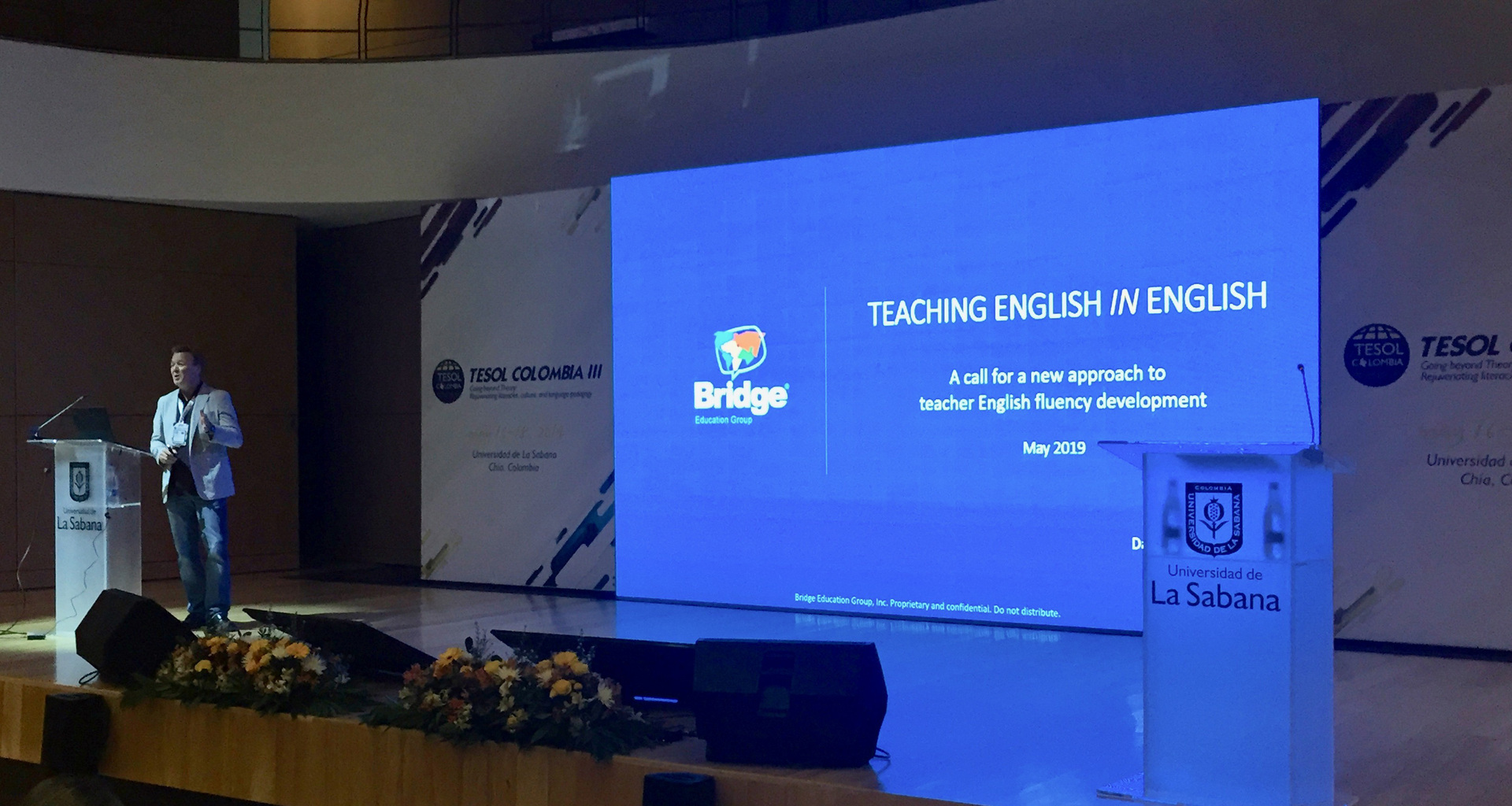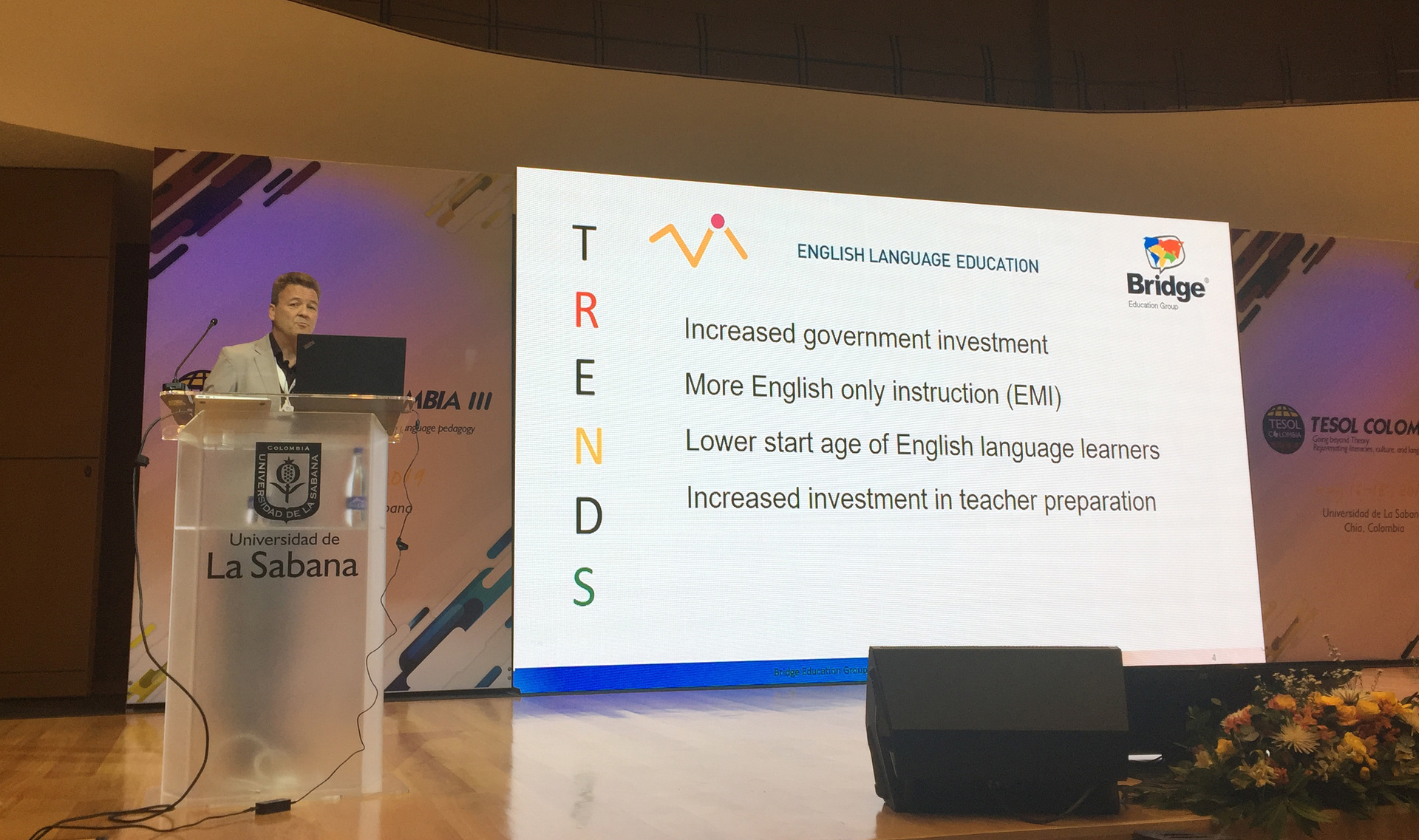 During the first presentation,
Teaching English in English: A call for a new approach to teacher fluency development
, David discussed the changing role of English in the global EFL classroom, touching on points such as the greater government investment of some countries in English learning, a rise in English as a medium of instruction (EMI), and increased investment in teacher preparation.
David also shared news of the upcoming launch of a new
BridgeTEFL Specialized Certificate course
of the same name, Teaching English in English, which was designed for global teachers who have the goal of instructing their classes entirely in English.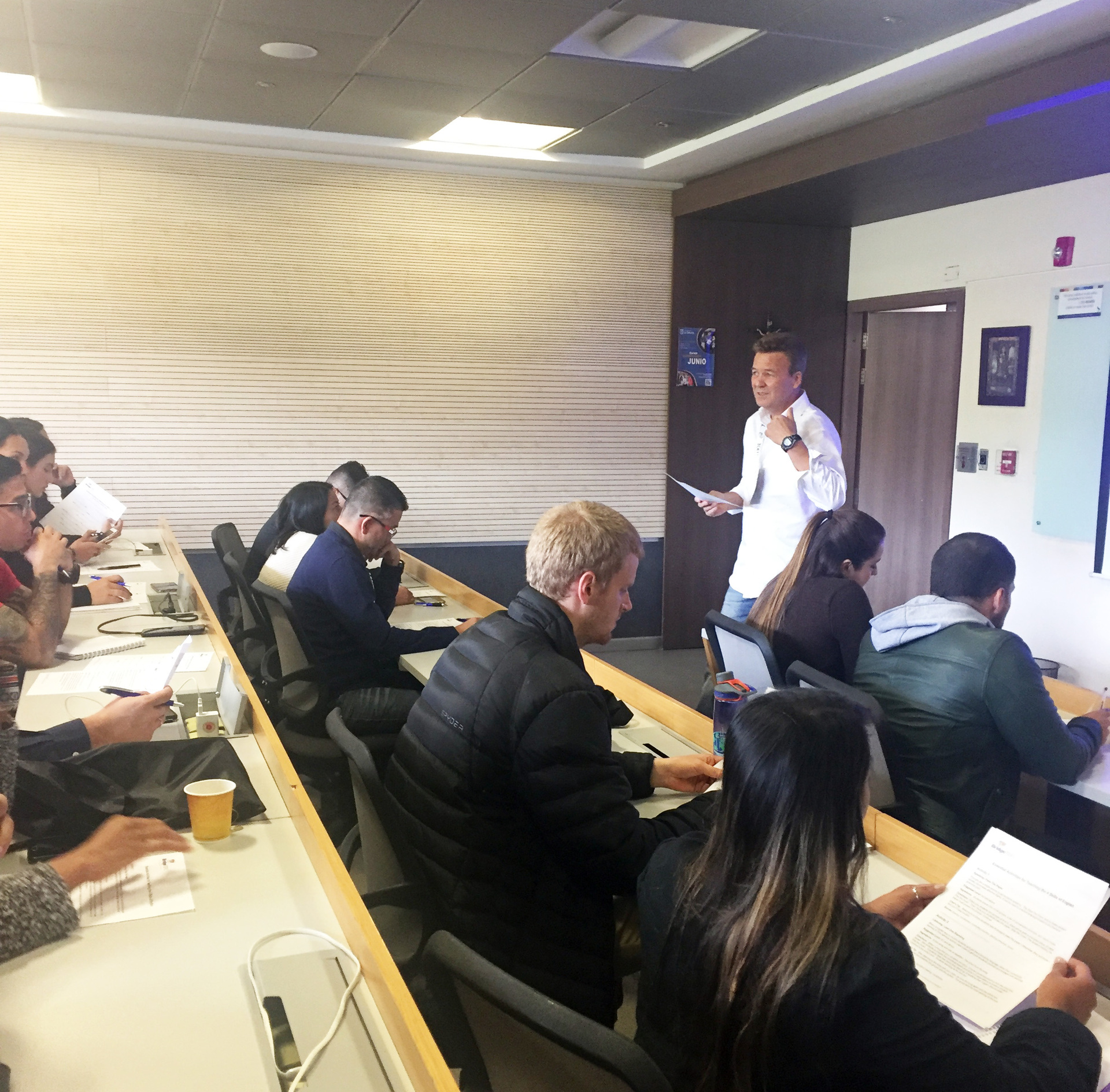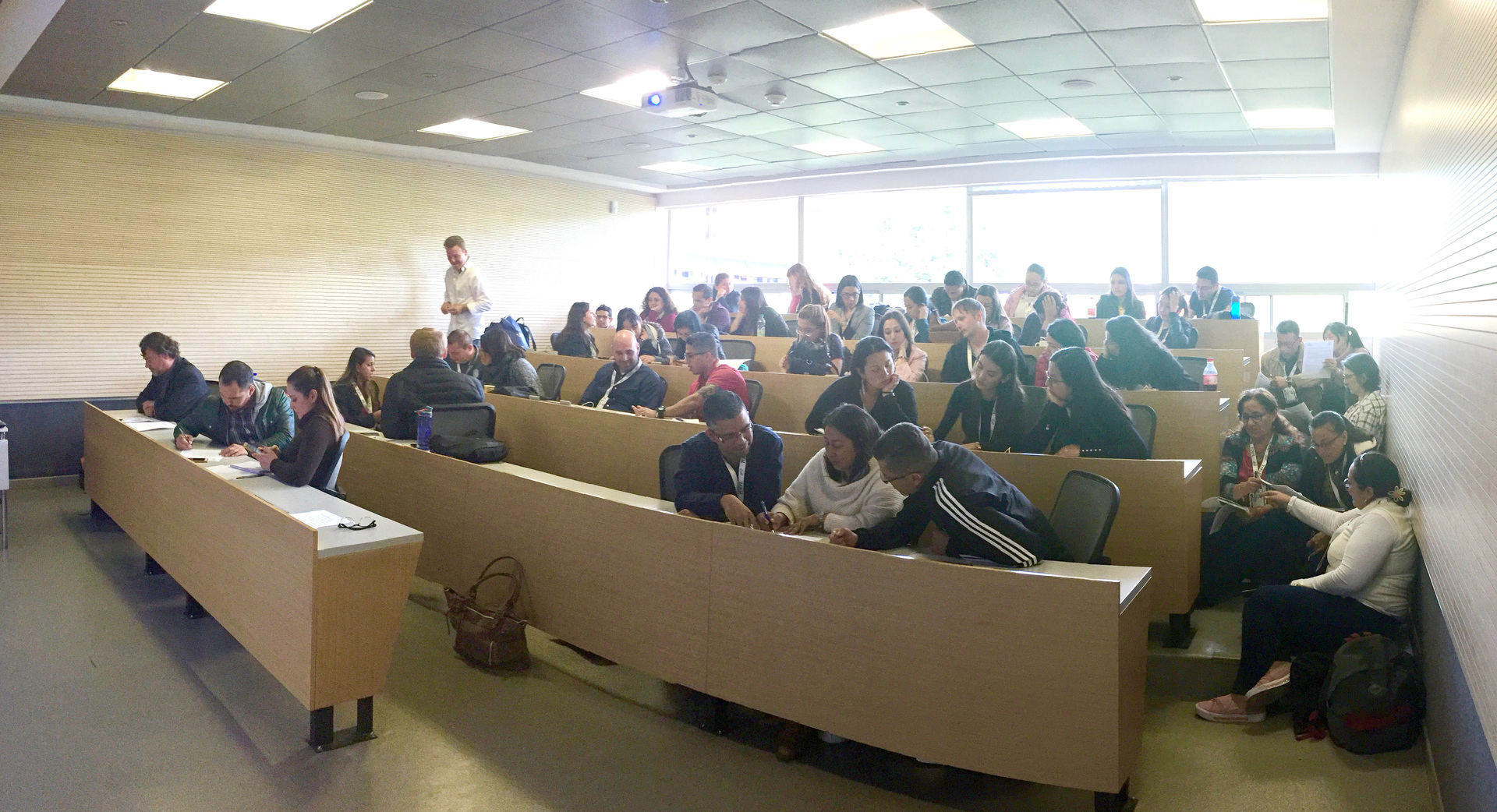 David's second presentation was an interactive workshop called
Essential Activities for Teaching the 4 Skills of English
.
Teachers had fun rolling up their sleeves and working together to go beyond theory and try out some practical, hands-on activities they could use with their own students. The activities were a sampling from the newest BridgeTEFL course, Applied TEFL Concepts: Teaching the Four Skills, which is offered as part of a blended online and in-person training by Bridge Authorized Training Centers worldwide.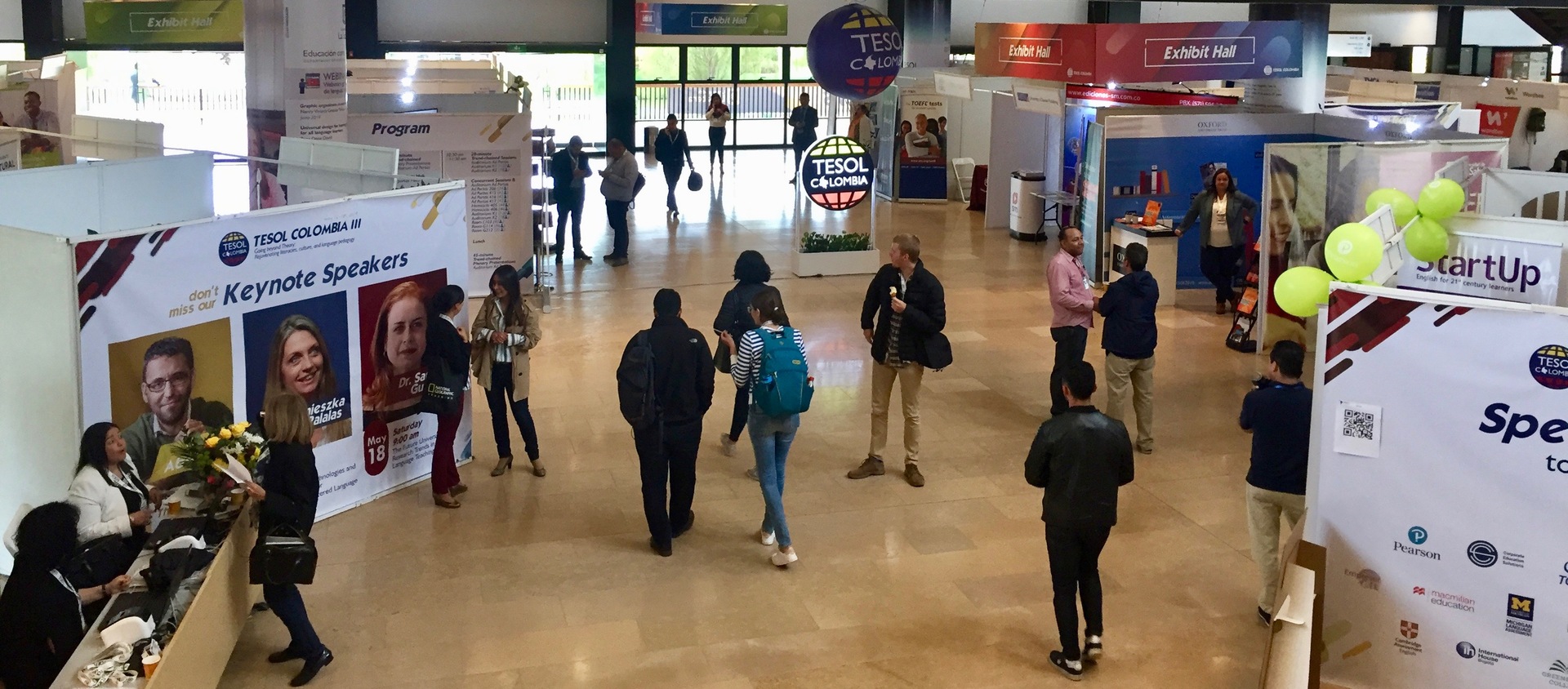 Between Sessions: The Exhibit Hall

Between sessions, attendees were encouraged to visit the Exhibit Hall, where sponsors and attendees could network, learn about each other, and discover new, education-related products and services.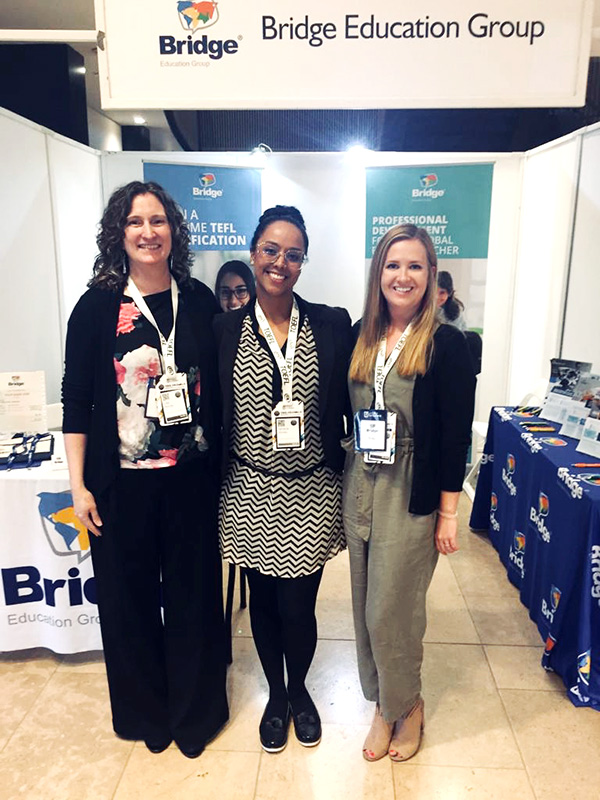 Lisa Rooney, left and Anna Williams, right
Anna Williams, Bridge Product Manager who also attended the conference, had the chance to connect with teachers and administrators firsthand there, in order to learn more about the demand for TESOL certification courses and professional development.
"Overall, I was impressed by the credentials held by teachers in Colombia! It was fun sharing Bridge's professional development opportunities with these highly skilled teachers, like the IDELTOnline, Teaching English to Young Learners/Teens, and Teaching English Online as well as our opportunities to earn university credit for our programs. More than anything, I enjoyed hearing about the ELT context in Colombia and learning more about these teachers' daily lives and interactions with students in their classrooms."
Bridge was proud to take part in the TESOL Colombia conference this year to support local efforts to enhance professionalism in the field of English Language Teaching. 
---
About Bridge Education Group, Inc. d/b/a Bridge (www.bridge.edu) 
Founded in 1986, Bridge is a world leader in language and education abroad. An international company with headquarters in Denver, Colorado, Bridge offers a wide spectrum of language related products and services, including language training and immersion programs, teacher training and development courses, language testing, translation and interpretation services, and cross-cultural education abroad programs.
Bridge and BridgeTEFL are registered trademarks of Bridge Education Group, Inc. in the USA. All other company names may be trademarks of their respective owners. ©2019 Bridge Education Group, Inc. All rights reserved.