10 Best Places to Teach English Abroad in 2021
By Camille Turner
January 4, 2021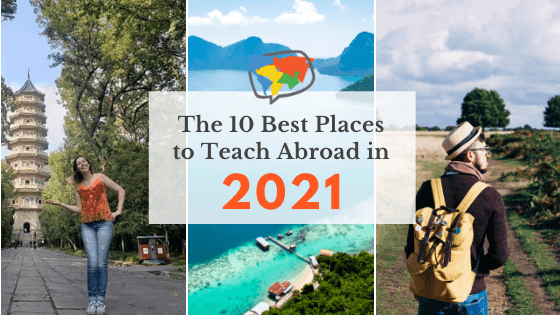 Is teaching English abroad on your bucket list? Even if your travel plans were temporarily sidelined last year by the coronavirus, you can still start planning your next TEFL/TESOL adventure for 2021 at one of the many fantastic locations around the globe. Whether you want to experience a new culture, earn a high salary while enjoying a low cost of living, or advance your career by conquering new challenges, we've rounded up the 10 best places to teach English abroad in 2021 – or to add to your wishlist as the world reopens.
#10: Online from anywhere
Now more than ever, the online teaching industry is booming — and if you're looking to make money on your own terms, from the comfort and safety of home, teaching English online from anywhere is one of the best "places" to teach English abroad in 2021!
Whether or not physical language centers and schools reopen this year, you can use teaching English online as a way to travel the world. Teach from a hotel in India one month, a hostel in Australia the next, and a local's home in Peru after that. Even though many of the world's businesses are closed right now, the world itself is very much open to you so long as you have a laptop and a stable Internet connection!
Check out Argentinian teacher Jonathan's story about teaching Business English online from Brazil.
The Bridge Job Board features opportunities for both native and non-native English-speaking teachers to teach online as well as those with and without teaching experience or college degrees. If you'd like to supplement your income or embrace a new career while working from home, consider joining the online teaching revolution! Get started with teaching English online.
#9: Taiwan
When you think about teaching abroad in Asia, you probably think of popular TEFL/TESOL locations like South Korea, China, and Japan, but Taiwan is slowly but surely rivaling these TEFL/TESOL powerhouses as one of the best places to teach English abroad.
Located just off the coast of mainland China, Taiwan is a culturally diverse and economically booming country, with a vibrant culture and friendly locals. Teaching salaries are on the rise in Taiwan and can be as high as $1,500 to $2,000 USD per month, plus a bonus at the end of the teaching contract for most schools.
Read about why Bridge grad, Richard Blanke, began teaching English in Taiwan.
Still not convinced? The demand for EFL teachers in Taiwan far surpasses the number of qualified teachers, which means there are plenty of opportunities for TEFL/TESOL-certified teachers looking for a top-notch teaching job.
#8: Hungary
Hungary is a small, Central-European country that offers opportunities to teach in both public schools and private institutions. Many teachers find positions teaching English in Hungary's capital, Budapest, a city that is home to many international schools and language centers.
Teachers living in Hungary can expect an average salary of $900 to $1,000 USD per month, sometimes with accommodations provided. Teachers will find it easy to get around with the country's excellent public transportation system, and there are a lot of outdoor activities, like hiking and visiting thermal waters, that make Hungary a great option for life during the pandemic, when outdoor recreation and social distancing are a must.
The Central European Teaching Program (CETP) is one organization that places teachers in schools throughout Hungary, and they are currently accepting applicants to teach English to classes of 15-20 students in cities and towns throughout the country in 2021. They even offer COVID-19 testing upon arrival. You can apply for this position on the Bridge Job Board!
Read about how English teacher, Mary Rose, became the director of the Central European Teaching Program in Hungary.
#7: China
There's a reason why you hear about so many EFL teachers heading East to teach in cities like Beijing and Guangzhou, China. Not only are teachers highly respected in this popular teaching destination, but they're also highly paid.
EFL teachers working at schools in China can expect lucrative salaries in addition to added benefits like free housing and flight reimbursements. Even if you're not working at a private language institute, the average TEFL/TESOL salary is also high — EFL teachers can expect a range of about $1,500 to $2,000 USD per month.
Read about how Mark Lee, an English school owner in China, has reopened his school since the pandemic.
The bottom line: Whether you're a TEFL/TESOL newbie or a seasoned pro, China should stay on your list of best places to teach English abroad.
#6: South Korea
South Korea is one of the most desired TEFL/TESOL locations among Bridge grads, and it makes the list of best places to teach English abroad year upon year! Modern cities, competitive salaries that range from $1,800 to $2,200 USD per month (plus free accommodations), stunning natural beauty, and more await EFL teachers who travel abroad to teach in this East Asian country.
With an estimated 100,000 institutes offering English lessons and a government actively promoting English teaching in public schools, TEFL/TESOL jobs in South Korea can be found year-round, either through a program like EPIK or by applying for TEFL/TESOL jobs directly. Requirements generally include a bachelor's degree in any subject, TEFL/TESOL certification of 120 hours or more, and sometimes teaching experience.
Korea is notoriously safe and also boasts excellent public transportation, making it easy to discover the wonders of the country, including the iconic Seoul Tower and 600-year-old Bukchon Hanok Village. If you're looking for a modern teach-abroad experience in a dynamic country, South Korea could be the TEFL/TESOL location for you in 2021.
Download our free Bridge Country Guide to learn more about the culture, cost of living, and jobs in South Korea!
#5: Malaysia
Malaysia is the third-largest economy in Southeast Asia, and as such, English teachers are in high demand here! Teachers can find jobs in both public and private schools, as well as language institutes, and can expect to earn around $1,500 USD per month and have accommodations provided as well as other benefits.
With its tropical climate, Malaysia is a great choice for TEFL/TESOL teachers who want to enjoy exotic beaches and rainforests. The country also has diverse food options, as you can sample Malay, Chinese, and Indian cuisine there. In your free time, you can relax at the beach, explore one of the many museums or art galleries around the country, or attend a traditional Malay event like a bird singing contest!
Many teachers who work in Malaysia wind up teaching in Kuala Lumpur, the capital of the country, or in the Sabah or Penang states, which both feature stunning beaches.
Find out more about teaching English in Southeast Asia from teacher Brandon, who has taught in South Korea, China, and Thailand.
#4: Chile
The Andes Mountains, the Pacific Ocean coastline, Patagonia… it's hard to believe that all of these wonders are located in just one place! Chile is a diverse country with beautiful landscapes and plenty of opportunities to teach English.
Read about how teacher Brenda, from the U.S., has adapted to the pandemic while teaching in Chile.
Private and business English classes are especially popular here, and many positions are found in the country's capital, Santiago. The capital is home to museums, famous landmarks, and stunning cathedrals and offers plenty of outdoor cafes and restaurants with delicious local cuisine. Known for its literary and artistic culture, Chile gives teachers a chance to learn about globally celebrated poets like Pablo Neruda or enjoy the country's iconic music and art scene.
Teachers can expect to earn an average of $500 to $900 USD per month, but with a very low cost of living, it's still possible to save while teaching here.
#3: Oman
Oman, located on the eastern side of the Arabian Peninsula, is the second-largest country in that region and consistently has a high demand for English teachers. While it may not be on your radar when it comes to the best places to teach English abroad in the Middle East (well-known United Arab Emirates tends to more often make the list), Oman is a great place to experience the culture of this region while saving money!
Read about how English teacher, Erin, made the transition from teaching in China to being a college instructor in Oman.
The average salary for TEFL/TESOL teachers in Oman ($1,000 to $2,000 USD per month) can be twice as much as the cost of living, and job benefits often include free housing and a travel stipend. Teaching contracts in Oman typically run from one to two years.
When not working, teachers can enjoy the beautiful Arabian Sea or the dry and vast desert. The country's capital and largest city, Muscat, boasts an opera house, museums, and a large shopping mall, so you won't be bored when teaching there!
#2: Morocco
Morocco is a blend of cultures and landscapes, with the Atlantic and Mediterranean coasts, the snowy Atlas Mountains, and the Sahara Desert. An African country situated just eight miles from Spain, Morocco is known for its warm and welcoming people.
A bachelor's degree and TEFL/TESOL certification are generally required to teach English in this country, and the average salary for English teachers is $800 to $1,000 USD per month, which isn't bad considering the low cost of living. English is taught in public schools, and many university students and business professionals also have a desire to learn the language at private English institutes, so finding a position in this country isn't too difficult if you have the proper qualifications.
Teachers in Morocco will enjoy the country's historic traditions yet modern lifestyle and can explore famous cities like Marrakesh, Casablanca, and Rabat!
Find out how to get EFL jobs abroad by region!
#1: Colombia
Enjoy Caribbean beaches, breathtaking landscapes, and world-class coffee when you teach EFL in Colombia! The TEFL/TESOL market is on the rise in this culturally rich South American country, and the safety concerns of yesteryear have greatly diminished. The country's thriving social scene makes it easy to make new friends and meet locals.
In general, the education system in Colombia is less strict than what you'll find in Europe and the U.S., so don't be surprised if your students tend to be tardy and meetings run behind schedule! You'll also discover that student-teacher relationships in Colombia are very open and friendly, making the classroom a fun and lively learning environment. While the average monthly pay is about $500 to $1,000 USD per month, the cost of living in Colombia is equally low. A bachelor's degree is not required to teach here, but it is highly recommended alongside your TEFL/TESOL certification.
Read about English teacher Camille's experience teaching at a private school and online in Colombia.
Regardless of the travel challenges of the past year, we're here to prepare you for 2021's adventures with internationally-recognized TEFL/TESOL courses, the latest job openings on our Job Board, digital badges to get your resume in top form, and more!